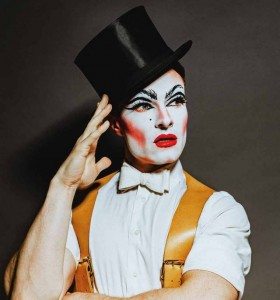 I've seen a lot of people perform German Weimar cabaret. A lot. And consistently rising above the pack is one man who I randomly saw performing at an out-of-the-way cafe in Brooklyn many years ago, shortly after he had moved to New York from his homeland of Australia. I urge you, if you are a performer yourself, go see Kim Smith before you attempt 1920/30's German music yourself. Not for you to copy him, of course, but for you to see how it can be done. And if you are spectator, well, you'll have plenty to spectate on for sure.
Smith's style is a lot of 'show'. He moves around the audience slowly, like a cat. He gives theatrical pauses and poses. But he also keeps a very tight show and knows how to keep songs speeding along, crashing into a sudden dynamic of tension and repose. He's highly entertaining. And he backs it all up with a truly gifted voice. Clear and precise, he makes sure you feel every word. I enjoy hearing him in both English and German (and I don't speak any German!).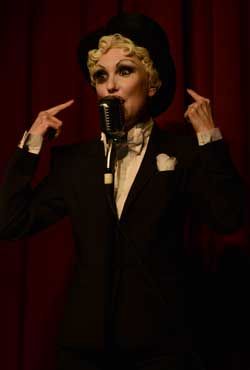 Kim Smith can be found at various clubs throughout NYC. He's had several residencies at the small and wonderful Pangea, New York's newest rising star of Cabaret clubs, partly because the place is smart enough to book excellent talent. He calls his show the "Morphium Kabarett" and he brings on guest performers. I went specifically to this week's show because another favorite of mine was performing with him, Mad Jenny.
I was excited to have both of them on the stage together. I've seen Jenny many times at Pangea and other venues, and she makes a great female counterpart to Smith. She is also very 'theatrical', telling a story through body, face, and costume along with the music. She too has a wonderful, clear voice and something to say (Both of them have incredibly good patter, funny and poignant). I wish she was on the stage longer this week, but I also just wish the entire show could have been extended into a longer evening. Believe me, this is not something I say often. I'm usually the one to say a show should have ended earlier. But Jenny is a true, rare find. She's doing her own thing, and as original as it is, her show is very accessible and fun.
Go! Go see them both, either together or in their separate shows. You'll see the best cabaret has to offer and you'll be guaranteed an entertaining evening.
For more info:
http://stagebuddy.com/whoswho/kim-smith