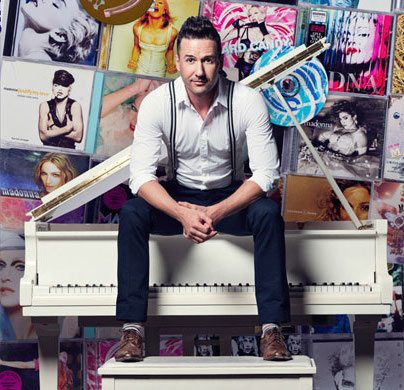 Australian entertainer Michael Griffiths is bringing his show In Vogue: Songs by Madonna to Feinstein's/54 Below, so we spoke to him about his love for the legendary pop icon, why he thinks she's an underrated songwriter, and even dream cast a Madonna musical.
Why Madonna?
I did grow up in the 80s, I love pop music and I'm gay, so it's the obvious choice. But my first goal was I wanted to do a cabaret show that would be about popular culture, and in terms of the body of work, Madonna was obvious. A one hour show would be a piece of cake when you have so much to choose from. It's also about celebrating her songs, she's not given enough credit for being the fantastic songwriter she is, people think she's all about ambition. She's very savvy about what makes a good pop song, she has good taste. She has fun with her career.
Which of her songs do you think have the best lyrics?
The beauty about pop is that it works when it's easy and accessible, it's not about being clever. What's wonderful about Madonna is that she never shies away from sharing stories about herself, not in the singles but in albums like American Life ,which is my favorite of her albums, it's deeply personal and clearly not meant to have a lot of hits. I think she knew that recording it, but sometimes gher art gets in the way of her commercial viability and that makes her great.
You've said "I'm gay so I like Madonna," I'm gay and I love Madonna too, my mom raised me on The Immaculate Collection and I was dancing to "Material Girl" before I knew what sexual identity was, but I've always wondered if it's an egg-chicken thing, do we love her because we're gay, or are we gay and somehow end up drawn to her?
I loved Madonna before coming out too, she was always so forward with her sexuality and I found that to be a bit scary, naughty and wonderful at once. Something about her sexuality being at the forefront...look I'm not a psychologist, but the importance she places on her sexuality attracts us. At the risk of Pop-Psych she's also a tragic figure in a way, the figures we admire Liza, Judy etc...all have a strength and a fragility, they're the ingredients we need: defiant strength, sexuality and tragedy and we eat it up. I don't know what it is, Cher has that as well. It's peculiar, but I loved Madonna before coming out, and only realized much later that loving her was a dead giveaway, I had no idea about my tastes precluding my sexuality discovery.
Since you brought up her sexuality, who's your favorite person in the Sex book?
I love that Vanilla Ice is in there because I'd forgotten about it. When I put this show together I went to Amazon and got a second hand copy, and Vanilla Ice made me giggle for the wrong reasons.
What are the challenges you find when you're looking for different arrangements of the songs?
Just being at the piano and having a male voice turns the song on its head. Sometimes I'm just playing with ideas, I also worked with a writer and used some musical moments to support parts of the story, when she talks about marrying Sean Penn we took some artistic liberty and used "True Blue" underscored by "Prelude in C". Other choices were about having fun though, turning "Human Nature" into a jazzy number is just fun, something like "Borderline" you don't need to change though. I wouldn't really do any of the songs faithfully because me reinventing the songs is a nod to her own reinvention.
After the election I became obsessed with "Ghost Town" from Rebel Heart, when the album came out  a year before I thought it was her worst, but now I see it as a protest album. What do you think is her most underappreciated album?
I remember not liking Hard Candy at all and then I became obsessed with it, there are some songs I still won't listen to though, like "Incredible", but I love the last two songs. "Voices" and "Even the Devil Wouldn't Recognize You" are great, of course she'll end her album with a church organ. Another element in my show is nostalgia, so there's no nostalgia for Rebel Heart because it's so new. It's also about being my age, I like sharing things I love with people of my age and persuasion. Now going back to your question...Rebel Heart is uneven, I think she was trying to have a few hits at the expense of her taste. The age thing is so difficult to talk about, but it's the first of her albums I've felt where she's trying to make songs like the young people do. I love some bits of MDNA too, "Some Girls" and "Turn Up the Radio" are great. "Give Me All Your Luvin" I don't know...the cheerleader thing was out of a horror movie.
Who's your favorite celebrity from the "Vogue" rap?
(sings "Vogue" rap)
Bette Davis.
We love her indeed. You played Bob Crewe in Jersey Boys and have done shows about Cole Porter and Annie Lennox too, so you love playing real life people. But who would you want to see play you?
He's older than me but Alan Cumming and I have a similar look and sensibility. Scottish and Australian people have a synergy. I don't have anything interesting to tell, but he'd make it interesting. I love him in Eyes Wide Shut he only has like five minutes but turns in such a pervy performance.
What's your favorite Madonna movie?
Swept Away is terrible but so wonderfully terrible. It's like a B movie. I always want to love her movies but I almost never do. For some reason her chemistry works in a three minute clip, but it doesn't translate to a 90 minute film, I don't know what it is and she doesn't know it either, because she keeps doing movies. Swept Away is her only movie I'll watch every now and then, it's very entertaining. I love the concerts on film though, but I haven't even rewatched Dick Tracy because it hasn't aged well, she's very stilted in it. I have to stop criticizing her (laughs)
Theatre people got so furious when she played Evita, but it's always interesting to think Stephen Sondheim and Andrew Lloyd Webber's Oscars came for songs they wrote for Madonna to sing.
That is a bit of poetic justice. Sondheim always said she turned up on time, did the work...he doesn't speak warmly of her, I don't think they kept in touch, but he said she was a complete professional. He doesn't need to say anything good about anyone, so I appreciate that quote.
You're a musical theatre actor, if you could make a Madonna jukebox musical what would you call it? What would be the 11 o'clock number and who would you play?
Blonde Ambition, even when she's not blonde it's always present, "ambition" is also something very her. Her 11 o'clock number would be "Express Yourself", cause it would be about not going for second best anything. I'm too gay to play her lovers...you know who should play her Emma Stone.
That would make all the gays explode.
It would run for decades! Maybe I could play her daddy, Mr. Ciccone the winemaker. One day I'll visit the winery. I could also be the narrator, the emcee like Alan Cumming in Cabaret.
For tickets to In Vogue: Songs by Madonna visit Feinstein's/54 Below.