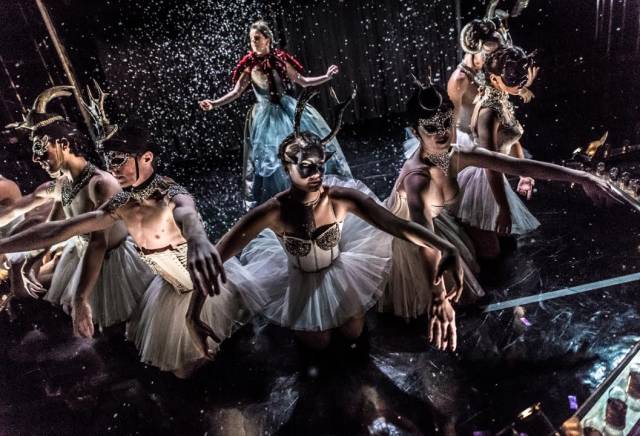 I recently spoke with dancer and aerialist Allison Ulrich, who plays Marie-Claire in Company XIV's latest baroque-burlesque confection, Nutcracker Rouge, currently on stage at the Irondale Theater in Brooklyn. Ulrich, a graduate of Juilliard where she met director and choreographer Austin McCormick, talked about the amazing and supportive cast, the special experience that Nutcracker Rouge and Company XIV curates, and finally getting to perform the spectacular role of Marie-Claire.
StageBuddy: First of all, congratulations on dancing so beautifully in Nutcracker Rouge.
Allison Ulrich: Oh, thank you so much!
I also saw you in Company XIV's Cinderella last season and I noticed you have this great way of conveying the innocence and grace of the character but then you get to shed that innocence by the end and dance with this fierce sexiness. What helps you tap into that?
It's interesting because I think that Austin's work really works so well with that kind of a character. He really wants to see the progression from this somewhat of an innocent character progressing to somebody who's a little bit more, I'd say, aroused or sexually intrigued. His work really speaks to that. It's interesting to try to get to that place. You start off in this innocent, shy character and the whole company really helps you get there. It's not just me portraying this character. It's everybody else. Especially with Nutcracker it's such a collaboration between everybody, it's not just your show, it's the show. Everybody plays a different part, and everybody plays a part for the show and not just for your specific show. I wouldn't be able to do it if I didn't have all the help that I have and all the guidance I have from my cast mates throughout the whole entire show. They really get me to that place, and it's really fun.
Yeah, it looks like a ton of fun.
It's really so much fun. It's a different show every night. It's such a blast to be on that stage.
How did you get involved with Company XIV?
I knew Austin, he was a senior at Juilliard when I was a freshman there, and I always admired his work while he was at school. His work was so different and cool, and I had a feeling that there was something about him that was going to make him stand out in the New York theater scene. I'd never seen anything like it before. I graduated from Juilliard and I left New York for about three years, and when I came back, he was holding auditions for Nutcracker Rouge, which was in 2013 I think. I knew I wanted to audition right away, and I had a few conflicts but I emailed him and I said, "Hey, I hope you remember me from Juilliard but I'm going to come to audition and I'm really interested in your work." He mentioned that he is very interested in performers that do other things, not just dance, like singing or playing an instrument, or doing aerial. And I actually knew how to do aerial. So I think that helped me get my foot in the door with the company. And I've been working with him ever since. It's honestly been the greatest time I could ever have on stage and I'm so thankful to be a part of it this past three to four years now. He's a great boss; he really wants to make sure that you're comfortable and you're challenged every night, and make sure the audience is enjoying it as much as we all are onstage.
Let's talk about that explosive and gorgeous pas de deux at the end of the show. For most of the show, you are sort of skirting around the edges, although you are the main character, Marie-Claire. You have all these characters parading in front of you throughout the show. Then, all of a sudden, you are in the spotlight and you dance this amazing and passionate pas de deux with Lukasz Zieba. What was that experience like?
It's so interesting for me performing that duet because I've been watching that duet for the past couple of years that I've been a part of the company, and so I finally got to perform it and I've always wanted to perform the duet. I knew it was going to be a challenge from day one. So when I knew I was going to be able to do it this year, I tried to go in with an open mind. I really wanted to make it my duet. I really wanted to make it feel the way I wanted it to feel, not the way I thought it should feel. We definitely broke down some barriers at the moment trying to figure out exactly how Lukasz and I could make it our duet and not the duet we'd seen before. It's such an interesting part because you really are watching the whole entire show. I dance a little bit throughout the whole show but most of it is about everybody else until the very end. As a performer, it's so hard to keep warm and keep involved, and you know what's about to come. You know this explosive duet is about to come at the very end of the show every single night. So it's definitely a learning process. Learning how to stay involved and active onstage. It's great. Every night I start with a little bit of nerves knowing what's about to happen and a few seconds into it, I completely lose myself, and I don't realize how tired I am and how hard it is. It's so much fun to dance on that stage and wear the tutu and finally get to perform this huge, beautiful duet. It's an extremely hard role, but it's a learning process and I would never want it to be anything else because it's just so beautiful and it's so much fun to do and Lukasz is an amazing partner. So I feel very fortunate to be able to do that every night.
Have you ever done a traditional version of The Nutcracker? Do you have a prior relationship to any of the characters?
Yeah, I grew up at my old dance studio in Orange County, CA doing your normal, every day Nutcracker. I was an angel, I played Clara at one point. So yeah, I've definitely done the normal ballet Balanchine Nutcracker. This Nutcracker is obviously so much different than that. It's fun to see what comes out of Austin's brain every year. Every year is pretty different. What kind of candy suites do we come up with and what kind of aerial acts will we have? It all relates to the same story but he puts a twist on it, so it's so fun every year to know the story but have a twist to it, to see what each year holds.
So Austin changes it up each year?
It kind of just depends on what kind of a cast we have, who he hires and who can do what. Nicholas Katen can tap, so he threw in a tap solo for him And we have Marcy Richardson who does opera and aerial, so we have that. Every year there's something different. Sometimes someone can play an instrument. He really taps into every specialty act that somebody has besides just dance or just singing. This year, our new act was Absinthe; we've never had an Absinthe act before ever. We have Jourdan [Epstein], who is amazing on pointe and it was nice to bring that element into the show this year. So there are sections that stay pretty consistent and is repertory for our company, but depending on who he brings in, we really get to play around with different candy suites and make it different for our audience every year. It keeps it interesting.
Having done a more traditional Nutcracker, what are your thoughts about turning such a beloved holiday classic into the extremely raunchy version that Company XIV produces? Can you separate the two; is it just totally different?
Honestly, it is so different. I think the last time I performed a traditional Nutcracker was when I was 13 years old and I played Clara. It's definitely different and when I first started with the company, I was nervous about how it would be perceived. But I was already so invested in this company and I already knew what he had to offer and how special it was, that it didn't even cross my mind that it would be anything other than what it is today, which is that everybody wants to come see Nutcracker Rouge. It's a beautiful show, it's fun, it's different. Everyone knows the story, so everyone goes to a normal, traditional Nutcracker, you know exactly what you're going to see. And every time you come to Nutcracker Rouge, people are blown away by the fact that it's still the story they know but it has a small twist that makes it so different and such a fun night. We're a dance company but we are so much more than that. We have theater, we have opera, we have aerial, circus. We have so many things that make the company so great and I think that's why people come back every single year and why it's such a hit every year. People have such a good time, they don't know what to expect.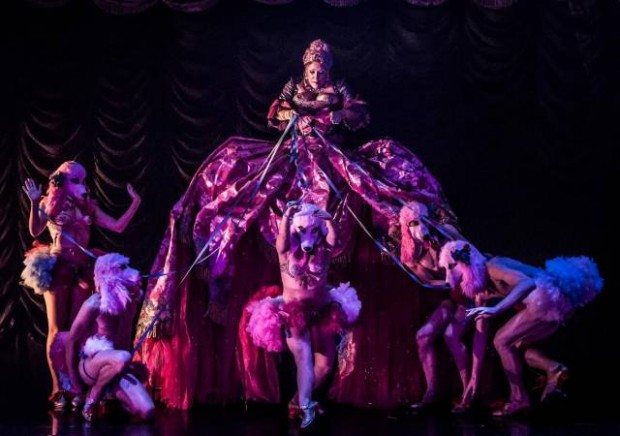 Do you have a favorite character or dance from Nutcracker Rouge?
It's so hard to say because obviously every suite is so different so it really takes me to a different place every five minutes, every few acts. But if I had to pick one suite in particular that I get really excited about, it would probably be Poodles. Poodles is just so much fun. There really is no other word to best describe it. Everybody gets to be weird and crazy on stage, it's hilarious. I really love being on stage during Turkish. I think it's so much fun with the Cyr Wheel. Because I would watch [Uys du Boisson] every night and I'm a circus performer as well and so I know what's going through his mind sometimes, twirling around on that stage and the nerves that come with that. Trying to work with the wheel on stage and make it look interesting and new. And you realize that the audience doesn't know exactly every time you mess up, but you feel it. So I feel for him every night I watch that act. It brings me to a different place for sure and I really enjoy standing there and watching him do that.
So, as you mentioned, you are a circus performer and you have been a part of Cirque du Soleil. Do you have any plans to return? What other projects do you have coming up?
I would always love to go back to Cirque du Soleil. I left so I could be a part of different things and not just be stuck with one company for that long of a time. I really wanted to come back to New York and explore my options and get involved with other companies. I was just so lucky to get involved so quickly with Company XIV. So I would love to go back to Cirque but right now is not the time. But sooner or later, I'd want to do a project with them or if they ever come to New York, I would love to be a part of something that they do. But right now, I'm really having a good time just freelancing and working all over the city and doing what I'm doing right now.
I also perform at the Metropolitan Opera, so once Nutcracker ends, Austin is choreographing Rusalka at the Metropolitan Opera. So we go straight into that. And then I'll do Don Giovanni, another opera at the Met. A few other small projects coming up that I have different meetings for in the next couple of days. It usually just kind of happens when it happens. I'm fortunate enough to work as much as I work. It'll be interesting to see what happens after this.