Interview: Composer Missy Mazzoli on Discovering the Sound of 'Breaking the Waves'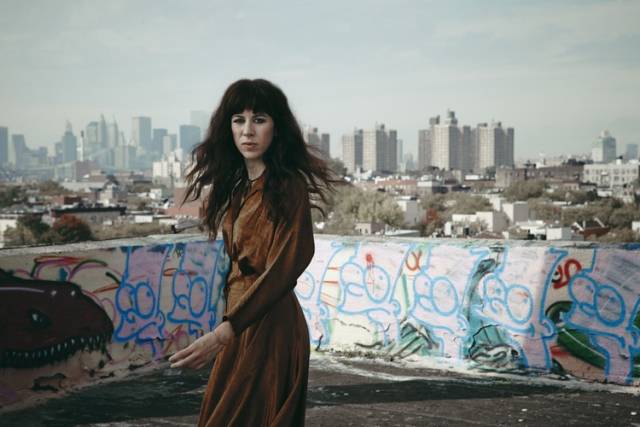 Composer Missy Mazzoli creates some of the most immersive soundscapes in contemporary opera, her layered work not only helps create the psychology of her characters, but also challenges the form by making it modern, and also hauntingly timeless. In Breaking the Waves, based on the film of the same name by Lars Von Trier, she creates the sound of a soul, in this case that of Bess McNeill (played by the astonishing Kiera Duffy) the naive wife of an oil rig worker who believes God speaks to her. Along with librettist Royce Vavrek, Mazzoli achieves the seemingly impossible task of paying homage to Bess' deep convictions, while allowing for enough room for dissenters to feel satisfied. The opera feels like the kind of work where the intellectual and the divine meet not in spite, but because, of each other. With majestic melodies that make the heart soar, and introspective passages where the audience is invited to contemplate what they've seen, Breaking the Waves is an exceptionally moving work of art. I had the chance to speak to Mazzoli about how she entered the world of the opera, how she discovered the sound of her heroine, and why she's attracted to stories about women in unorthodox situations.
What was your first encounter with the film version of Breaking the Waves?
I was always very interested in Von Trier's work, so years ago I watched it on my own, on my laptop in my apartment, by myself, which is not an ideal way to do it. Royce has loved this film since he was 14, which is also kinda creepy (laughs) that he watched it so young, and it wasn't until he talked to me about it that I thought it would make a great opera. At first I resisted the idea, because it is such a great film, but then I imagined a musical landscape for this story and the idea just wouldn't leave me alone.
Did Von Trier have any input in the opera?
He was very kind, he gave us permission to use the story, and his production company has been great all the way through, but he didn't have any input or feedback for the piece.
Considering that Breaking the Waves is part of a trilogy that ends with a musical, were you worried about trying to make music that would fit Von Trier's style?
The short answer is no. The sonic world of Breaking the Waves is the complete opposite of Dancer in the Dark, the former has no underscoring, the music is 70s rock music that appears during interstitial moments. The point of Dancer in the Dark is the combination of this very dark story with the musical numbers. The good thing about Breaking the Waves is that there wasn't a musical world for it, which allowed me to invent my own sound for the story.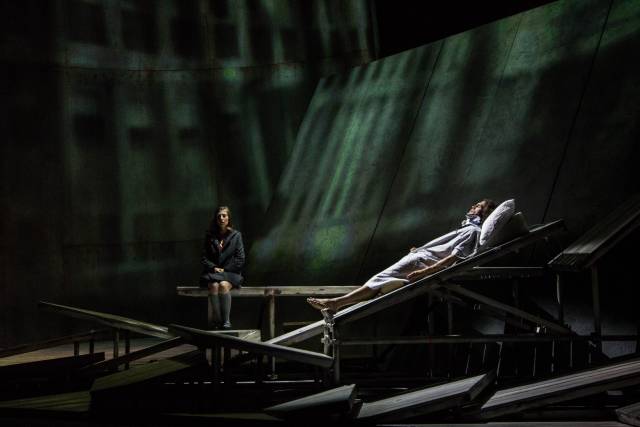 How did you discover the sound you wanted for Bess McNeill?
I feel opera's superpower is creating context and saying more than one thing at one time, especially something film can't do in the same way. Bess is a very complicated, multifaceted character so I felt I could use the music to show a part of her character perhaps in opposition to what she's saying. Maybe she'd say something naive or simple  but the music is saying something completely different. The melodies may have darkness or foreshadowing, hinting at what's to come. I felt I could dive very deeply into the many layers of her character.
Bess, is an unorthodox heroine just like Isabelle Eberhard the protagonist of Song from the Uproar, they're both women who have to live in this ridiculous male dominated world, that forces them to adhere to rules men made for them. Did you find any parallels between Isabelle and Bess?
Absolutely, it wasn't something conscious at the time, but looking back in the work I've done I'm very attracted to stories about women in impossible situations. Particularly as you say women who are in a male world and are being told what to do. Within that situation they have to find their agency and path. It's true of Isabelle, of Bess and also of the character in the opera I'm working on right now. This happens in all mediums though, female characters are so simplified, most of what they do is in relation to a romantic relationship with a man. Even though that happens in our opera, it's not the only thing going on, it's part of bigger themes and ideas going on. I feel the similarities between the characters are something I deal with, and many women do, so I feel like I can process this through my opera.
Given the reception of the opera, are we in store for further adaptations of Lars Von Trier's films?
No plans so far, I'd never say never. Breaking the Waves is very specific among his films, as something we thought would make a great opera. Dancer in the Dark was already turned into an opera by Poul Ruders. I could see doing something based on Melancholia, but there's already such an iconic musical element attached to that with all the Wagner he plays in the beginning. So no plans yet, but I do love how detailed and intimately deep his stories are.
How is your working relationship with Royce Vavrek in comparison to when you're making music for your own solo projects or your band?
Everything is very different, working on an opera or a 5 minute instrumental track for a band, because the opera needs to carry the dramatic weight. Royce is able to craft these narratives that last over two hours which is impressive. I love having his words there to suggest a form for the piece, I'm not necessarily creating a form from scratch, because the dramatic impulse of the theme is in the words. Working with him has allowed me to pursue musical ideas I wouldn't have accomplished on my own, because there are certain words he uses that suggest a crazy or strange musical idea.
Can you give us any insight about your next work together Proving Up?
It was co-commissioned by Washington National Opera, Opera Omaha and Miller Theater, and is based on an eponymous short story by Karen Russell, it's an allegory of the American dream and tells the story of homesteaders moving to Nebraska after the Civil War, and trying to "prove up" which means getting the title to their land. They encounter a lot of obstacles and it eventually devolves into a kind of ghost story. I've been wanting to write a piece about the American dream since the recession in 2008, is it true that hard work is all it takes? Where does this myth come from? We're also reuniting with Waves director James Darrah.
In festivals like Prototype you have the opportunity to have your work featured with works from some of your mentors, like David Lang. How do you feel festivals make opera more accessible and democratic for artists and audiences?

Festivals make our work more accessible to people in a number of levels. Tickets are relatively inexpensive for opera and the variety of shows is tremendous. While every show is different there is a throughline of wanting to tell stories that resonate with people today. The festival is democratic in how it includes the best work that year from both new and established artists. People would be surprised that the stories in the operas resonate with what's going on in their lives.
Breaking the Waves is playing as part of the Prototype Festival. For more information click here.