Interview: Eliot Glazer on the Holiday Edition of 'Haunting Renditions', His Love of the Past, and Madonna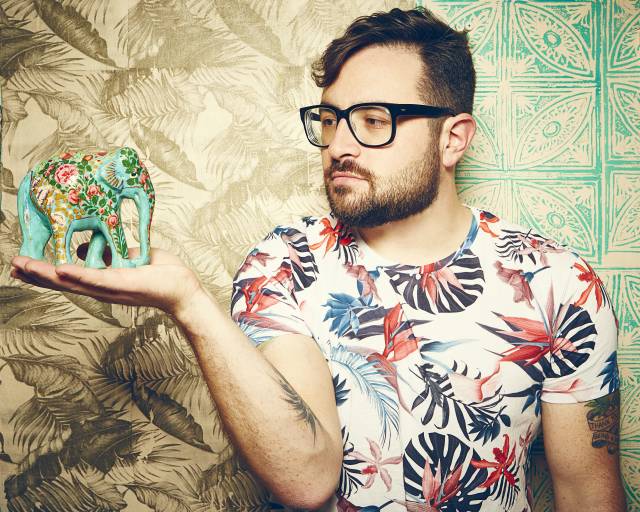 You haven't heard Avril Lavigne's "Sk8er Boi" until you've heard Eliot Glazer sing it. The classically trained vocalist-turned-comedian fills the song with longing, sincere romance and humor as one of the many numbers he covers in his Haunting Renditions series which, by turning pop songs into jazzy lounge pieces, seeks to transform their usually lowbrow lyrics into sweeping comedic gems. Glazer has prepared a special edition of the show for the holidays (at The Bell House on December 22), and with special guests Phoebe Robinson, Tad Kubler and Gilbert Gottfried, will put New Yorkers into the spirit of the season. I spoke to Glazer about his upcoming show, his love for the past, and the artist he still hasn't been able to cover.
Do the holidays make Haunting Renditions even more haunting?
Exactly!
Will you be singing some Mariah, or is that too easy?
We have some surprises in mind, we did Mariah last year as part of a bigger medley.
Is it challenging to come up with songs that people never expected to hear you sing?
I think so, yeah. I have a whole library on Google docs with pages and pages of songs that come into my head, so as much as it has become challenging I still try to be cognizant of keeping track of terrible songs as they come into my head. I do research and also keep up with popular culture.
What are Phoebe and Gilbert going to do in the show?
We have a couple of bits planned, we're gonna talk about Phoebe's book You Can't Touch My Hair and also about white people singing black people music, and the limitations on that for people who are woke. With Gilbert we'll do some silly holiday themed stuff, that will continue to iconize the legend he is.
Your jazz interpretations of famous songs highlight the vapidness of lyrics in popular musics in the last two decades, is this a phenomenon you're particularly interested in studying?
I'm so fascinated by music, pop music in general baffles me because it's so universal and it's such a big part of people's identities, and it's so subjective, but when a song is popular I'm fascinated by the larger value of what that song's popularity means. From a philosophical lens it's interesting to see how a popular song becomes popular just by being bad. They can be empty and people know all the lyrics, sometimes they know the words but don't really hear them. That's its own phenomenon in pop music.

Are you ever singing some Avril Lavigne and thinking, "fuck this, I should be doing some Cole Porter or Irving Berlin"?
Not me, I'm trying to entertain an audience, so it's not about wanting to do something different but hearing where people are finding comedy, whether it's in the breaks, or specific lyrics, I can hear from the stage when people respond to a certain part of the song as if asking "those are the lyrics?", or they realize when songs are hypersexual, or nonsense. It's scattered throughout the audience, which is fun for me, because the show isn't about punchlines, but rather a longer, weirder, less navigable path to take as a comedian.
You're a nostalgia junkie, most of your work has something to do with nostalgia, My Parents Were Awesome, for instance, is a celebration of time gone by. How did you realize you had such love for the past?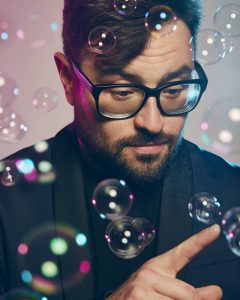 Honestly I think I've always been fascinated by the past, I wasn't a kid who felt nostalgic for the 60s or 70s, but I'm fascinated by the attitudes of different eras which you can see or hear in music which illustrate what was happening at the time. In 80s music there is so little self-awareness, from the lyrics, to the orchestrations, to the instruments they used, the trends that were popular speak so much about that time. Listening to novelty songs from the 80s you ask yourself why was that happening, or in the 90s, what was up with all these songs about cheating, or the "Macarena"? People talk about the collective conscious or subconscious, where trends happen in a period of time when a whole group of bands that sound the same become popular. This can be a forgettable genre, but also something like hip-hop, which became a phenomenon in ways other genres don't. It's less about nostalgia, than fascination with patterns, trends, similar ideas expressed differently even if the music is really bad.
Who is the artist who has been the most challenging to adapt into a haunting rendition?
Madonna is hard to crack because she's had her ups and downs, I'm a Madonna fan for sure, and she's certainly navigated an interesting career with hits and misses, great albums and terrible ones, but she has always made such a valiant effort at being timely and relevant. None of her music, in my opinion, calls to be parodied. "Vogue" sounds different than "4 Minutes", which sounds different than "Frozen", they all belong to a different era, but she's never made the misstep that warrants a song to be parodied because she's so smart, savvy and makes really focused decisions in an effort to stick around in a world that continues to change. She is really the head of the class when it comes to pop music.
You've had Abbi Jacobson as Judy from Summer Stock, if you could cast yourself in any classic movie musical what would it be?
Oh that wasn't Abbi as Judy, but as Val, her alter ego on Broad City. I'm not really a classic movie musical guy, but when it comes to musical theatre I only enjoy three shows: Into the Woods, How to Succeed in Business Without Really Trying and one more I can't place right now. I can't imagine what classic movie I'd be in, maybe that's a crime to say, but my cultural interest doesn't go past the 50s or 60s.
Did you ever get to sing with Sutton Foster on Younger?
(Laughs) No, I wish! As amazingly talented as she is, she liked to live in the comedy and drama of Younger, and not really cross pollinate between theatre and TV comedy, but I did get along with her and we had a doggy date, her dog and mine got along just fine. We're both obsessive dog parents and really connected in that way. She's one of the kindest, sweetest people I've met, extremely collaborative, well intentioned and lovely. Maybe we'll get a chance to sing together in the future.