Review: Keith Hennessy & Jassem Hindi's "future friend/ships" at American Realness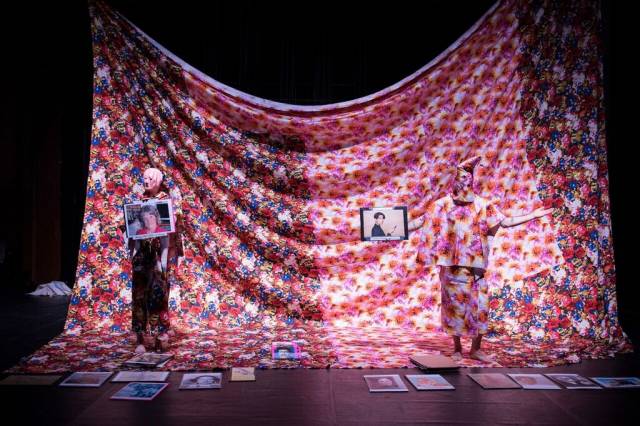 On Saturday, January 9th a group of approximately 75 audience members filled the open wings of the Playhouse Theater at Abrons Arts Center to view the work of Keith Hennessy, a San Francisco-based dance and performance artist regarded as a pioneer of queer and AIDS-themed expressionist dance, and Jassem Hindi, a Saudi Arabia-born musician and artist in the fields of sound, performance and temporary objects/installations. At 7:00 p.m., Hennessy and Hindi, naked but for shin-length aprons, asked if the audience was ready. A few more audience members entered, found seats, and joined the rest of us on stage to await future friend/ships, a poetic and satirical performance-art installation that, grounded in inclusivity, acceptance, and worldwide love, uncovers the "unwelcome".
As self-proclaimed "news junkies" set out to be "amateur oracles," the two create a fictional future that utilizes childish innocence to combat intolerant adult skepticism and hatred. Slightly broken, remote-controlled gadgets vibrate, hop, and interact with each other, sharing the stage as Hindi records and loops their mechanical sounds. The two performers then cover their heads, Hennessy with a vulture mask and Hindi with cardboard box, on which a smiley face is drawn with a black marker. They vigorously fling and thrust their bodies throughout the stage, like children propelled by fearlessness and fun, to the sounds of a harsh beat and a female singer. The bird and the box interact without judgement—a fictional future indeed.
Removing their masks, Hennessy and Hindi explain the painting hanging upstage, an ivy-like design reading "Holy War," "Civil War," and "Cold War" as a list. The painting's title is "The War in Syria as a Back Tattoo," to which the audience chuckles, not without tension. Stringing a floral fabric backdrop across the stage and draping themselves in the same fabric, as camouflage, they obscure their own images against their new and brightly colored environment. Hennessy and Hindi ceremoniously display blown up photographs of the evening's "real" hosts, the "ancestors of Arab futurism," one by one: Arab musicians, astronauts, icons, and even King Abdullah II bin al-Hussein of Jordan, whose photograph is from his 1996 appearance as an extra on Star Trek: Voyager. Masked again, Hindi recites poetry, speaks of a "need for a fictional future," and recites the entire Star Trek mission slightly altered: "These are the voyages of future friendships…"
Hennessy and Hindi pass around books of poetry by Arab poets, a drawing of Donna Harraway as a baby dragon as well as a photograph of her in "cyborg form," and the entire collection of photographs they had previously displayed. With these photographs in hand, the audience becomes able to connect with these fictional friends more closely: Muhammed Faris, astronaut and the first Syrian refugee in space; Ruqia Hassan, a 30-year-old Syrian journalist who was murdered this September; the first Bedouin drone; the "dirty lion."
Singing a rendition of "My Body Lies Over the Ocean," Hennessy's bare body travels aimlessly through an empty and eerily lit stage of flowing fog through triangular planes of light. The song transforms to "There is a Balm in Gilead," singing "to heal the sin sick soul." The oracles return to their bird and box characters and move fiercely to recorded poems reworked through sound-play. Repeated are haunting lyrics, such as "when the madness of the peoples of the world knock at the door, we open." Throughout the final leg of the performance, more poetry is heard with the ringing of bells. Lines like "if only…" repeat with new possibilities; the final being "if only we could die like other people."
Hennessy and Hindi end their fictional future of friendships on a heartfelt and love-filled note, celebrating that which is potential rather than fictional. Hindi wears a Paris T-shirt with a picture of the Eiffel Tower; lighting designer Dennis Doescher's T-shirt reads "refugees welcome." The three remain on stage as the audience mingles and disperses.