Yesterday we placed our bets on the five major Drama categories for Sunday's 65th Primetime Emmy Awards (CBS @ 8pm ET).  Today we're going to make our predictions for the Comedy awards:

Outstanding Comedy Series
• The Big Bang Theory (CBS)
• Girls (HBO)
• Louie (FX)
• Modern Family (ABC)
• 30 Rock (NBC)
• Veep (Showtime)
Will win:
Modern Family.  If there's anything you can count on when it comes to the Emmys, it's consistency.  "Modern Family" has won the top Comedy prize three years running, and it would be extremely difficult for any show to stop that momentum now.  It may not be the best or funniest of the contenders, but the Emmy voters have a proven love for it.  Season Four was neither notably better or worse than previous seasons, so there's no reason they wouldn't vote for it again.  And the few Emmy voters who do prefer a more mature, indie comedy are likely to split their vote between "Girls", "Louie" and "Veep", all but ensuring another victory for "Modern Family".

Could win:
Veep.  Emmy voters already acknowledged the show last year with a win for Lead Actress for Julia Louis-Dreyfus, and the show itself got even better in round two.  If there was any show on the list that was going to break "Modern Family"s streak, it would be this.
Should win:
Louie.  "Louie" is almost singlehandedly responsible for the explosion of "truthful," "awkward," and "painfully honest" comedies on TV (like fellow contenders "Girls" and "Veep").  The semi-autobiographical, anecdotal nature of the show and its stand-up format make it a unique gem in the world of comedic television.
Should've been nominated:
"Parks And Recreation" (NBC).  It is literally a travesty that this show has only been nominated for Outstanding Comedy Series once in its five-year run and even more of a travesty that it's never won.  Hands down the funniest show on television -- it's got the highest minutes-to-laughs ratio provided by a cast of eccentric but entirely believable characters.  And it's refreshing to see a comedy derive its chuckles not from a weary cynicism, but from an unflagging optimism and a belief in the general goodness of people.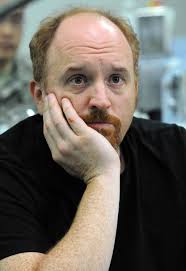 Outstanding Lead Actor in a Comedy Series
• Alec Baldwin ("30 Rock")
• Jason Bateman ("Arrested Development")
• Louis C.K. ("Louie")
• Don Cheadle ("House Of Lies")
• Matt LeBlanc ("Episodes")
• Jim Parsons ("The Big Bang Theory")
Will win:
Louis C.K.  Fortunately for Louis C.K., the entire cast of "Modern Family" competes in the Supporting Actor races, opening a clear path for him to nab the statue this year.
Could win:
Alec Baldwin.  Emmy voters have a long-standing love affair with "30 Rock", having awarded the show three times and Alec Baldwin himself twice before.  And, this being the final season of the show, it is possible that they will choose to reward beloved Jack Donaghy one last time.
Should win:
Louis C.K.  His naked portrayal of a thinly-veiled version of himself is simultaneously hilarious and heartbreaking, and one of the most honest performances on television -- comedy or drama.
Should've been nominated:
Adam Scott ("Parks And Recreation").  It's hard being the straight man in a cast of quirky characters, but Scott nails it as the oft-exasperated Ben.  His romance with Amy Poehler's Leslie is the romantic heart of the show.

Outstanding Lead Actress in a Comedy Series
• Laura Dern ("Enlightened")
• Lena Dunham ("Girls")
• Edie Falco ("Nurse Jackie")
• Tina Fey ("30 Rock")
• Julia Louis-Dreyfus ("Veep")
• Amy Poehler ("Parks And Recreation")
Will win:
Julia Louis-Dreyfus.  This year the Emmy voters will go for symmetry, awarding the two top Comedy Awards to two people with "Louis" in their names.  Louis-Dreyfus won this award last year, and instead of resting on her laurels, she delivered an even better performance for the second season.  Her narcissistic machinations make Vice President Selina Meyer the female, comedic equivalent of House Majority Whip Frank Underwood, and the voters will likely recognize both of them for their scathing portrayals of Washington elite.  Who doesn't love a good derisive takedown of the government?
Could win:
Tina Fey.  She won for the same role once before, and the Emmy voters could choose to recognize her one last time, much like Alec Baldwin.
Should win:
Amy Poehler.  Her Leslie Knope is a fascinating contrast to Louis-Dreyfus' Selina Meyer.  They're both government officials, but while one is constantly trying to advance her own career, the other is constantly trying to do what's best for her beloved small town.  Poehler is consistently hilarious as the bighearted Leslie who is identified less by her small-town naiveté than by her relentless yes-we-can attitude and her unconditional love for everyone around her (except for Jerry and citizens of Eagleton, of course).
Should've been nominated:
Mindy Kaling ("The Mindy Project").  The best new comedy of last season, anchored by a performance from the Fey/Poehler camp of self-deprecating yet bizarrely optimistic humor.  Her barely-fictional Mindy Lahiri is a sneakily brilliant character -- she aspires after rom-com clichés while quietly and unintentionally subverting them.

Outstanding Supporting Actor in a Comedy Series
• Ty Burrell ("Modern Family")
• Adam Driver ("Girls")
• Jesse Tyler Ferguson ("Modern Family")
• Bill Hader ("Saturday Night Live")
• Tony Hale ("Veep")
• Ed O'Neill ("Modern Family")
Will win:
Ed O'Neill.  Since "Modern Family" first started competing for Emmys in 2010, it has only missed one Supporting award: Jane Lynch won Outstanding Supporting Actress for "Glee" in 2010.  But "MF" won Supporting Actor that year, and both awards in 2011 and 2012.  Don't expect that to change any time soon.  Two-time winner Eric Stonestreet was oddly not nominated this year, but really it's a total toss-up -- it could go to Ty Burrell, Jesse Tyler Ferguson or Ed O'Neill.  But Ty Burrell has already won it once, so it wouldn't be surprising to see the Emmy voters give it to O'Neill this time.  He's been an audience and critical favorite since he played Al Bundy on "Married... With Children", and it's time he was recognized for his work on "Modern Family" as well.
Could win:
Bill Hader.  If the "Modern Family" vote gets split, there's a chance that Bill Hader could nab the award.  Last season was the last of his eight years on the program, and voters might want to recognize his iconic work there.  But "SNL" has never been awarded an acting prize outside of the "Guest Actor" categories, so this is a long shot.
Should win:
Tony Hale.  The former "Arrested Development" star has been tearing it up as the sycophantic, bag-toting, Selina-obsessed assistant Gary.  Plus, "Veep" is a superbly-cast ensemble show, so it would be great to see someone else from the cast be awarded for their work alongside Julia Louis-Dreyfus.
Should've been nominated:
Nick Offerman ("Parks And Recreation").  How is it possible that Offerman has never even been nominated for his portrayal of meat-loving, government-despising ultimate man's man Ron Swanson?  Clearly the Emmy voters have never been exposed to the Swanson Pyramid Of Greatness, with categories including "Facial Hair," "Masonry," "Buffets" and "Honor," or they would be bowing in awe before this unsurpassable display of masculinity.

Outstanding Supporting Actress in a Comedy Series
• Mayim Bialik ("The Big Bang Theory")
• Julie Bowen ("Modern Family")
• Anna Chlumsky ("Veep")
• Jane Krakowski ("30 Rock")
• Jane Lynch ("Glee")
• Sofia Vergara ("Modern Family")
• Merritt Wever ("Nurse Jackie")
Will win:
Julie Bowen.  Bowen has won this award two years running, and there's no reason to suspect her streak will end now.
Could win:
Jane Krakowski.  (See entries under "Alec Baldwin" and "Tina Fey.")
Should win:
Julie Bowen.  She certainly has nothing to fear from her costar Sofia Vergara, who has disappointingly never really grown out of the beautiful, accented stereotype she began the show as four years ago.  Bowen, on the other hand, delivers a complex, multilayered performance as beleaguered mother Claire who expertly juggles four demanding children (yes, that includes her husband) -- and she's also surprisingly adept at physical comedy.  Claire's struggle this past season over whether or not to return to work was particularly good material for Bowen and should clinch her another victory.
Should've been nominated:
Eliza Coupe ("Happy Endings").  The prematurely-cancelled "Happy Endings" is easily one of the most underrated comedies of the decade, and Coupe surprisingly emerged as the comedic star of the show.  She and costar Daman Wayans, Jr. (who played her husband Brad) together unexpectedly became one of TV comedy's strongest, sexiest, and funniest couples.  What was so refreshing about them was that instead of mining laughs out of tension and conflict, the writers found a way to make a stable and loving couple hilarious.  Never before has marital bliss been so hysterical -- and that's largely thanks to the comedic timing and terrific chemistry of Coupe and Wayans.
What show do you think will take home Outstanding Comedy?  Which actors are you rooting for to win the big awards?  Who do you wish had been nominated?  Tweet us @StageBuddy to let us know!