Interview: Asghar Farhadi on the Oscar Nominated 'The Salesman', and Why Iran and America Are More Similar Than They'd Like to Think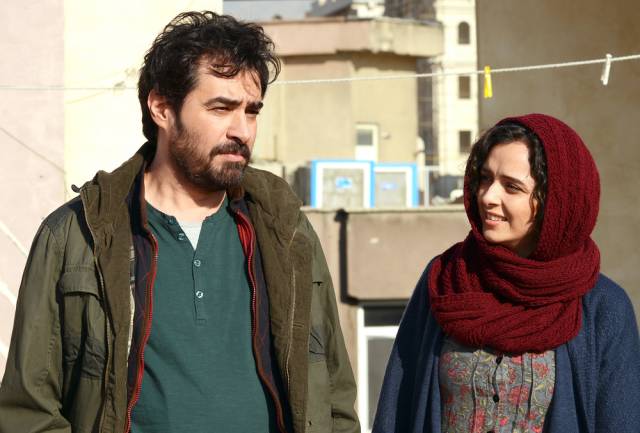 Asghar Farhadi's films unfold at the pace of real life, with unexpected, but realistic twists waiting around each corner, yet they are also tone poems filled with the dread of the darkest of thrillers. His ability to balance the two is what makes him one of the most compelling filmmakers in the world. In The Salesman he adds a third layer, that of the world as a stage, as we meet Emad (Shahab Hosseini) and Rana (Taraneh Alidoosti) a married couple who are also playing the leads in a production of Arthur Miller's Death of a Salesman. Their lives are changed by an event that happens shortly after they move into a new apartment, which used to be occupied by a woman of "ill repute." A ghost story in many ways, The Salesman deals with what happens when lives and spaces are haunted by those who once were familiar to them.
After premiering at the Cannes Film Festival, where it received awards for its screenplay and Hosseini's performance, the film went on to be nominated for the Best Foreign Language Film Oscar, which Farhadi won for A Separation. We sat down with Mr. Farhadi during his visit to New York in the fall of 2016 to discuss the themes he explores in The Salesman, what he would do if he ever worked in the US, and how Iranian and American cultures are more connected than they'd like to think.
Watching the film I kept wondering if in a way you were working on two different projects at the same time, the production of Death of a Salesman we see in the film, and also the film where it takes place?
At the beginning I had a treatment of a story about a couple who go through an incident. The husband's job was being a teacher and that was all I had. I had this in my head for years but it didn't seem complete. I've been wanting to do theatre or mention theatre in cinema for over 20 years, I had an epiphany at some point when I realized the couple could be theatre actors. It helped me get close to theatre again, so at that point I started work on the second half which was the play. I found Death of a Salesman and worked on drawing the connection between the two.
You've talked in the past about how important the last and first images in your films are, and in this one the bookends inside the theater made me wonder something very esoteric, which is have you found anything about yourself revealed while watching a play?
Actually what's interesting to me is the relationship between theatre and real life, sometimes you go to a play and there's no stage so you sit close to the actors, at their same level, and they're at home in the play, so you feel you're entering their lives. The border between life and theatre begins to vanish, and this is something I wanted in this film. The more we go into the movie we ask ourselves are we watching theatre or real life? Towards the end for example, the scene in the empty house, we wonder if it's a play or a film. I really liked this.
I liked it too.
(Laughs) Not just in the film. In real life this is interesting to me.
The actors are putting on three performances in a way, they are the real life actors playing theatre actors, who are playing characters onstage, but who also put on a performance by pretending nothing happened to the wife. What kind of direction do you give them when they have to operate on all these levels?
It's interesting because the actors come at the end of the process, we rehearse with him the most because they have a limited time to perform and they need to show themselves to the audience. With the lead actors I worked more on Death of a Salesman than the movie, when they came to set they did the play. I wanted them to feel they were actors, and I like this concept than an actor is someone who can put himself in someone else's shoes, it matched very well with our story that in the end the lead character meets an old man who he simply can't understand. He couldn't put himself in the shoes of the old man. Although he was acting like Willy Loman in the play, he couldn't bring himself to empathize with this real life version of him.
Not long ago I watched a version of Death of a Salesman in Yiddish, and since I didn't speak the language either watching your film made me think of how often in America we are told about how different Iran is from the Western world. So by choosing a quintessential American piece of art you show us there is much more in common than we'd like to think. Is this a case of great art just transcending language and culture, or maybe people are wrong and our cultures are similar in ways we never thought of before?
Iran and America are very similar emotionally, that's why Death of a Salesman is very famous in Iran and people connect to the characters very well. I didn't choose this play because Arthur Miller was an American, but because when I read the script I realized how many cultural similarities there were. The worrying feeling that the father has to order his children's future is the same in Iran, we had an example of that in A Separation. That's why I consciously wanted to show how these things were so close emotionally and culturally.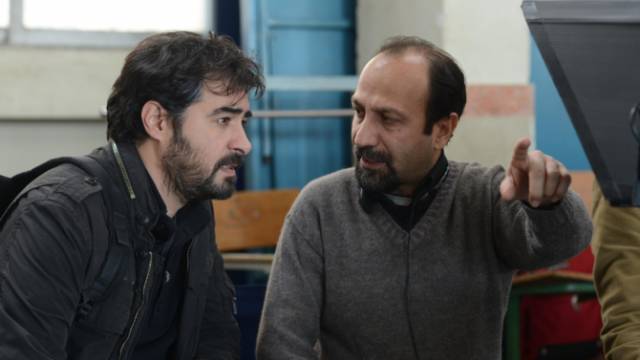 Would you want to make theatre in America?
I really think that if I wanted to work in the US I'd like to do theatre. When we were rehearsing Death of a Salesman on the set, the cast and crew thought we should do this as a performance and take it to the US. If I want to do it in the future, it would be a modern version of Death of a Salesman, not what you see in the film.
In the film we see the meaning of objects, for example we see how the characters decide who the woman who lived in the apartment before is, just based on her clothes and what she left behind. Can you talk about the importance of objects in helping us know about others?
When your character is not present in the film there are only two ways to understand that character: the judgment of other characters, or the objects and furniture left behind by that character. Even here when they talk about that character as a prostitute, as they see her clothes, the furniture, the paintings her child made, we understand more about who this person is. When we see her cats in the house, and how the cats are still there even though she left, we understand even more about her. I was thinking even though she is not present in the film, even if we don't like her job, we have empathy for her.
Before you started The Salesman you were working on a project produced by Pedro Almodóvar and starring real life couple Javier Bardem and Penélope Cruz. I wonder if Javier and Penélope will be scared of what you put them through after they see what happens to husbands and wives in your films.
(Laughs) ...but in my film they're not a couple.
Is that all you can say about the film for now?
Before finishing the script I can't talk much about it. But if you don't even see the credits of the film and you watch it, you know it's one of my films.
The main character is an actor but also a professor. Your films can teach us a lot without being didactic, given the state of our society can you talk about the importance of art in teaching us empathy.
From the aspect of my work, yes. When we empathize with other people we feel peaceful inside. When we feel this inside us there is catharsis. Empathy is one of the main things in art for me.
The Salesman is now in theaters.