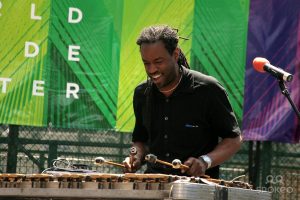 The Puppeteers are a supergroup that could be described in a single word: wow. Yet the attributes each musician in this four-piece band possesses make a single-word review impossible. Firstly there's Arturo O'Farrill, the pianist whose background in Latin Jazz and expertise in arranging and composing make him incredibly well rounded and a positive asset to any jazz outfit. There's also Jaime Affoumado, one of the most spirited and technically gifted drummers I've ever heard, and Alex Blake, a bassist whose playing is so idiosyncratic it's not surprising he began in Sun Ra's Arkestra. Last but certainly not least, there's Bill Ware, a vibraphonist whose indelible smile lights up the room and brings everyone's attention to his vibrant playing.
The entire performance was a celebration of the release of the band's self-titled album and, as such, was littered with tunes from the record. At the head of the show the group launched into "On the Spot", a sizzling amalgamation of John Coltrane's "Giant Steps" and Chick Corea & Return to Forever's "Vulcan Worlds". I use the world launched because the breakneck tempo of the song arising from pre-show silence felt like a rocket taking off from rest. Bill Ware took the first solo and played over the insane chord changes effortlessly. The bouncing of the mallets in his hand made him look like an actual puppeteer controlling the limbs of a marionette. At one point he let a note ring out so softly and so beautifully the audience could do nothing but applaud him for his polished taste and touch.
Alex Blake also displayed his unique voice on the bass, doubling his bass lines by scat singing an octave above the bass notes. This method of playing created the feeling of a song within a song. That is, his solos felt refreshingly different from the piece itself even though the chords remained the same. He also utilized a forceful brushing technique while playing upright bass, a mode of playing highly distinct from slapping or plucking which lent a primal sense of strength to the performance. Arturo O'Farrill plowed through each song with authority, aided by the sharp attack of Jaime Affoumado's drumming. The two of them were such a tight rhythm section it was as if they were communicating telepathically. O'Farrill used commanding left-handed bass figures to connect Latin inspired chord voicings while Affoumado held everything together with subtle yet punctilious work on the snare and cymbals.
I couldn't recommend this group and their new album enough.