The EstroGenius Festival, which continues through November 2, celebrates female voices in theater.  We asked several of the women involved to talk about their favorite female playwrights.
Connie Schindewolf - Playwright, A Bottle of Vodka:
I would have to say Beth Henley is my favorite female playwright. First of all, she is very close to my age so I can compare myself to her in ways I can't with the younger playwrights. I have the greatest respect for her being brave enough to enter a male dominated profession when she did and to actually win a Pulitzer Prize for her beautiful play, Crimes Of the Heart. The play spoke to me deeply about family relationships and how depression can affect your decision-making. Not only did she win a Pulitzer, but she was also nominated for Tony and Academy awards. In no way can I compare my writing skills with hers, but I was intrigued when I read her answers when she was interviewed. How plays "come to her" is similar to how they come to me. She said a "yearning desire... some emptiness starts to throb". Beginning to do drafts in spiral notebooks, many of them, is a technique of mine also. There is so much activity that goes on before you sit down at the computer and write. Beth Henley has helped to pave the wave for women playwrights.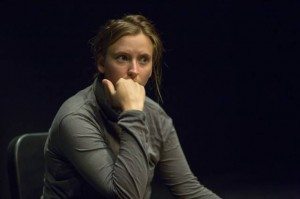 Caitlin Wolf - Writer/Director/Performer, It's Not My Decision:
Kathryn Hunter, Anna Deavere Smith, Caryl Churchill. Why? Their performance and writing reflects "why theatre". These women are survival. The earth is populated with human beings, and so we keep doing theatre! We keep creating, on instinct, and with our imagination. Same way we get out of the rain on instinct, or stay in the rain to inhale it, using imagination, senses, and memory to feel rain… we have to deal with the rain. We have to deal with populating this earth, and we are in desperate need to survive. And we have to find a transcending station of existence to forgive ourselves for our collective existence, our history, and define a meaning. To manifest compassion and empathy, it is survival.
Laura Fay Lewis - Actor, Parkersburg:
One of my favorites is Yasmina Riza, playwright of God of Carnage and Art. She is someone that really delves into the truth of humanity, in respect to relationships, with great clarity and chilling precision about love and life.
Holli Harms - Playwright, For Abby:
Lynn Nottage, Suzan Lori Parks, Leslie Ayvazian, Tracey Scott Wilson, Cori Thomas are all women of grit who write from the gut. They create lyrical, rhythmic, beat pounding plays that not only entertain, but bring a call to change, plays that hold a mirror up to nature and show us what we can create and how we destroy. They never give up and they never surrender.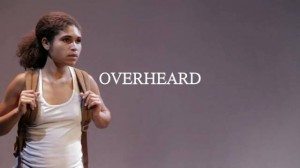 Kirya Traber - Writer/Performer, OVERHEARD:
When I was 18, my aunt took me to see Sarah Jones' Bridge and Tunnel at Berkeley Rep in California. I had not yet considered being a theatre artist myself, and could hardly imagine myself writing or acting in a play. Watching Jones' seamless transformations into, maybe a dozen, distinct characters left me awestruck. I had never seen a person use their body and voice in such a way before: to bring so many people to life, to tell such a dynamic story just by letting these characters speak through her. Sarah Jones, of course, led me to Ana Deavere Smith, and neither would have been so successful without the legacy laid by, N'Tozake Shange. Years later, as a professional theatre artist, I stand proudly in a lineage of women of color who understood themselves -- their writing, their voices, their bodies -- as vessels for the stories of the unheard, and have dedicated their lives to bringing these truths to the light.
Cheryl King - Producer of Sola Voce; Director of Stage Left Studio; Playwright, Maid's Door:
I'm nuts about Monica Bauer's writing. She is smart, understands the power of language and is prolific. She produced a staged reading of her latest play, The Chosen Child, and two solo shows at my theatre – Made for Each Other, and The Year I was Gifted. She's offered for me to do The Year I was Gifted and I yearn for the day when I have time to get a chance to say those marvelous words myself. Elise Forier Edie brought her amazing solo play The Pink Unicorn, about gender queer issues, to my Left Out Festival this April, and it was an utter delight -- funny, heartfelt and not afraid to tackle a tough topic in a very accessible way. Janet Schlapkohl is a writer whose work I just discovered, when she submitted her show Chore Boots to Sola Voce. I booked her on the spot to do this year's festival. She's from Iowa and has no local audience, but I'm hoping that New Yorkers will come out to see this powerful story, so eloquently written. You can get your tickets here.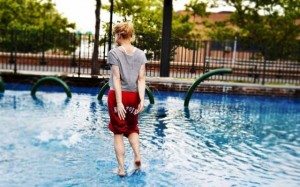 Catherine Boruch - Writer/Performer, Downtown Mermaid:
My favorite female writers are song writers. Music always inspires my work and every character comes from a song in my head, my ear, or heart. My mom use to play Carol King when I was young and when I came to New York all the downtown music anti-folk singers like Cindy Lee, Berry Hill, and Blondie Inspired my dance and performance.
Barbara Suter - Writer/Performer, The Big Giant Bookstore:
In 1980 (ish) I was cast in a production of My Blue Heaven by Jane Chambers. Her play Last Summer at Bluefish Cove had recently been produced Off-Broadway to great acclaim. Jane was a lesbian and wrote about lesbians and their relationships at a time when it was not a popular subject. In My Blue Heaven the women get married -- using, as I remember, tinker toys as rings. Jane was a visionary and I was reminded of her vision and advocacy for social change in the past year as gay marriage continued to gain recognition not just in the community but in the courts as well. Soon after our production Jane was diagnosed with a brain tumor and died in February of 1983, but through her plays she left a legacy of humor, love and possibility.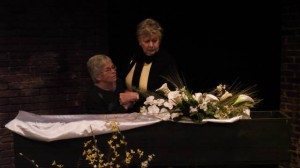 Helene Galek - Actor, Goodbye Avis:
As much as I enjoyed all the playwrights, I have to say my favorite one was Margaret Dodge, who wrote Garden of Even - which was my very first Estro in 2002! She wrote a great play about a couple who take a course to understand what its like to be the other sex - an offbeat couples counseling. What ensues is that their training has gone too far so that the husband is too much in touch with his woman side and the woman is too much in touch with her male side so they still have conflicts.
Deborah Long – Playwright, Heartland; Producer, Deborah's Program:
There's something just a little insulting about the phrase, "female playwright." Women represent more than half the world's population and yet somehow, when we tell stories from our point of view, we're considered a rarified, minority group. My favorite female playwrights also happen to be among my favorite playwrights, period, because they create compelling characters and tell stories in ways that not only define our human experience, but may also help to re-define it. Think of Eve Ensler's The Vagina Monologues. Lorraine Hansberry's A Raisin in the Sun. Lillian Hellman's The Children's Hour. Sophie Treadwell's Machinal. Wendy Wasserstein's The Heidi Chronicles. Or consider pieces like Marsha Norman's 'Night, Mother and Caryl Churchill's Top Girls that touch a nerve as they explore traditional roles, like mother-daughter and sisterhood, through a dark lens. EstroGenius presents a balance of the serious and the fun, so that audiences walk away with something to think about and discuss, but likely there's been a lot of laughter, too and everyone leaves the theatre in a great mood. The festival is teeming with talent! Our playwrights aren't all female, but they're all good storytellers. Is there the seed of a Pulitzer or a Tony Award winning production here? Stranger things have happened, and great things do transpire when artists have the kind of support the festival provides!
Who are your favorite playwrights? Tweet us @Stagebuddy and let us know, and find out more about the EstroGenius Festival here.