Interview: Playwright Eliza Bent on Love, Puns, and Her New Play "On a Clear Day I Can See to Elba"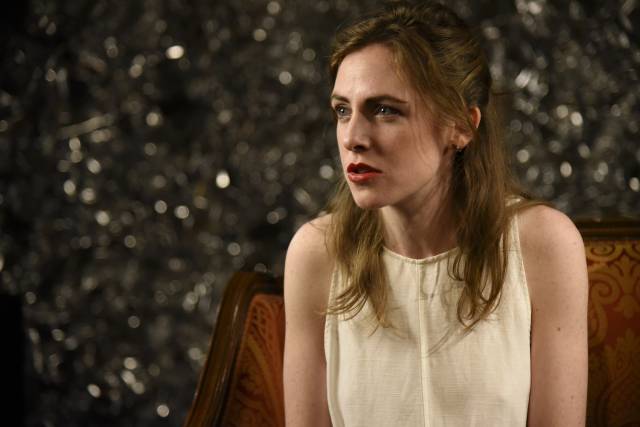 The Obie-winning Ice Factory festival presents seven new works from June 29 to August 13 at the New Ohio Theatre. We spoke with playwright Eliza Bent about love and intimacy, her favorite playwrights, and her two-hander On a Clear Day I Can See To Elba.
Tell us about your show.
On a Clear Day I Can See To Elba is a two-person play that takes on the solipsism of love, the maddening aspects of intimacy, and the curious nature of self-hood within a relationship. Lambrusco, Queen, and geraniums populate the ongoings. Directed by Knud Adam and starring Noel Allain and Eboni Booth, Elba ultimately asks: What is the nature of self-actualization within a couple?
What have been the most exciting things about seeing your show jump from the page to the stage?
I'm so thrilled about the team that has been assembled for this show. Knud Adams and I have worked together before but this feels like a step in a new direction. I'm pleased we get to deepen our collaboration. I've admired Eboni Booth's acting for a while but haven't gotten to work with her, meanwhile I've actually acted alongside Noel and have had a play happen under his artistic directorship at the Bushwick Starr (The Hotel Colors) but this is the first time he'll act in a piece of mine. And the design and production team is dreamy—a lot of nice relationships and people. The most exciting thing was reading through some early drafts of the play and gaining valuable questions and feedback from the group.
On a Clear Day I Can See To Elba is about love, intimacy, and relationships. What are some of the best pieces of media you've seen/heard on these subjects in the past year?
Oh man there are so many! Here are six:
Aziz Ansari's Master of None
Annie Baker's John
Maria Irene Fornés's Drowning
Richard Linklater's trilogy: Before Sunrise, Before Sunset, Before Midnight
Tina Satter's Ghost Rings
Celine Song's Tom & Eliza
Who are your favorite playwrights, past and present?
I gotta give shout outs to old Anton Chekhov and Tennessee Williams.
Brooklyn College peeps past and present: U know who u r.
My Omaha peeps: May you sing the GPTC anthem.
Target Margin Theatre peeps: Chubby Broccoli was right!
Cool ensembles with offices at South Oxford Space: Tennis anyone?
Romeo Castellucci: Alla prossima.
I also really like Hamilton and that one about Great Comet of 1812.
What would you change about the current state of theater?
Not a thing. Everything is terrific.
J/k!
I think it'd be great if more playwrights ran theatres.
I also think it'd be great for there to be more real opportunities that have funding.
Apparently this play is full of puns. What's the most groan-inducing one you've heard (or created yourself!)?
Asking a person to name her pun is a bold move!
I was once told my Instagram @getbentobox is a three level pun. That was a high compliment.
Here is a part of the text from the play that is truly dreadful:
M
Sprechen zie Deutch?
W
Nine.
M
Ten.
W
"This one goes to Eleven."