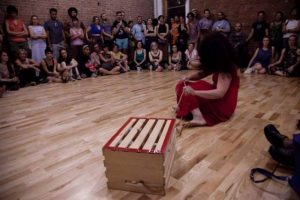 We sat down with performance artist Heather Anne Chamberlain and Marseille-born actor/director Ludovic Coutaud to chat about the differences between European and American theatre, what it means to collaborate artistically and their new show A Very Abstract Night:
A Very Abstract Night is a cross between:
Ludovic: The body of the clown and a physical theatre show. I emphasize the voice and body as the instrument I use to tell a story in what is a very different way than often seen in American theatre. I tell simple stories yet I seek to blend the stories with a very surreal and esoteric, hopefully compelling, staging. I want the audience to feel immersed in the story and the actors are stuck in the audience breathing the play.
What was the most challenging about bringing this show to the stage?
Ludovic: Finding the right artists to be a part of this journey with me. I am very specific in what I want and then needed actors and actresses to be fearless and ego less. I needed a lot of room for work-shopping and laboratory work. I did find the right ensemble to fulfill that achievement and I am very grateful for that.
Heather, you allowed Ludovic Coutaud to re-stage your solo piece, "There Once was a Girl," for A Very Abstract Night. Was it hard to give your creation up?
Heather: My first inspiration came from a haunting piece of music Longing For Ballet Class by composer David Dabbon. Ludovic saw the rough beginnings of this piece during an experimental performance I gave here in New York City and he was inspired to dissect it. This little piece has attracted new friends with artists such as Ludovic Coutaud who help the piece grow, mature and find its own place in the world, independent of me but still a part of me.
Heather, you've directed theatre here in New York City and in Los Angeles. Your sights are clearly now on solo performance. Why the switch?
Heather: As a director, I put myself in the role of actor and director simultaneously, because of my training as a performer, which wastes energy. I can't separate myself from the creation and I become all-consumed by the project, in an unhealthy way. I'm pretty much a nightmare to be around, especially to myself. Lol.
As a solo performer I can create in the moment each and every performance since it is me doing the work I want to do and see. Though, I never direct myself. I collaborate with people I trust to tell me if I'm telling the story that I'm trying to tell.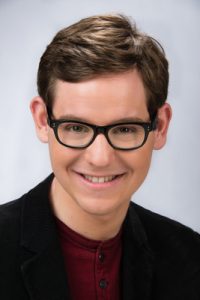 Describe your experience of being a French theatre artist in New York City.
Ludovic: Being French in NYC has been incredible. It allowed me to stand out from the rest of the actors because my training in France was a very unique form of artistry-training. Physical training is priority for the European actor. We are trained in clown work, mime, dance and physical theatre so we command our bodies to do anything needed for the work at hand.
What influences of NYC would you like to see in French theatre and vice versa?
Ludovic: More musical theater. I believe the musical is more of an American way to tell a story. I want to see in New York is what I hope I created in 'A Very Abstract Night'-a variety of clown, physical theater, live music and an experiment in the esoteric abstract.
What would you change about the current state of the American theatre?
Ludovic: I would love for the American actors to stop wanting to be "real" on the stage. That word doesn't belong in the craft. Creating a believable, present and impulsive character is maybe more accurate. Artists create art to help audiences escape. Entering a theater is already an experience and it should allow people to evade their issues and personal problems. Not a transcription of real life on the stage.
Heather: I want more of it, everywhere.