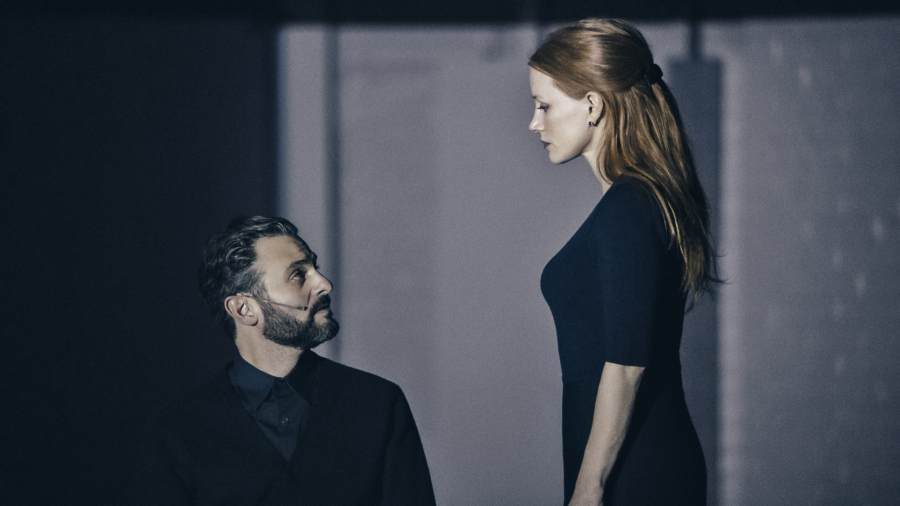 Jessica Chastain is undeniably one of the finest actresses performing in the movies today. When it was announced that she would return to Broadway after an 11 year gap, it was considered an event.
Starring in Henrik Ibsen's "The Doll's House," Chastain portrays Nora, a young wife who commits a crime to save her husband's life. Having gone from her father's house where she was pampered and cosseted to her husband's house where she is treated like a child, Nora is naive and unsophisticated. She has a childlike approach to the world and sees things simply. When it appears that her transgression will be revealed even though she had the purest of motives, her whole world comes apart.
The drama at The Hudson Theatre is a minimalist version written by Amy Herzog. The performers, all clad in black, have few movements and no props. At one point, when Nora 'lights' a cigar for Dr. Rank (Michael Patrick Thornton,) there's no cigar and no match. In fact, neither actor even gestures or mimes the action.
The few chairs on stage are moved around on a turntable. Chastain rarely stands, as if her character is waiting for direction. We have a doll's house in our den with several dolls who 'live' there. The dolls remain in their places unless someone makes them act. So does Nora.
At one point in the play, she frantically 'performs' a dance and rises from the chair, even falling to the floor. To convey her distress, she writhes spastically on the floor. She is stalling to prevent her husband Torvald from reading the letter that will reveal what she has done and change their lives.
Chastain uses her voice well, often a little girl voice, sometimes being flirtatious, sometimes fearful. She retains her innocence until the last moments of the drama. Then there's a change in her tone. She conveys it all very well vocally. As her husband Torvald, Arian Moayed doesn't fare as well. Most of the time he sounds patronizing but towards the end when he feels that his reputation has been ruined, he's shrill, practically screaming.
Some theatrical moments are impressively well-staged by director Jamie Lloyd. When Krogstad
(Okieriete Onaodowan) comes to plead with Nora to intervene on his behalf for his job, he is behind her. We hear his voice but barely see him. Later when he becomes a threat, he sits with her on the chair.
This version of "A Doll's House" with no scenery or props and minimal motion might translate to an effective radio show or podcast. But as I sat there, I wondered why we needed to be seated in a theater watching the actors sit or stand. All we needed to do was listen.
The show is dimly- lit and the mood is always somber. A panel of lights rises up and down to convey things closing in on Nora. The original play has an iconic moment. As Nora leaves, the audience hears the door slam. This version handles the ending differently which many in the theater found equally powerful.
Maybe because the show had virtually no movement, I found "A Doll's House" slow and didactic. The ending felt more preachy. Although Herzog's version is creative and modern, the pared-down play doesn't do the subject matter justice. The actors work hard but they need more; unfortunately, here they got less.