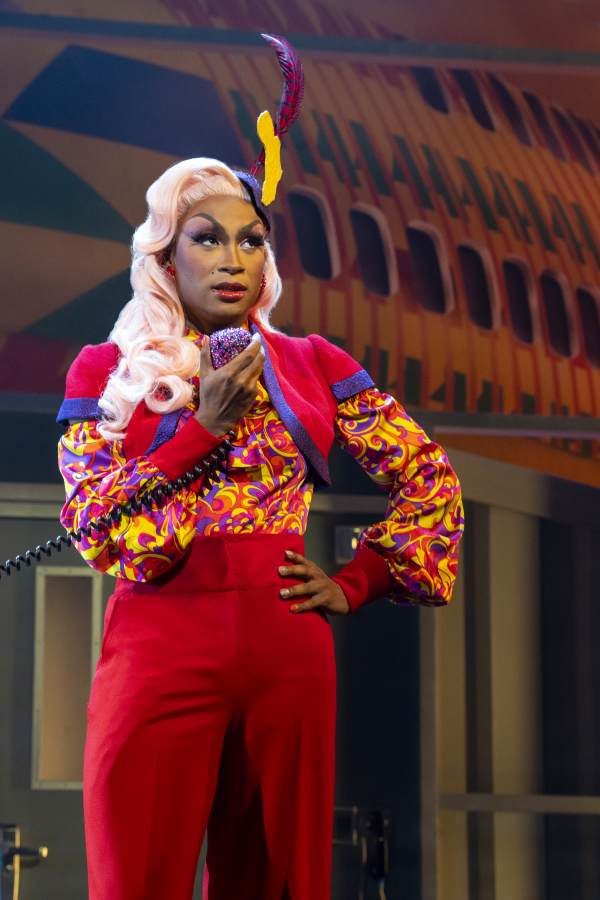 photo by Joan Marcus
The day before I attended "Ain't No Mo'," a new comedy by Jordan E. Cooper, the show posted a closing notice for December 18. It is a unique satirical show that played to sold-out audiences Off-Broadway but only filled 47% capacity of the Belasco Theater. Why do some shows appeal to audiences while others fail to sell enough tickets to remain open? "Ain't No Mo'" received glowing reviews from critics yet the show, innovative and edgy, might connect a younger 'hipper' theatergoers but not appeal to a mainstream audience.
Despite the closing notice, playwright-director Cooper ( at age 27 the youngest American playwright in Broadway history) has vowed to keep it open. Since the show lacks star power ( Hugh Jackman and Sutton Foster in "The Music Man" ) known material ("The Piano Lesson") or familiar music ("MJ" and "A Beautiful Noise,") Cooper must attract his audience differently. He's trying to generate word-of-mouth and industry support. (Will Smith and Jada Pinkett have bought out tickets for two performances.) Before the show began, the audience was strongly encouraged to take pictures of their Playbills and post them on social media.
For years Blacks have been attacked with the taunt "go back to Africa". Presented as a series of scenes, "Ain't No Mo'" uses that phrase as its plot device. The US government has offered all the Blacks in the country one-way tickets to Africa where they can start their lives anew. Now the people have to decide if they want to go.
"Peaches" (Cooper) is a flight attendant for African American Airlines and is helping the passengers board the plane. She instructs them not to look back because otherwise they will have to remain in the U.S. Among them are the 'Real Baby Mamas of South Side" and a genteel family whose father in his quest to make money locked "Black" in the basement for years. The show begins with a funeral of Black peoples' 'right to complain" now that Obama has been elected. The Preacher (Marchánt Davis) exhorts the mourners about changes to come and the lessening of racism.
The show is loud and the dialogue is raunchy. If crude street language language makes theatergoers feel uncomfortable, they will not enjoy the show. Some of the speech is delivered rapid-fire and is difficult to understand. The audience is invited to guffaw and participate loudly.
With a dynamic cast of six portraying all the characters, "Ain't No Mo'" is directed by Stevie Walker-Webb. This show is funny, yet insightful. In the guise of comedy and satire, it is innovative and thought-provoking. However, the show is not family friendly, not for the squeamish. In fact the show will be disturbing to some; after a few scenes, several people near us walked out.
I admire Cooper's talent and his resolve, but I wonder if the play has enough universal themes to draw in a large audience. The show was successful in a 299 person theater and now must fill the 983 seats of the Belasco. If Cooper is able to generate his word of mouth and keep his show going, it will be quite an achievement. So far it has been extended for a week. After that, who knows?
.