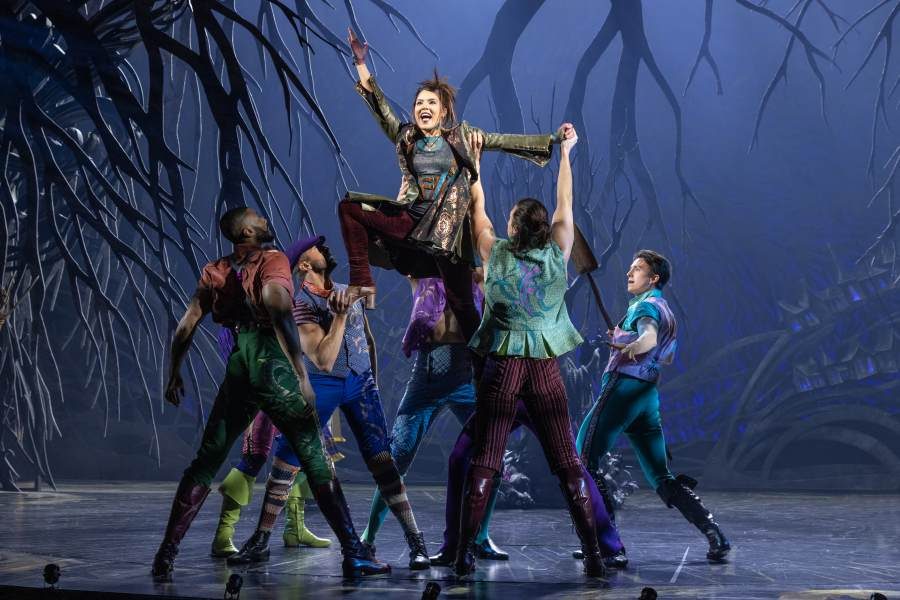 photo by Matthew Murphy and Evan Zimmerman
The good news about "Bad Cinderella," the new musical with music by Andrew Lloyd Webber and lyrics by David Zippel is that it's not all that bad.
The costumes are frothy, colorful and delightfully gaudy, although the buff male dancers (The Hunks) often go shirtless and hardly need any costumes at all. The stage design has a two-dimensional feel, but the musical is based upon a storybook, after all, so it works. (Costume and scenic design by Gabriela Tylesova.)
The hardworking performers sing exceptionally well and give it their all. Some of the songs, particularly solos by Cinderella and Prince Sebastian, are plaintive and lovely with some moments of lush orchestrations. In typical Webber fashion, melodies are repeated, so you may find yourself humming them as you leave. (Not a bad thing.) Cinderella's solo "I Know I Have a Heart" and Sebastian's "Only You, Lonely You" are effectively done.
One of the most entertaining numbers is "I Know You," the interaction between the Queen (Grace McLean) and the Stepmother (the wonderful Carolee Carmello.) The two theater veterans provide some spark and zest to the musical.
In "Bad Cinderella" there's a Prince Charming who has been missing for over a year and assumed dead. Fearing a revolution, the Queen seeks a way to distract the kingdom. So she determines that her younger son, Prince Sebastian, should marry. She plans a ball where he is to select a wife and kiss her at midnight.
As the title character, Linedy Genao gives an impressive performance. Feisty and talented, she can belt out the music but also handle the quiet introspective songs. In the last few seasons reviewing plays, I've seen more understudies than ever before. Their fine performances remind me how much talent is available and how many excellent performers are waiting for "their shots." For our performance Prince Sebastian was played by the understudy Julio Rey who did not disappoint. A fine singer, he also performed an excellent short dance number.
The biggest problem with the musical is the story itself, specifically the characterization of Cinderella. Playwright Emerald Fennell tries to put a new spin on the classic oft-told story. The musical is set in Belleville where the emphasis is on appearance as the townspeople sing that "beauty is our duty." Cinderella is considered bad because she doesn't fit the standard. Cinderella wears dull, dark clothes, has scraggly hair and looks a bit goth. The only bad thing she does is put paint on the statue erected to honor the missing Prince Charming.
Cinderella needs more personality. Although she sings of defiance, there's little evidence of it. The only spark of personality is in her interactions with Sebastian. In some ways, she is a typical teen, sloppy and slouchy, occasionally talking back but not really 'bad.' If anything, she is dull. However, Genedy works hard to give the character more personality.
Directed by Laurence Connor, the story goes off-track many times, but then there's a flashy dance number, and JoAnn M. Hunter's choreography combines all forms of dance.
The lesson of the musical should be female empowerment and the misplaced emphasis on beauty. Instead, the show gets silly and sexual. The Queen's solo about her son, "A Man's Man," emphasizes his physique as well as his personality. So instead of a strong character and a lesson about shallowness of looks, the show delivers several sexual innuendos and sinuous bodies.
In general, "Bad Cinderella" has many redeeming features. But is there enough to warrant a costly ticket? Is it what we expect from Webber? The same way his name sells a show, is the same way people cast a more critical eye on his work. There are expectations, sometimes overly high and perhaps unfair.
If the lead Sebastian is nominated for an award, I will be invited back. Would I return to see it again? We brought a 10-year-old with us to see the show. Perhaps many of the nuances went over her head or she didn't care. Yet when I asked if she'd see it again, she didn't hesitate in saying "yes." So maybe the show works; it just is directed to the wrong audience.