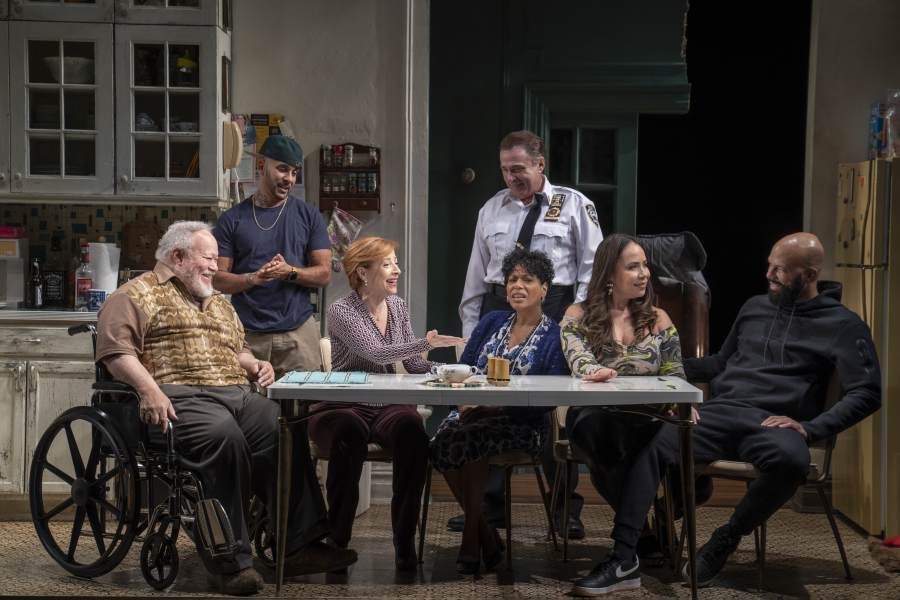 Sometimes one performer in a small cast stands out among the rest. That's one of the problems with the revival of "Between Riverside and Crazy," the 2015 Pulitzer-Prize winning play by Stephen Adly Guirgis.
Stephen McKinley Henderson, theatrical journeyman, plays William "Pops" Washington, a Black NYPD veteran who had several years experience when he was shot six times in a bar by a white rookie cop. That was eight years ago before the story begins. Washington wanted a payout and still refuses to settle. "This [settlement] ain't about no Black, white, or blue — this is about the green."
His wife has since died and now he's getting pressure from his former partner and her fiance who hopes to advance his career by getting Pops to accept a deal. If he doesn't take it, "Pops" risks losing his rent controlled apartment and having his ex-con son Junior (Common) thrown in jail again.
Pops is a straight-talking, blunt fellow who says what he thinks and often his candidness provides humor. He tolerates no flattery and displays of emotion. Henderson has a matter-of-fact delivery. When Junior tries to communicate openly with his dad, the older Washington shuts him down. Despite his cool ways, Henderson gets us to like him. Washington is a straight shooter, honest and lacking in pretense. Like television's Archie Bunker, he insists on keeping the attorneys he's had for eight years because they are Jewish.
Guirgis has created an interesting group of characters. His ex-con son Junior now lives with him, as do Oswald, an ex-drug addict, and Lulu, Junior's girlfriend, Both refer to Washington as Dad which he begrudgingly accepts. Even the setting, the constantly rotating set (designed by Walt Spangler) is like a character in the play. It's a roomy rent-controlled apartment on Riverside Drive (you could almost hear the audience members salivating under their masks.) Yet the furnishings are tired and mismatched and Pops often sits in his deceased wife's wheelchair.
Directed by Austin Pendleton, the show is slightly dated with references to Giuliani as mayor. Yet it still feels somewhat relevant. Washington notes how, as a Black policeman, he was treated differently than a white cop would have been had the situation been reversed. The ending is a bit twisty and surprising. Yet the play isn't entirely about race and discrimination which is made clear in later revelations, but it's about lies and relationships.
Pops refuses to take his medicine or eat healthy. He is stubborn and needs to maintain control, and we can't take our eyes off him. After all these years, 73 year old Stephen McKinley Henderson finally plays the leading man, presenting a master class in acting.