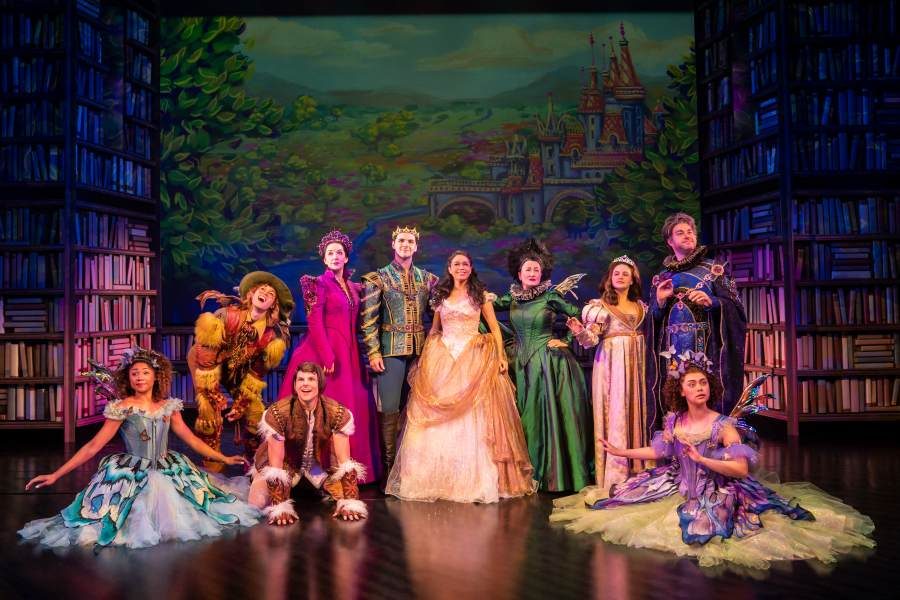 Despite its charms, and there are many, the new musical "BetweenThe Lines" at the Tony Kiser Theater is a show in search of a target audience.
Based upon a young adult novel by best-selling author Jodi Picoult and her daughter Samantha van Leer, the story tells of Delilah, an unhappy young girl whose dad has walked out on her and her mother to be with a young yoga instructor and her child. Uprooted, socially awkward Delilah finds herself in a new school with no friends. Members of the 'in-crowd' bully Delilah and the show uses the screen in the back of the stage to display pictures that they have posted of her on social media. Her agonies intensify because her mother, now working as a housecleaner, cleans the home of Allie McAndrews, the queen of the nasty girls.
Delilah (delightful Arielle Jacobs) finds solace and love (believe it or not) in books, specifically in a particular fairy tale. In the book, Prince Oliver is having problems of his own and miraculously is able to interact with Delilah.
The book of the show by Timothy Allen McDonald has changed Delilah from a 15 year old to a 17 year old , perhaps to make it more acceptable when the fairy tale prince ( a truly charming Jake David Smith) asks her to marry him. In the musical version, Delilah is too old to be reading fairy tales (another reason she is mocked ) but old enough to fall for Prince Oliver and maybe even consider marriage.
At times, the show tries to appeal to an older audience. Ms. Winx, the librarian, sings of her crush on Mr. Darcy from Pride and Prejudice, and one of the teachers is having a relationship with the principal. The best moments of the show involve the high school students. My favorite number was "Inner Thoughts" when the students reveal what they are really thinking about. Ryan (Will Burton) the dumb jock is silent, with obviously nothing on his mind at all and the song is hysterical.
Prince Oliver is not the only fairy tale character with a life beyond the pages and some of those storylines are silly and more appropriate for a much younger audience. When Frump, the dog in the fairy tale (again played by Burton) reveals his love for the princess, he does a tap dance.
Especially sympathetic and likable, Jacobs is a fine singer, and a good fit for the lead. Like most of the other performers, theater veteran Julia Murney plays a dual role, Delilah's mother and Queen Maureen. Hillary Fisher plays both the nasty Allie and the extremely dim storybook princess, doing a fine job with both.
Directed by Jeff Calhoun, the show featured music by Elyssa Samsel and Kate Anderson. Some of the songs were sweet, tuneful and funny. Others were a bit repetitive and there were numbers that could have easily been eliminated.
The successes of Dear Evan Hanson, Jagged Little Pill, and Be More Chill have proven that shows featuring teenagers will sell well. In fact, teens are often repeat visitors to shows that resonate with them. At the curtain call, Jacobs asked the applauding audience to talk up the show to encourage more folks to come. I want to-I really do. I'm just not sure who to tell.