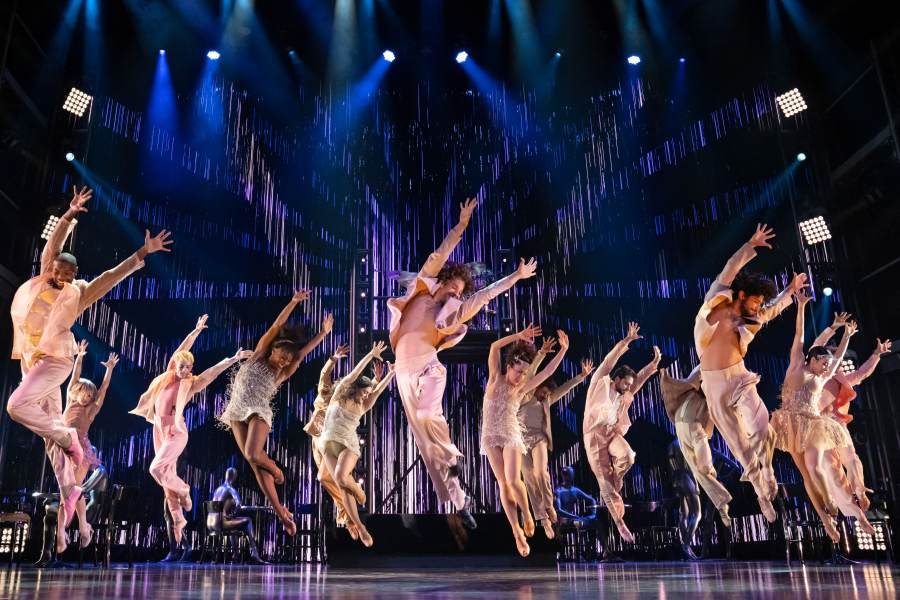 photo by Julieta Cervantes
Most musicals feature two or three impressive dance numbers, numbers that leave the audience breathless. However, often those dances are incidental to the story.
Then there's the revival of "Bob Fosse's DANCIN" which begins with a performer explaining how this show is different. There's no villain, no real story and hardly any singing. The action is "almost plotless" and includes "no messages." And that's what we got. The show features some of Fosse's signature moves in classic numbers like "Mr. Bojangles," "Big Spender," "Let Me Entertain You" and more.
Directed by original cast member Wayne Cilento who is credited with the musical staging, the show adds a modern touch to the original 1978 Dancin'. One of my favorite moments was the "Female Star Spot" when five women and one man performed Dolly Parton's "Here You Come Again," reacting to it with a feminist perspective and even asking why they were performing it at all.
One dance number leads into another. The music is the transition, tying one piece to the next. There are a few moments of spoken dialogue, often quotes from Fosse himself.
There were a few longer segments. In Act I, " Big City Mime" features 'Cyril,' a tourist to NYC, who while traveling about the city encounters sex workers, seedy bars and massage parlors and he goes from one musical moment to another. The act ends with a rousing ensemble number, "Dancin' Man."
The second act feels slower, especially with the inclusion of a segment from the original show called "America" including "Yankee Doodle Dandy" and "When Johnny Comes Marching Home Again" but the segment feels long and makes no statement, political or otherwise.
It's almost impossible not to be enthralled by the skill and the athleticism of the performers. The show offers two hours of hip gyrations and shoulder rolls, leaps and twirls and the performers are never still. Even if there's a soloist speaking or singing, dancers in the background are constantly moving in accompaniment.
"We are the music translated in movement." one performer tells us. The dancers' muscle movements become a melody with every shoulder moving to a drum beat and every thrust accompanying the rhythm.
Designers Reid Bartelme and Harriet Jung's costumes are stunning and creative. The costumes were remarkable, filmy and transparent, skin tight yet pliable enough for the dancers to move with ease. In ensemble numbers, each dancer wore something similar, yet just a little different. There are dancers in old-time flannel suits and bowler hats, glossy leather pants and mesh bodysuits and bustiers.
Cilento has gathered an incredibly talented group of dancers to take on some of Bob Fosse's most brilliant work, and it's a beautiful sight to behold.
When Dancin' originally opened at the Broadhurst Theatre 44 years ago, critics praised the musical revue; now it's available for a whole new audience to appreciate.