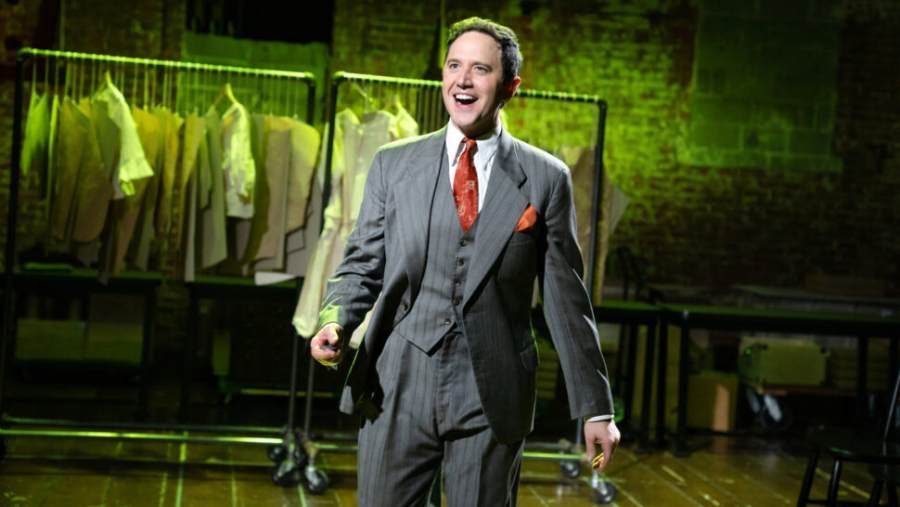 It 's hard to enjoy a musical when you can't root for the main character. Although he is attractive and good to his mother, Harry Bogen (well-played by Santino Fonana,) is an opportunist, a heel and an embezzler. The protagonist in the CSC revival of "I Can Get It For You Wholesale," he is consumed by the need to make money and doesn't care who he hurts.
The beginning provides insight into his personality. The first scene in the musical is a ballet, showing young Harry scurrying from place to place, carrying garments and getting tips for his efforts. This is the money he and his mother (warmly earnest Judy Kuhn) need to keep from being evicted from their Bronx apartment. Suddenly a big guy stops him, assaulting him and stealing his hard-earned money and utters the first word of the play, "Kike." Naturally, the audience feels compassion for the young boy, victimized because of his size and religion.
Harry is desperate to escape this world and who can blame him? Then he approaches the boss with a way to end the strike at the garment factory where he works. Harry proposes that, instead of giving the workers a raise, the boss should hire his 'new company" to transport the goods. Concerned only with himself, he has no remorse in hurting the other workers. Harry doesn't have the money to start the company, but is undeterred and convinces a friend to invest. Charm, fast talk and, what appears to be, sincerity will get Harry out of the Bronx.
Given the present conflict in the Mideast, I was concerned about a show with a Jewish character obsessed with money who is willing to betray his closest friends to get it. After all, - wouldn't this just feed into stereotypes?
However, this is a revival of a 1962 musical with original music and lyrics by Harold Rome and a revised script by John Weidman, son of Jerome Weidman who wrote the original book in 1937.
There were few opportunities for Jewish people in 1937 and the factory owner Mr. Pulvermacher describes his youthful ambition to become an architect. Then his father made him realize that there were no Jewish architects.
Despite Harry's success, the audience feels something is wrong. One of the flaws in the musical is when his patient mother advises Ruthie Rivkin , the girl who loves and supports Harry,,to be wary of him. That's not typical Jewish mother behavior. Despite the advice, Ruthie ( excellent Rebecca Naomi Jones.) invests her money and stays loyal for a long time, even when she overhears him talking with his mistress, a golddigger named Martha Mills ( glamorous Joy Woods)
There's a lot to unpack in "I Can Get It For You Wholesale." Perhaps too much. There's overt anti-semitism and discrimination with some Jewish culture and traditions tossed in.
The music is plentiful but there's very little to remember because Harold Rome's music is unremarkable. Although this show predated "Fiddler on the Roof," it seems to have "Fiddler' moments, especially during the Bar mitzvah scene and during a business celebration. It is a constant reminder to the audience that these characters are Jewish.
Harry addresses the audience directly. Even at the end when we are hoping for redemption and our bad guy turns good guy, he disappoints us.
Directed by Trip Cullman, the show offers a star-studded cast and the singing is wonderful. Santino sings beautifully, is charming and smiling, even as we dislike his character. The first act is a bit slow but the second act moves better, especially when Jones and Woods sing a duet.
We do see love and romance in the characters of Meyer (Adam Chanler-Berat) and Blanche (Sarah Steele) who play a loving young couple. Despite adversity and Harry's treachery, they maintain their relationship and affection. But it's not enough, and we still hope for Harry's redemption and want him to see the error of his ways.
The original show ran in 1962, but despite its 300 performances, it lost money and got mixed reviews. However, it was notable in that it introduced a young brilliant performer, one who would become legendary. Barbra Streisand made her Broadway debut as Miss Marmelstein, the beleaguered secretary. The role here is played by Julia Lester ("Into The Woods") who makes the role her own, especially when she sings the dark bleak song towards the end of the show, cautioning everyone "Do yourself a favor-don't get born."
"I Can Get It For You Wholesale" is hardly the touching love story or comic entertainment that many would prefer in a musical. It's dark and, though he's alone at the end, the bad guy lands on his feet while innocents suffer. It's easy to see why it wasn't a hit when it first opened.