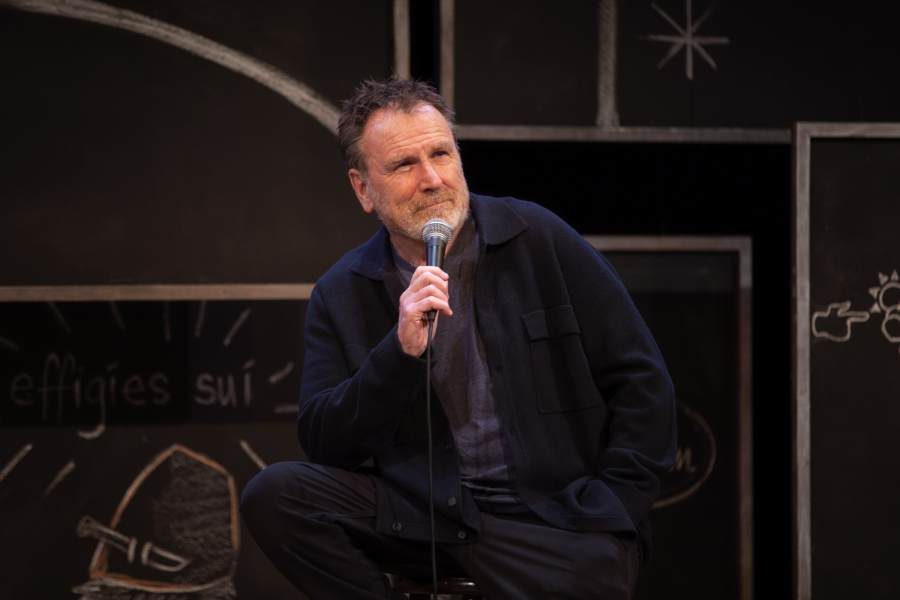 Photo Credit Monique Carboni
I love comedians who are skilled at wordplay. Some relate stories; others deliver one liners, generally without the gratuitous use of foul language. They make you laugh and then give you something to think about after the show. Colin Quinn is one of the best.
I've seen him several times in different small venues and the closeness of the venues always lends a sense of intimacy. He's talking directly to us. On stage at the Lucille Lortel Theatre he offers a 75 minute show directed by James Fauvell. He begins by discussing the importance of 'small talk" and how we introduced it. He notes in a sweet analogy that "small talk is like two ships signaling each other." He continues saying a child must learn it or he must "be able to count really high or have a very good personality."
Then Quinn gives a mini-tutorial on how to make small talk. The weather is a good topic. He suggests offering compliments or even giving people benign nicknames ("Hey, Bud.")
Then in typical Quinn style, he moves onto more significant topics, one of which is social media. Social media has reduced the necessity of small talk so we are losing our ability to use it. He tells us how to distinguish between "your reputation (who people think you are) your social media presence (who you think you are) and your browser history is who you really are." We laughed but thought 'hmm, there's truth in what he said.'
As his other shows have demonstrated, Quinn is a student of history, and he uses historical allusions to make points here. He notes how important Human Resources departments have become and suggests that instead of detective shows, soon there will be HR shows. He even calls the Code of Hammurabi the first H.R.
Starting small with less consequential ideas, he ends with more powerful images. "We are great at inventing things" but are losing our status in the world. 'Ah, China you want it, God bless you, good luck." He wonders about our legacy suggesting that "some day archeologists will dig up the golden arches and wonder if those were our churches."
Quinn speaks very quickly and is unmistakably a New Yorker. During the performance he seemed to have some difficulty completing sentences, stumbling a bit. However he quickly recovered, using the teleprompter overhead. Unfortunately, this show lacked the punch of prior performances.
The audience was filled with staunch fans and the material feels familiar but it's like hanging out with a smart, crotchety friend at the bar for a while.You know what he'll say but you still can't wait to hear it.
Yesterday I got in an elevator and turned to the man next to me. I was about to share Quinn's comments about elevator small talk. But I figured I wouldn't do them justice. My companion needs to hear them from Quinn himself.