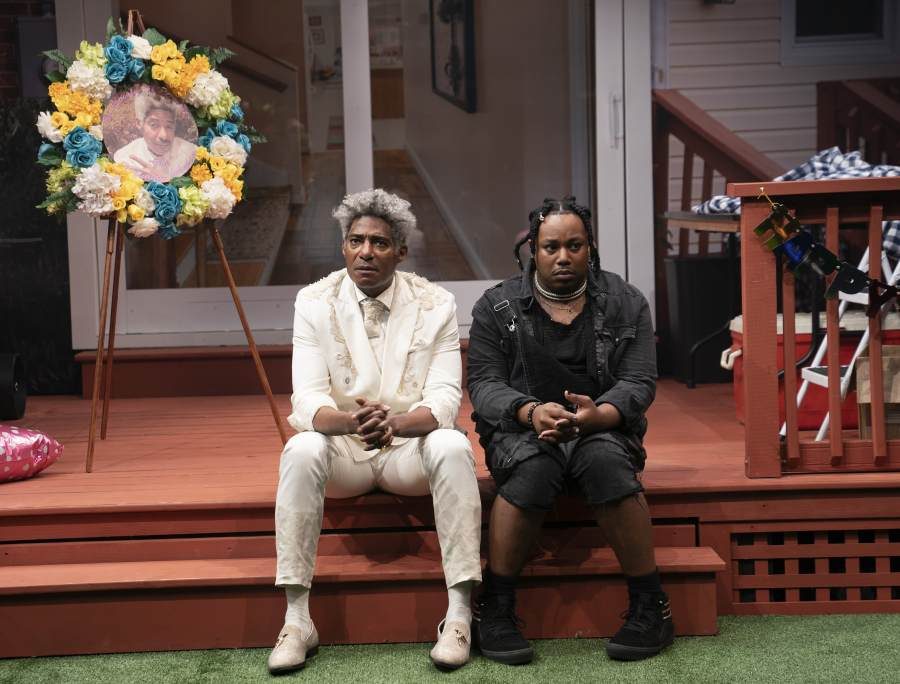 What? Another show about a moody, overweight, young Black man with family issues? Like "A Strange Loop," "Fat Ham" hasan endearing young main character. But "Fat Ham" delivers much more.
Preparing for a family barbecue celebrating the marriage of his mother to his uncle, Juicy is visited by the ghost of his father. It's only been one week since his father's death. His father is as critical and harsh towards his son in death as he was in life. He says Juicy is too soft (euphemistically meaning that he isn't tough or manly.) The ghost announces that his brother Rev had him murdered while he in prison and now Juicy must avenge his father. But Juicy isn't the aggressive violent man his father was or uncle is. Can Juicy change the cycle of violence and trauma in his family? If the framework of this play sounds a bit familiar, it should since playwright James Ijames based it loosely on Shakespeare's "Hamlet."
Like Hamlet, Juicy is a student but he is taking college classes online to get a degree in Human Resources. The young characters in the play are trying to win their parents' approval although it goes against their own desires. Opal, clearly unhappy, comes to the party wearing a frilly dress her mother made her wear. Opal who clearly likes girls is not a frilly- type of girl. Her brother Larry is in the military but so tightly wound that we immediately realize he, too, is miserable.
It's fun as the audience identifies elements of "Hamlet" in "Fat Ham," including the names of the characters. In a nod to Horatio, Hamlet's school friend, Juicy's friend is Tio. Ijames even incorporates much of the story line, including the play-within-a play "to catch the conscience of the king" when Juicy acts out the murder in a game of charades. At various junctures, Juicy stops, grows pensive and delivers one of the famous Hamlet soliloquies.
Directed by Saheem Ali, the play is chock full of sly humor. Ijames constantly breaks the fourth wall and allows us in on the joke. Tedra (Nikki Crawford) plays Juicy's 'hot' mother in tight shorts and low cut top. Though Juicy's unhappy with her marriage to his uncle, he deeply loves his mother. Tedra enters the set and looks around at the audience and then turns to her son and asks what he told us about her.
The humor continues through the very end. Since in Shakespearean tragedies all the main characters die, Juicy looks at his dead uncle lying on the picnic table and announces to the others that they must kill each other. After all, that is how tragedies end.
Winner of the 2022 Pulitzer Prize for Drama, "Fat Ham" is a revelation. Fun and modern. Instructive without being didactic. Familiar yet original. Juicy has decisions to make and, like Hamlet, he is indecisive. Can he believe the ghost? Should he continue the cycle of violence of the family? Can he get a degree in Human Resources especially since he doesn't like people?
The fine cast is led by Marcel Spears as Juicy. Crawford as his mother is sexy and outlandish and robust, earthy Benja Kay Thomas plays Rabby, mother of Larry and Opal.
Maybe "Fat Ham" will encourage a whole generation of young viewers to attend a performance of "Hamlet" but I fear they will be disappointed. Ijames' characters are more vibrant and exciting. More alive and it is fitting that they stay alive at the end. But then who said "Fat Ham" was a tragedy?
Playwright Ijames uses the Shakespeare play as a framework to show that the younger generation need not be bound by the dictates of an older generation. "Fat Ham" delivers a message with humor and energy and a generous helping of Shakespeare's finest language.