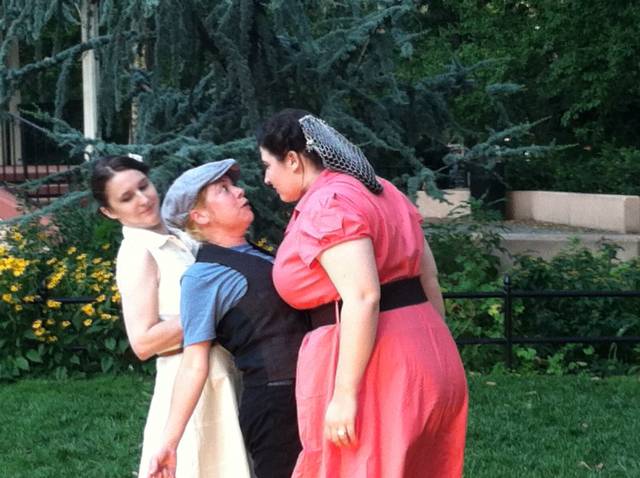 Calling all Shakespeare buffs: Care to see one of your favorite playwright's masterpieces in action as the unique charm and allure of the 40's serves as a refreshing historical backdrop? If this sounds appealing, head out and see A 1940's Comedy of Errors as part of the New York International Fringe Festival this year. Award nominated director Michael Hagins successfully manages to breathe new life into a Shakespeare classic, all while making his audience laugh much more than they probably ever expected to.
A 1940's Comedy of Errors takes the original words of Shakespeare (iambic pentameter and all) and combines it with well known elements of the 1940's, as expected, with excellent, accurate costume design by Alexa Crisitello. We see our main female characters, sisters Adriana and Luciana, clad in modest kitten heels, belted a-line dresses with faces adorned with red lipstick and perfectly coiffed pincurls, while our male leads, both Antipholuses and Dromios, wear sharp suits and paper boy attire.
The Comedy of Errors, one of Shakespeare's early comedies, is centered around the theme of mistaken identity. In his youth, the Syracusian merchant Aegeon's wife gave birth to two identical twin boys; at the same time a poor woman birthed two identical twin boys. After the poor woman sold her twin boys to Aegeon to carry back with his wife, the boat they were traveling on crashed in an unfortunate twist of fate, separating the set of twins. Thirty years later finds both sets of twins in the town of Ephesus, where comedic hell breaks loose when the town's citizens continuously mix up the pairs of men.
The performances in this hilarious staging are superb. The charismatic actors all carry a certain amount of enthusiasm in their acting that is strong enough for the audience to feel. Exceptional performances come from Michael Rehse (Antipholus of Syracuse) and Melissa Meli (Dromio of Syracuse). Both of their performances seemed genuine and not overdone in a play where acting silly may mean trying to appear larger than life to some. Audience members will be left with stitches in their side as the actors performances are amusing enough to illicit several fits of laughter from their spectators.
Performances of A 1940's Comedy of Errors continue through August 23 at Theatre 80 as part of the New York International Fringe Festival.  For more on FringeNYC shows, click here.