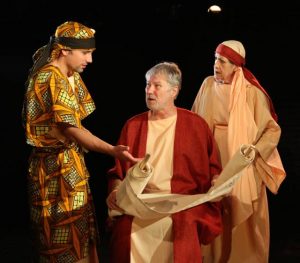 A new kind of bible study has come to The Players Theatre, where playwright Andrew R. Heinze and director Amy Wright bring Moses, The Author to a riveting 2014 FringeNYC lineup. No need to brush up on your Old Testament facts, though; the cerebral comedy has you covered from start to finish. Heinze digs deep into a boldly proposed heaping pile of dilemmas that the mega prophet allegedly endured, circa a very long time ago beginning one late afternoon.
At the mountaintop of Moses' superbly intimate string of troubles…the big boss in the sky sends Word that Moses shall be fired, by way of death, as chief seer. Major communication issues and overly typical family problems hamper Moses' attempts to complete all that he can before time runs out for the likable holy freedom fighter.
Indeed, Moses successfully guided the children of Israel out of Egypt's treacherously oppressive grip, but, according to Heinze, Moses now struggles to understand his high-maintenance family members and helplessly narcissistic assistant, Thusie (Ramzi Khalaf). Moses' newly curtailed future requires that he finally face sobering truths about matters that are all too common to the human condition: a debilitating case of writer's block, a regret-filled mother, a justifiably insecure spouse, and resentful adult offspring.
Actors Hazen Cuyler, Janine Hegarty, and Judy Rosenblatt join Khalaf and the relentlessly ruminating "Moses" (Mitch Tebo) in the play.
Behold Moses and company sort things out at The Players Theatre through August 22 as part of the New York International Fringe Festival. For more on FringeNYC shows, click here.