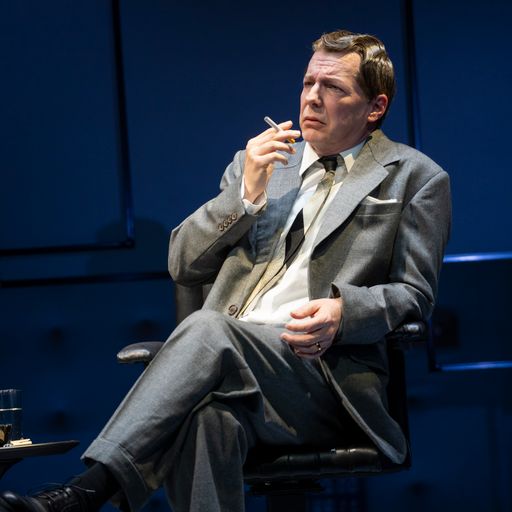 Sometimes performers are so good at their roles that they become forever identified with that part. For many, Sean Hayes will always be Jack on television's "Will and Grace," kooky, egocentric, and outrageously flamboyant. Those people would be surprised to see his versatility as Oscar Levant in "Good, Night, Oscar." Hayes portrays Levant, a television and movie performer in the 50's and 60's. A superb pianist, Levant worked closely with George Gershwin and then became a movie "sidekick," one who "doesn't get the girl and goes to bed alone with a hot water bottle."
Levant was psychologically troubled and a heavy user of pharmaceutical drugs. The play begins with his scheduled appearance on the Jack Paar Show where he had been a frequent guest. For 'sweeps' week, Paar's show will be aired live from California, and Paar insists on Levant because he's always funny and controversial; Sarnoff, who runs the network, is not sure, fearing the inevitable backlash. When the play opens, it is getting close to airtime and Levant hasn't arrived.
First, his wife June (Emily Bergl) appears, explaining a possible issue; she has had Levant committed. He has to quiet the voices in his head, he has "auditory hallucinations" and has gotten out of control. But June knows how important this is for him and she lies to get him a four-hour pass from the institution. Levant is melancholic but described by his wife as egotistical. Bergl is fine as the understanding and supportive spouse.
That's the set-up. It takes a while before Levant (Hayes) arrives. He is shaky, disheveled and slightly stooped, His hands tremble and he displays repetitive compulsions (stirring his coffee one way and then another.) His voice is gravely, and he makes little eye contact.
Prior to the show, Sarnoff warns Levant to avoid three subjects - "politics, religion and sex." And of course, that's exactly what he discusses. The audience at the Belasco Theatre laughed at the irony, considering the nature of television programming today.
Hayes is terrific as he embodies the troubled jittery man, unable to be still. He is dour and self-effacing, yet Levant was known for his sharp incisive wit and the script by Doug Wright arms Hayes with one clever barb after another which he delivers with precision. Yet despite the humor, he looks morose.
Levant is accompanied by an aide from the hospital who has brought medications and he constantly begs the aide for some drugs but is refused. Yet it is obvious what will happen. No surprises in this script.
Sarnoff's son works for Paar and is a movie fan so he fawns over Levant. His dialogue about the other guests, including Jayne Mansfield, is unnecessary. The script has extra characters and material that could easily have been trimmed. Much of Haye's speech about Levant's own background seems padded. The 'spirit' of George Gershwin appears several times to chide Levant and that gimmick is overdone.
Directed by Lisa Peterson, the show presents no surprises when Levant makes his appearance on the show. Encouraged by Paar, he does exactly what we expected him to do. Despite having gotten the drugs and taken too much, he is lucid and witty and, of course, Sarnoff's phone begins to ring off the hook with complaints.
It's the final moments of the play that are so awesome. Part of Levant's contract requires him to play piano. Even though he resists it, he finally gives in when his wife promises he can return home if he does. Levant is determined to play his own piece, not George Gershwin's music, the music that always defined him. Then Hayes, a classically trained pianist himself, played Gershwin's "Rhapsody in Blue" and his playing was marvelous. Attending theater as often as I do, I can be somewhat jaded. Yet suddenly, I found myself wanting to stand and cheer. Hayes was a revelation, both in his performance and his playing.
Levant is not a household name and many people I've told about the show have no idea who he was. So, I reference "An American in Paris" and say that he was the piano player. To better appreciate Hayes' performance, one needs a sense of the man he portrays. Hayes does a fine job, one which will garner him several theater awards, but you appreciate it more if you know Levant. Sadly, not many do.