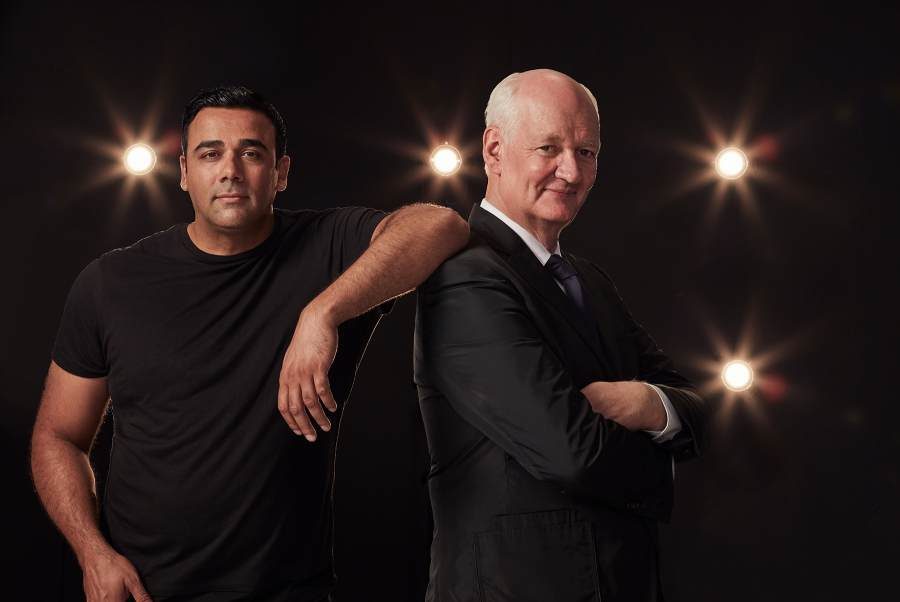 Photo by Aaron Cobb
Do you believe that a person can be hypnotized? How about 20 people at the same time on a stage in front of an audience? As long as you believe or, at least, accept the premise for the evening, then you are in for an entertaining evening at Hyprov at the Daryl Roth Theatre.
Starring two Canadians, Asad Mecci, master hypnotist, and Colin Mochrie, well-known improvisor from the long running TV show "Whose Line Is This Anyway?" Hyprov combines the two skills.
At each performance, Mecci asks for 20 volunteers who eagerly mount the stage. Using a deep mellow voice, he gives his instructions, quickly and repeatedly, lulling and hypnotizing them. From their body posture, some seemed to be really out or, at least, very tired. Mecci whittles the group down. Then he has them perform some tasks. At one point, the group is told to look for their lost belly button. The humor comes from their comments, not their actions. During our performance, one young man explains he has a meeting and needs the belly button.
Finally Mecci pares his volunteers down to a group of four. How he decides who to choose is not totally clear. Mecci said he looked at breathing and skin tone and other hints to peoples' mental states, none of which we could see in the audience. One of the four seemed spaced out and totally suggestible, yet he asked her to do very little.
Then Mochrie joined the hypnotist onstage. The two have certain scenarios they will attempt but using suggestions from the different audience each night will provide freshness to the show. Mecci holds the mic, giving his participants instructions.
Mochrie explains the scene and solicits ideas from the audience. Some are silly and funny, while others are mundane. We 'learned' about an unusual animal, a zurkey, a combination of turkey and zebra named Bob who loved to whistle. Again the humor came from the hypnotized participants. One young man created a poem for Bob. "B is for Bob, O is for Omazing and B is for Brave."
The show works if you buy into the premise. Do you agree that people can be hypnotized? ("Hypnosis, a trance-like state in which you have heightened focus and suggestibility.") Once in that state, can they be directed to improvise? ("Improvise: act of composing, uttering, executing anything without previous preparation.")
If you watch this show with a cynical eye, thinking the participants are too creative and clever, then you won't enjoy HYPROV.
Were the audience members plants? Maybe, but I figure it's like magic. I don't want to know how it works; I just want to enjoy it. HYPROV is good theater and we had fun. What more could you ask for?