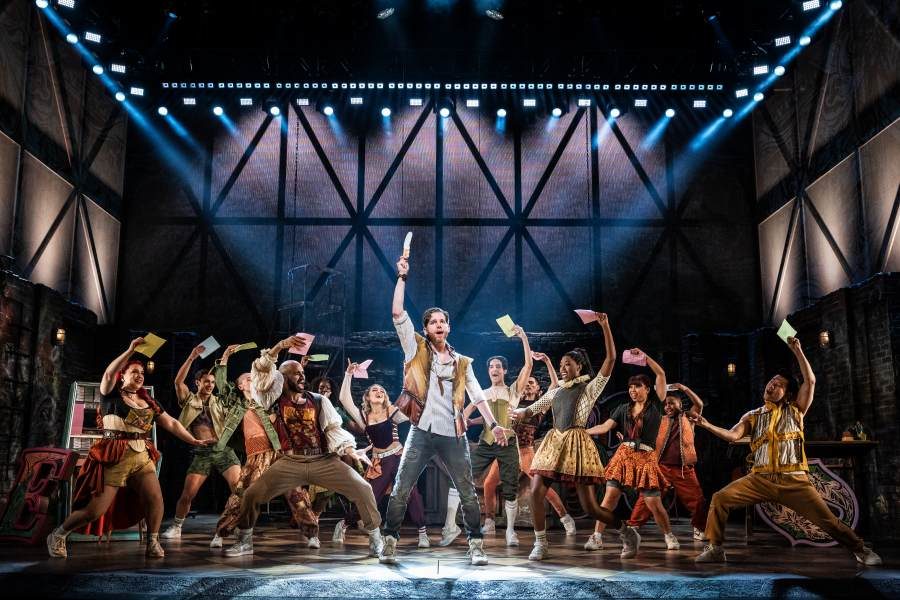 At the end of Shakespeare's classic play, "Romeo and Juliet," Juliet awakens to realize that Romeo is dead. Heartbroken, she commits suicide.
What if she didn't kill herself? What if, instead, she leaves Verona with her best friends and her trusty nurse and reinvents herself in Paris. That's the premise of "& Juliet," with a book by David West Read, the Emmy award-winning writer from "Schitt's Creek" and music and lyrics by prolific composer Max Martin and friends.
Silly? Sure-but extremely entertaining, especially if you are familiar with the classic play and the popular music.
Another well-received export from London's West End where it broke box office records and played to standing-room-only audiences, "& Juliet" is a unique jukebox musical because it doesn't tell the story of its composer or its singers. It is a clever reimagining, telling the well-known story through music by Katy Perry, Backstreet Boys, Taylor Swift and PinkI
A young William Shakespeare (Stark Sands,) becomes a pivotal character in the story as does his wife, Anne Hathaway. Her recognizable name becomes a running joke for the audience. Having gotten a sitter for their children, Anne (talented Betsy Wolfe,) joins Will and changes his ending for the play. She wants a happy ending, so Juliet is empowered to take control of her life. The husband and wife are constantly vying for the possession of the quill to tell the story.
At one point, while Anne is off-stage changing her dress, Will totally changes the arc of the story, adding a surprise character. Anne has written a part for herself as April, one of Juliet's best friends along with May (Justin David Sullivan) making them April, May and Juliet. (groan) Oh, did I mention the musical includes puns, wordplay and lines from the actual tragedy? At one point Shakespeare proudly notes famous expressions he coined. ("What's done is done" and "heart of hearts")
With the character of May and the relationship between Francois, Juliet's new fiancee, the play introduce themes of transgender as May sings "I'm Not a Girl ,Not Yet A Woman." (originally sung by Britney Spears.)
The music is loud and the costumes are colorful. The characters are fun and entertaining. Juliet's nurse Angelique ( Melanie La Barrie, sounding like Tina Turner ) accompanies her only to reunite with her former lover, Lance, Francois' father (Paul Szot whose beautiful operatic voice is wasted here.) Lance is pushing Francois to marry, so when the young man meets Juliet, he proposes, not acknowledging his attraction to the transgender May. Juliet, fearing that her parents will send her to a nunnery (another opportunity for puns) initially sees marriage as her only other option.
He or she who controls the quill, controls the narrative and Will and Ann keep changing the course of the story, creating more conflict. Sands is cocky enough to carry off the role of the writer.
The staging is eye-popping with lots of gimmicks and confetti. Juliet is high on a platform several times and rides above the stage on the ferris wheel. The music will be recognizable to viewers of a certain age and many in the audience were 'bopping' around in their seats, at one point standing and dancing as if at a concert.
Months ago when theaters reopened, when many performers were sidelined with the virus, understudies jumped into the lead roles. When we saw "& Juliet," the talented understudy, Rachel Webb played Juliet and she was terrific. The audience was not at all shortchanged by her energetic, spirited performance.
"& Juliet" might be a fine, though fractured introduction to Shakespeare. At the matinee I attended, there were many preteens in the audience. Except for a couple of words in the song titles and the subplot of transgender love, the musical works well for young people. Maybe it's an even better way to introduce young people to Shakespeare than his actual work. "& Juliet" has the audience dancing in their seats and "all's well that ends well."