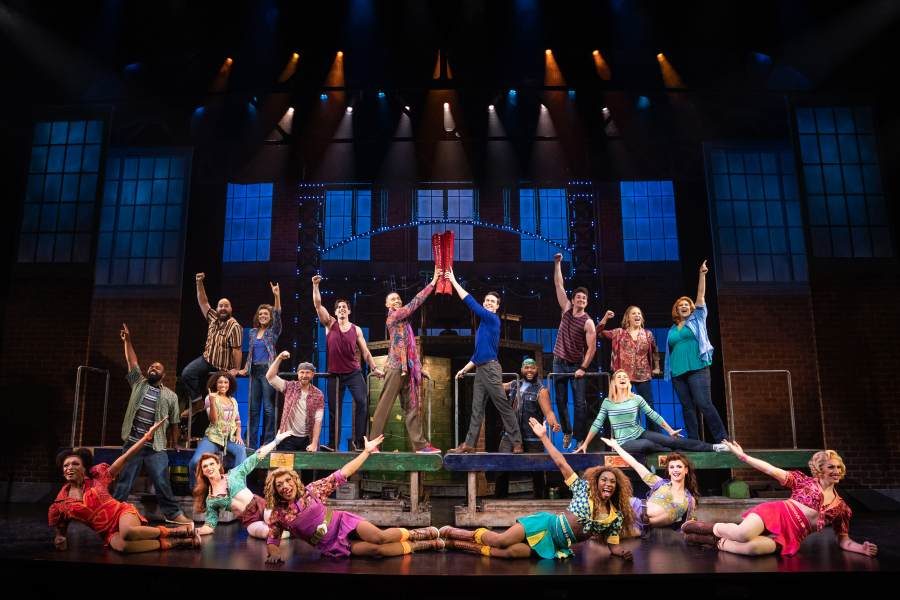 photo by Matt Murphy / @murphymade
When a show moves from a big Broadway stage to an off-Broadway venue, something's gotta give. Whether it's the staging, the size of the cast, or the number of musicians. Will the Off-Broadway audience enjoy the same theatrical experience?
It's been almost 10 years since I saw the creative musical Kinky Boots with music and lyrics by Cyndi Lauper and book by Harvey Fierstein. Boasting extravagant costumes, tuneful songs and heart -warming themes, it captivated audiences, won awards and ran from April 2013 to April 2019.
The show has found a new home at Stage 42 and features a new cast. I wondered if one of the leads, Lola, the cabaret singer/drag queen, could survive and flourish in a smaller theater.
Based upon a 2005 British film, the musical tells the story of Charlie Price whose father left him a failing men's shoe manufacturing company. For years, Charlie (Christian Douglas) yearns to escape his small town and his legacy. However, after his father's death, he feels compelled to save the business and all the jobs it provides. Lauren, a worker at the factory and later Charlie's love interest, suggests that he find a new market. At a chance meeting, he encounters Lola (Callum Francis,) and realizes that he has found an untapped niche market- high heeled 'kinky boots.' With Lola as his designer, Charlie discovers a way to save the business. Although the two men are quite different, they realize how much they have in common.
The themes, though sincere and potentially maudlin, are presented gently and quickly. Lola makes a bet with Dan, a thuggish worker who is offended at Lola's dress and feminine ways. When he loses the bet, Dan must accept someone for who he is. The result, again gentle and sweet, is a bit unexpected.
The two leading men, Francis and Douglas, share top billing, yet there's a third star. The costuming, especially the eponymous shoes, steal the show. Reminiscent of La Cage Aux Folles with its bevy of attractive men dressed in feathers, glitter and high heels, Kinky Boots offers a visual costume feast. At one point, proving to Dan that his presence is not offensive, Lola turns to the women in the factory and asks , "How many of you check to see what I am wearing each day?" All hands go up. We, women in the audience, felt the same way. The 'Angels' who accompany Lola in her act are also clothed in flashy, sometimes ostentatious, eye-popping fashions and shoes.
The music is fun, the singers are excellent and some of the production numbers are quite exciting. A couple of introspective ballads went on too long, but, in general, the music was fun, especially the conveyor belt number.
Kinky Boots is instructive without being pedantic, sweet without being cloying, and all-around entertaining.Whatever changes were made in moving the show from Broadway to Off-Broadway, I didn't notice. So theatergoers haven't lost anything. However, the one important difference is a real benefit. Tickets are considerably cheaper. For the cost of an Off- Broadway ticket, they get to see a Broadway show and it's a real bargain.