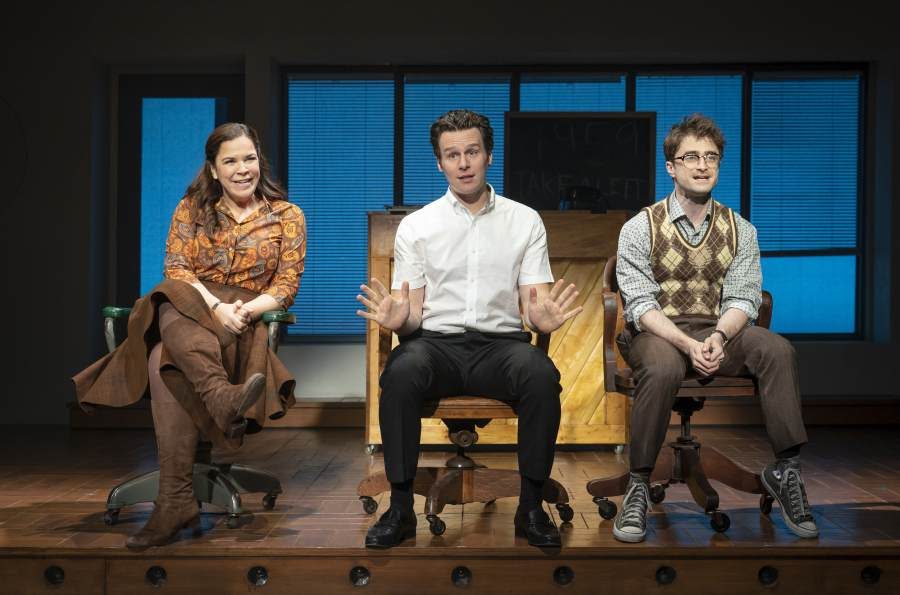 photo by Joan Marcus
It's hard to imagine a show by Stephen Sondheim that wasn't an immediate hit; yet "Merrily We Roll Along," first produced in 1981, left the critics and audiences unimpressed. It was not the success that previous collaborations by Sondheim and Hal Prince had been. It opened to widely negative reviews, and closed after 16 performances and 52 previews.
Unlike other Sondheim shows that have been produced often, "Merrily We Roll Along" has had few revivals. British director Maria Friedman has produced the most revelatory version of Sondheim's work to date. The play is presented in a series of flashbacks, focusing on the friendship of three creative young friends. Franklin Shepard (played by Jonathan Groff) is a talented composer, Charlie (Daniel Radcliffe) is a writer-lyricist and Mary Flynn (Lindsay Mendez) is an aspiring novelist who loves Charlie.
Although the three begin with integrity, youthful ambition and dreams, they become disillusioned along the way. Ultimately all three find some success, but at a cost.
The friends' lives and friendship change over the years; however, the story focuses particularly on Shepard, who over those 20 years, abandons his friends and songwriting career to become a producer of Hollywood movies. The story moves backward in time, beginning in 1976 at the friends' lowest moment and ends in 1957, when they were young and hopeful. The show says much about art and creativity and the cost of fame and celebrity.
Despite Charlie's protestation, Franklin continues to sell his talents for riches instead of committing to writing their own musical. One wonders if in some part this play was somewhat biographical and about compromises Sondheim himself might have regretted.
Mendez is funny and gives a solid performance. As usual, Groff is his charming self with a wonderful voice and Radcliffe continues to amaze me. Charlie is more of a sidekick but his one solo, done at rapid- fire speed, is a highlight of the show. No where do we see the change over the years more dramatically than in the person of Franklin's second wife Gussie (excellent Krystal Joy Brown.) She changes her name, her persona and her husband when it suits her.
Sondheim's music is wonderful with effective use of repetition. "Not a Day Goes By," is sung by Charlie's first wife Beth ( Katie Rose Clarke,) the first time about their bitter divorce. In an earlier flashback, it served as her loving wedding vows. The ensemble sings the theme song "Merrily We Roll Along " repeatedly to show the reverse passage of time.
Numbers like "Bobby and Jackie and Jack," the revue Charlie, Franklin and Beth perform, may feel dated to audiences unaware of the people spoofed in the song. Yet other songs like "The Blob" about the A-listers who follow the crowd but set the trends seem as relevant today as they did then.
I don't know how extensive the changes have been since it first was written but whatever changed really works now. "Merrily We Roll Along" often funny yet poignant. The musical has some dark themes not unlike some of Sondheim's other works. The show takes the audience back to the beginning of their friendship but then there's the abrupt return to the present and the sad realization that nothing is going to change. The last scene shows Franklin, where we first met him, successful but unhappy, unfulfilled and friendless.
Things in the musical were changed, cut, reworked and amended, but it would be hard for someone unfamiliar with the show to understand why it wasn't a hit in 1981. Maybe it needed revision; maybe it was ahead of its time. Yet its successful sold-out run at NYTW proves the musical is working now. The show is scheduled for Broadway with the same cast in the fall of 2023. The time for "Merrily We Roll Along" may be now.