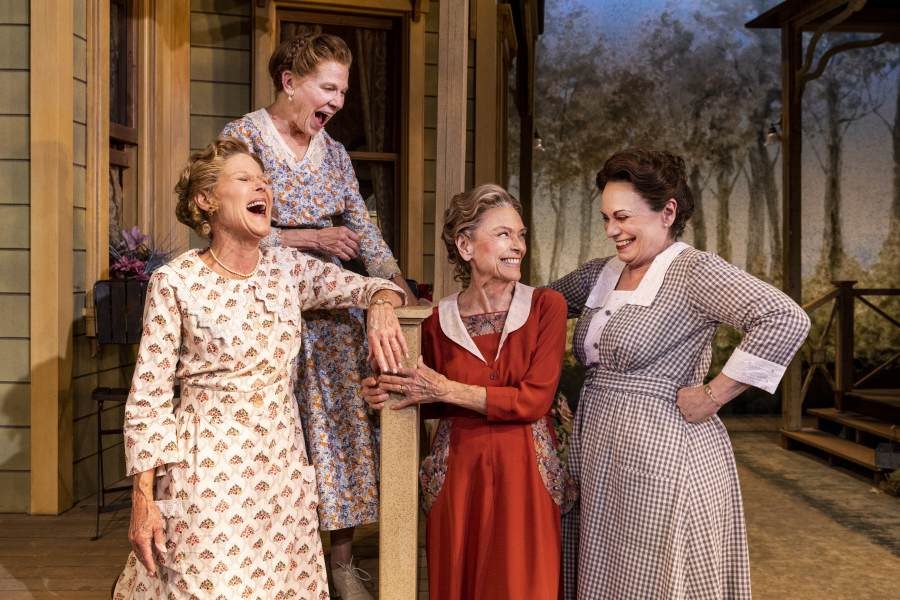 Siblings can be a blessing. It's even nicer when they live nearby. In "Morning's at Seven," the revival of Paul Osborne's play at the Theatre at St. Clement's, they are a little too close.
The four Gibbs sisters live within walking distance of one another. Unmarried Arry ((Alley Mills) has lived with her sister Cora (Lindsay Crouse) and her husband Thor (Dan Lauria) for more than 40 years. Next door are sister Ida (Alma Cuervo) and her husband Carl (John Rubinstein.) Their almost-40 year old son Homer still lives with them, even though he's been engaged to Myrtle for several years. A short stroll away are the eldest Esther (Patty McCormack ) and her husband David (Tony Roberts.)
The excitement begins in the opening scene because Homer is bringing his long-time fiancee Myrtle home to meet the family. Myrtle (Keri Safran) is sweet and terribly eager to please, but she doesn't understand the family dynamics.
The main characters are all in their sixties and seventies but rather than simply enjoying the peaceful days of no work and little responsibilities, two members of the family begin to question their lives. Carl suffers from temporary spells that mentally immobilize him. He wanders off, musing "Where am I?" Cora resents Arrie and wants to spend the last years of her life living alone with Thor. Each one's actions impact the rest of the family.
Although the performers are all seasoned and talented, the show itself is old and creaky. This is not a show that will appeal to a younger audience. In fact, I'm not sure it has much charm for an older audience either. Written in 1940, the piece is set in a small Midwestern town in 1928. In the play, the men make decisions while the women quietly acquiesce. Homer decides about marriage, David unilaterally determines his and Esther's living arrangements and Carl decides to leave Ida. The women weakly protest, but end up accepting the men's decisions. The only rebellion we see is when Cora, whose father referred to her as the "mild" one, makes a bold move by renting Homer's house.
David refuses to allow his wife Esther to see her sisters, claiming that they are 'morons." So when David finds Esther with her sisters, she claims that she was just leaving. She's like a child caught with her hand in the cookie jar. When David banishes her to live upstairs in their house while he will live downstairs, she doesn't resist or even protest. It's this behavior that really dates the play. In today's world, we come to expect more give and take amongst married couples.
The show has a fine cast. Mills shows a bit of spark as Arrie and Jonathan Spivey is probably the best character with his portrayal of mousey Homer. Roberts is perfect as the pompous pontificating David.
Despite the happy ending, and the one fun twist, the story is rather poignant. When Carl refers to the fork in the road, Ida is confused. However, we know he's thinking about choices he's made and the road not taken. How sad to reach 68 and be filled with so many regrets.