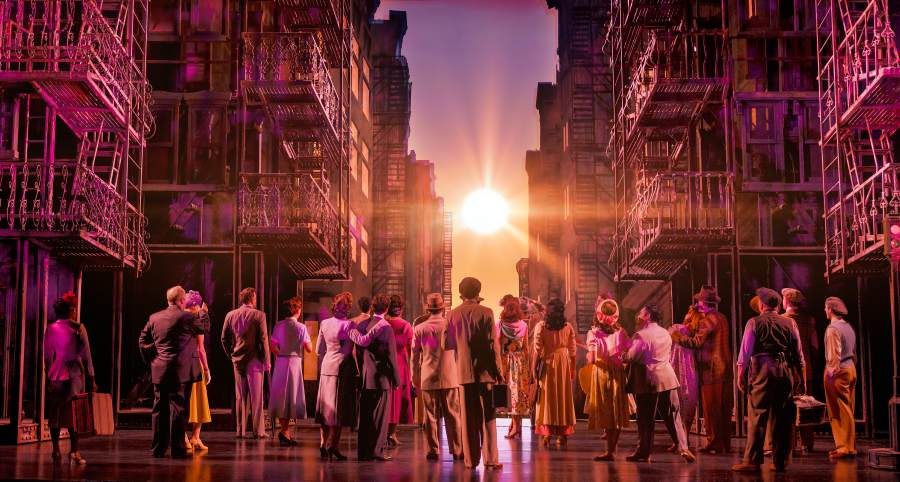 I am a native New Yorker, and I honestly love NYC. Although I know the city has its many flaws, I will defend it against all comers. Yet I cringed at the rosy 'melting-pot' version of the city painted in the new musical "New York, New York" in the 1940's.
I also love old-fashioned musical theater and one cannot underestimate the contribution John Kander and Fred Ebb have made to the genre. They were responsible for 15 musicals including - Chicago, Cabaret, many shows starring Liza Minnelli as well as Fosse and Scottsboro Boys.
Fred Ebb died in 2004 but his partner, Kander, at age 96 is still composing. His newest show, "New York, New York" uses some of the work with his late partner along with additional lyrics by Lin-Manuel Miranda to depict a story of New York as the place of dreams and opportunities. In other words, let's make a musical around the signature song.
Set after the war, the story opens with several creative young people moving to the city to realize their dreams. This is not the New York of 2023.
Most of the action focuses on one young couple, a white Irish musician Jimmy Doyle (Colton Ryan) who lost his brother during the war and a lovely Black singer Francine Evans (Anna Uzele.) Ryan is a versatile musician and displays his many talents. Uzele (SIX) has a beautiful voice and gets to show it off a lot, belting out the title song in the finale.
The story also features Jesse (John Clay III), a Black trumpet player, unable to find work as a musician, Mateo (Angel Sigala,) a gay Cuban musician whose macho father won't accept who he really is and Madame Veltri (the wonderful Emily Skinner,) a violin teacher awaiting her son's return from the war.
Although the stories by themselves hold interest and would work in a lengthy novel, there are too many for this musical. Thanks to talented director-choreographer Susan Stroman, the show offers incredible dancing. One scene has a group of construction workers on top of a skyscraper girder, singing and dancing. Dancer Clyde Alves plays Jimmy's Italian friend, and displays some terrific moves. But throughout it all, the main 'character' is the city. The play opens with the iconic lettering and a few bars of Kander -Ebb's trademark song and it ends with a fully orchestrated version. Characters are constantly extolling the virtues of the city and singing about it.
The biggest problem is that the show is that it is dull. Several of the scenes are derivative, reminiscent of Gene Kelly movies. If you've seen enough old movie musicals, this show feels like deja vu.
The one modern theme is the inclusion of the inter-racial relationship between Jimmy and Fracine. Old musicals would never have dealt with racial discrimination, too controversial. The issue is raised but gets played down. A mixed marriage, even in theatrical circles, certainly would have raised a few eyebrows. Not even New York was that accepting in the 1940's. Race is raised again when Jesse who served in a Negro battalion during World War II describes seeing a USO show when the Nazi POWs were given better seats than the Black soldiers.
Then there is the relationship between Mateo and his abusive father. His father disapproves of his gay son but takes it out physically on his mother. Mateo resolves his issues by physically striking back at his father, a bit too simple a solution.
And maybe that's one of the issues with the musical. It desperately wants everyone to get along and play nicely. It touches on issues but doesn't honestly deal with them. Everything ends happily ever after.
I wonder how many out-of-towners were in the St. James Theatre the other night when I saw the show. They attended an old-fashioned lush musical with a large talented cast and almost non-stop music. (Check out the Playbill -more than 25 songs listed.) They got a rosy picture of the city they were visiting and left humming "New York, New York." I just hope that they remained alert and watched their bags.