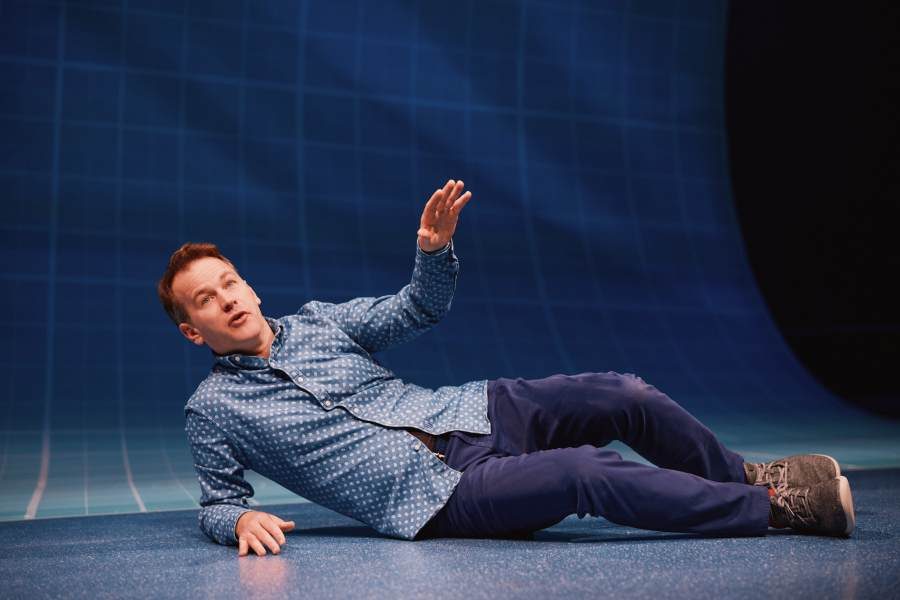 photo by Emilio Madrid
Cancer, type two diabetes, death. Hardly the fodder for comedy - Yet In the hands of Mike Birbiglia, this serious subject matter becomes hysterical in his latest one-man show, "The Old Man and The Pool."
As with his other shows, Birbiglia mines his own life and illnesses for comedy, smiling all the way and making it more than okay for us to laugh. He begins by describing his annual physical and 'failing' his pulmonary function test.
His father died at age 56 and his grandfather died at 56, so genetically Birbiglia's odds don't look good unless he takes some action. In addition the comic also had cancer in his 20's and still suffers from a serious sleepwalking disorder. So what should he do to improve his health? He tells us.
Athletics? He describes his lack of prowess with wrestling in high school and gets on the floor of the stage to demonstrate.
Swimming? Birbiglia relates an hysterical segment about the water in the YMCA pool, describing the odor of the pool as when you are a kid and "your friend lets you smell under his cast." He recalls the trauma of being in the women's locker rooms when he was 5 and then the men's locker room when he was 6. His experiences led to the title of the show.
He describes his swimming 'audition' when he finally goes to take swim lessons at the pool and notes that his swimming is as if "you dropped a blender in the pool."
As in other shows, he refers to his wife Jen and their daughter and then discusses their trying to write a will. He talks about people dying like the lady who died when a coconut fell on her head and 'she didn't see it coming."
None of these topics are inherently funny-yet the audience is laughing throughout the entire 75 minute show. In fact, even when he instructed us not to laugh, we couldn't help it.
I've seen other Birbiglia shows and really enjoyed them, and this is his best one yet. Presented at Lincoln Center at the Vivian Beaumont Theater, it's a long way from Minetta Lane and the smaller downtown houses in which he usually plays. "The Old Man and The Pool" is directed by Seth Barrish and has a scenic design by Beowulf Boritt that resembles the inside of a pool that slopes like a skateboard ramp.
Maybe it's in Birbiglia's handling of normally off-limit subjects. Maybe it's just his genial personality and his sharing. Yet when my kvetchy friend tells me all about her aches and pains and illness, I don't laugh. I just want to get off the phone. When Mike talks, I want to listen longer. The show is skillfully crafted with ideas and throw away lines at the beginning that he neatly ties up at the end.
If laughter is the best medicine, then my prescription for you is a ticket for Mike Birbiglia's latest show " The Old Man and The Pool" at LCT. The run ends January 15, so act quickly.