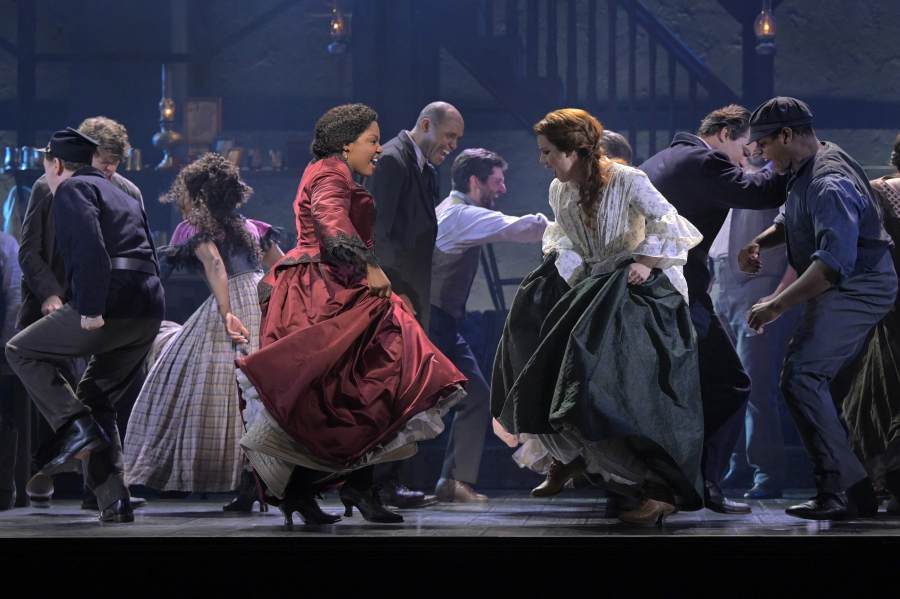 Once upon a time there was a neighborhood in Lower Manhattan called The Five Points. For over 70 years, it was a crowded slum, populated mostly by newly -freed slaves and ethnic Irish. Although there was much tension, historically the area is considered one of the first integrated neighborhoods in American history. In his movie "Gangs of New York," Martin Scorsese highlights the fighting and gang wars. However, the neighborhood was also known for competition between Irish and African -American music and dance- Irish jigs and reels and the African shuffle. Or at least that's what the new musical "Paradise Square" at the Ethel Barrymore Theatre suggests.
"Paradise Square," educates its audience about that little-known time in New York history. Set in the midst of the Civil War, the action begins with Willie O'Brien (Matt Bogart) and other Irish volunteers of an all-Irish brigade going off to fight. Willie is married to Nellie, the African-American owner of the Paradise Square saloon. Nellie is portrayed by the wonderfully talented Joaquina Kalukango who is likely to win the Tony Award for Best Actress in a Musical. Kalukango (Slave Play) is a marvel. Passionate, she possesses a powerful voice and presence. When she sings a duet with Kennedy, there's not a dry eye in the house.
Willie' sister Annie Lewis (Chilina Kennedy) also married an African-American, Rev. Samuel Lewis (Nathaniel Stampley) These two couples suggest a rosy, unrealistic picture of the peaceful relationship between the two groups.
The true conflict is evidenced in the characters of Owen Duignan (A.J. Shively,) Annie's Irish nephew and Washington Henry (Sidney DuPont,) a runaway slave. Although they Initially room and perform together, later they compete in a dance competition to win $300. Owen needs the money to buy his way out of the draft and Washington wishes to start a new life in Canada with his beloved Angelina.
The best part of the lengthy musical is its lively and exhilarating choreography by Bill T. Jones. Several times the two groups 'square off' and dance. The singers are excellent and the dancing outstanding. Directed by Moises Kaufman, the show later turns very dark as the Irish fight against the African -Americans. The music by Jason Howland and lyrics by Nathan Tysen is often forgettable and sometimes overlong.
Personifying the villains is "Lucky" Mike Quinlan, who is wounded in the war. Unable to get work on his return, he is understandably angry and resentful of the people he fought for, who now have his job. (There are undertones of present day politics with people protesting immigrants who they claim have taken their jobs)
The local politicians fuel the fire to ensure that the labor costs stay low. If the two minority groups combine, they might ask for higher wages. Although the show culminates in an awful disaster (one which is historically accurate,) we are still left with inspiration.
Theater can do more than merely entertain. Sometimes, as in "Paradise Square," we hear a little known story about an area that no longer exists. Sure the story is sanitized and a bit whitewashed and maybe too rosy, But wouldn't it have been nice if two different groups really did get along together so well for a while because maybe it can be that way again.