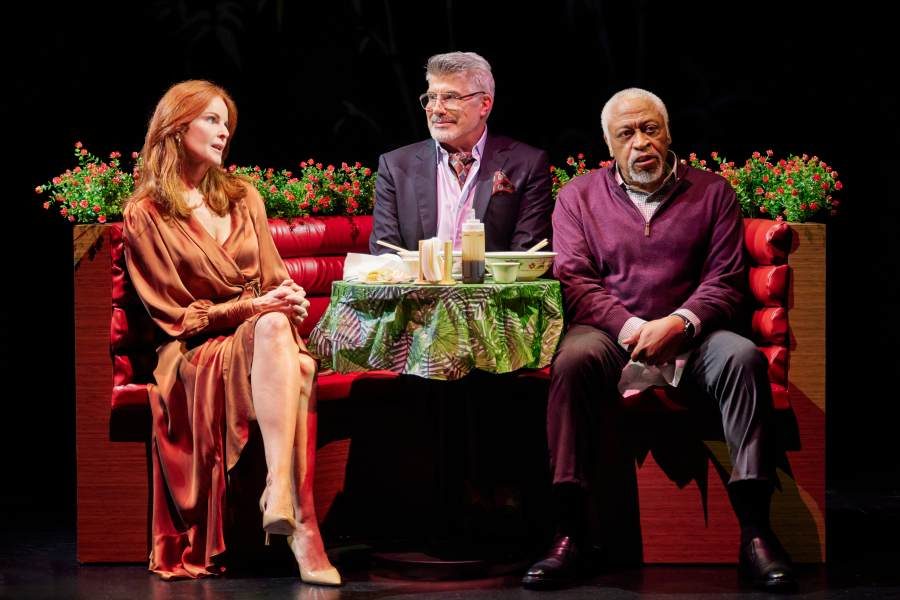 The Off-Broadway show Pay The Writer at The Pershing Square Signature Center asks what it costs a writer to pursue his art. It focuses on Cyrus Holt (Ron Canada,) a celebrated author coming to terms with the end of his life. Holt has sacrificed all his personal relationships for his writing.
Yet in many ways, the play is really about the writer and his agent, Bruston Fischer. The other relationships in Holt's life have become collateral damage along the way.
Fischer cares for and manages the writer, but for all his pains, Holt takes him for granted and verbally abuses him. Fischer becomes a successful agent and has other clients besides Holt, yet he stays loyal and remains an enabler. It's also hard to understand why Lara (glamorous Marcia Cross,) one of Holt's ex-wives and the mother of his two adult children, goes running to him when he "accidentally" calls her. Holt mistreats her, and, in fact, when the play begins, he has married his third wife, (a younger woman who we never see.)
Even though he is dying and seems to have some regrets, Holt is not a sympathetic character. Even as a young veteran returning from Viet Nam, he is arrogant, brash and confident. His success begins with his relationship with Fischer, a young gay agent (Bryan Batt.) After Cyrus convinces him to read his manuscript, Fischer recognizes his talents and their lifelong relationship begins.
Despite his genius, it's hard to care about Holt, despite his traumatic Viet Nam experiences. One scene shows Holt wearing his bathrobe and mistaken for a homeless veteran, meeting an actual homeless veteran who shares some of his experience. The 'homeless man' played by Stephen Payne is more convincing than Holt. I personally wasn't moved by the scene between the two veterans, but my colleague, a veteran himself, found the scene compelling.
Usually I find theater exciting and exhilarating. However, Pay the Writer seemed tiresome. Despite being only two hours, it felt longer. (Spoiler alert) At the end after Holt's death, playwright Tawni O'Dell added several scenes, providing closure that really isn't necessary. Fischer finds a letter left for him by Holt making amends, and Holt's children seem to find peace. Even Lara and Fischer reconcile.
Director Karen Carpenter has the difficult task of making us care about an unsympathetic character. Does Holt show remorse or is his desire to reconnect with his children who he hasn't seen in years driven only by guilt because of his impending death? His son Leo ((Garrett Turner) is in awe of his father while his daughter, embittered Gigi (Danielle J. Summons) is angry and unwilling to forgive. Yet O'Dell includes a slim memory of father and daughter fishing. The event seemed bittersweet as young Gigi caught a small fish which her father made her throw back. Yet after his death, she sees a picture of them and softens towards him.
One of the benefits of Off- Broadway theater is intimacy and the primary setting of Pay the Writer invites us into Holt's small New York City apartment filled with books. (A splendid set designed by David Gallo.) Yet each time the apartment was moved, it creaked, reminding us that this was a theater. The writer's cramped apartment is in contrast to the luxury penthouse where we see Holt in other scenes, signifying his success.
The performances are adequate but the actors are limited by the script. Most of them are one-dimensional, and all revolve around the writer. Batt is the most sympathetic as he directly addresses the audience, giving background.
How much would an artist give up for his art? Was it a sacrifice for Holt or was he merely a wrecking crew? The title Pay The Writer refers to part of a dedication Holt inserts in one of his books. Yet is the writer the one who should be paid or is he the one exacting the payment from those who care about him? But then by the end, I'm not sure we care enough at all.