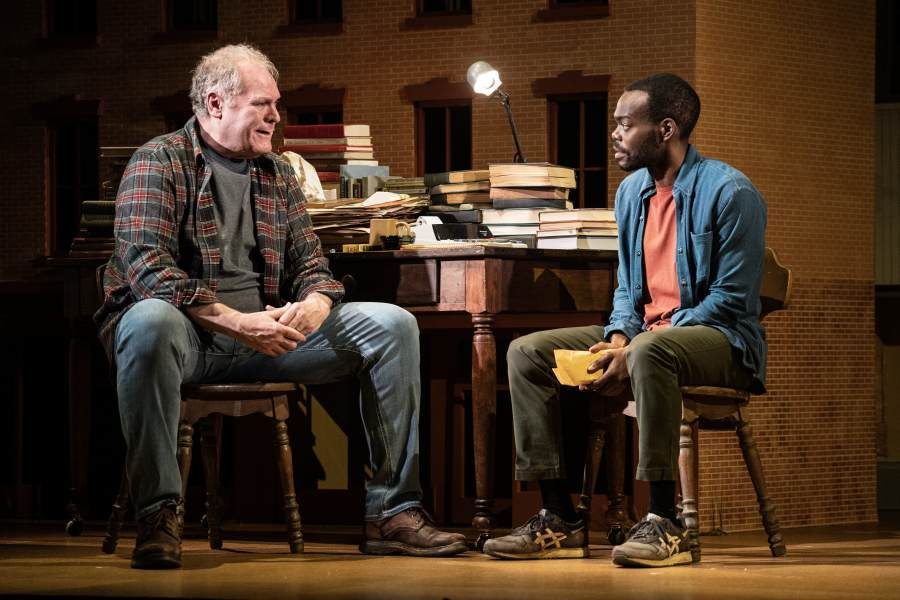 The world is so chaotic that sometimes all a viewer wants is a slice-of-life story with a happy ending. Primary Trust, the new play by Eboni Booth, a Roundabout Theatre Company production at Laura Pels Theatre offers just that. It's a play that lets the audience laugh and smile, and feel hopeful that there might be some kindness and understanding in a harsh world. The ending is plausible enough because we want it to be so.
It stars William Harper Jackson (The Good Place) as Kenneth, a solitary 38 year old man who has only one friend Bert (Eric Berryman.) Aa Kennth explains it, although Bert is real, no one but Kenneth can see him. Kenneth is not delusional because he knows that Bert isn't really there. Yet he meets Bert every afternoon at Happy Hour at Wally's Tiki Bar , a local restaurant. Bert offers Kennth advice and companionship.His mother died when he was 10 and then Kenneth spent time in foster care. Then he then worked for 20 years in the local book store
But now life is changing for him, both personally and professionally. The bookstore is being sold and Kenneth gets a new job at Primary Trust, a local bank, where he is excelling at his work. He begins a relationship with Corinna, a new waitress at Wally's, and it seems like things are improving for him until it alters his relationship with Bert.
Jackson wins the audience with his sweet, gentle characterization of Kenneth. He is personable, but so broken that your heart goes out to him. There was an audible reaction from the audience when he explained his background.
Maybe I'm cynical, but I was sure things would turn sour for Kenneth. So I was delighted when Playwright Eboni rescued him. Is the ending of Primary Trust plausible? Is it realistic? it would be in a kinder, gentler world, so why not?.
We care so much for Kenneth that we want him to have a happy ending. Harper gives a sensitive gentle performance. April Mathis portrays all the waitstaff at Wally's and all the bank customers. She changes accents and postures like quicksilver and also provides most of the comic relief. Jay O. Sanders portrays the bookstore owner as well as the bank manager. As both, he is his typical craggy jovial persona, sturdy and compassionate. Mathis and Sanders bring much to their small roles.
Kenneth is loyal and misses the few people in his life who cared for him. He learns that he can have more by beginning to accept change and friendship. The play provides a lesson about the importance of allowing people into your life.
Primary Trust is a small play with set design resembling oversized doll houses.(Set design by Marsha Ginsberg.) A bell sounds suggesting a change of time or scene. Despite that device, often the pacing is slow and the play drags, despite only running 95 minutes. Directed by Knud Adams, Primary Trust leaves the audience with a feeling of hopefulness. Despite the chaos of the outside world, Primary Trust gives us optimism to tackle the next obstacle.