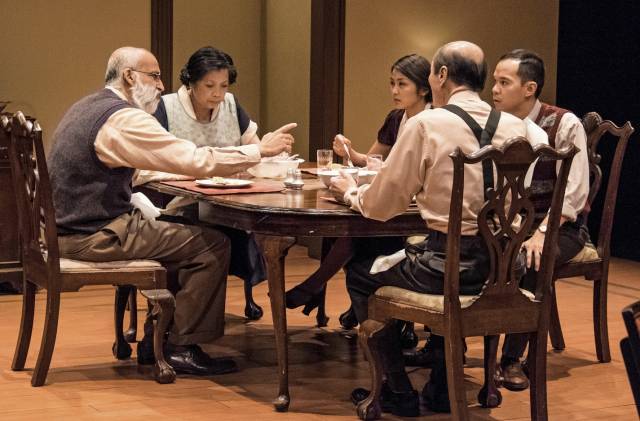 Clifford Odets' Depression-era classic, Awake and Sing!, now playing at the Public Theater, is about the Bergers, a lower middle class Jewish family living in a tenement apartment in the Bronx. The conceit in this production, put on by the National Asian-American Theater Company, and directed by Stephen Brown-Fried – all of the Jewish characters are played by actors of Asian heritage. Okay -- great. Let's do this more often. Well, maybe not with Porgy and Bess, but it works here.
All the actors are so convincing, and are so generally talented, that no one has an excuse not to be an adult about color-blind casting. They have succeeded in bringing the rhythms and vocabulary of Odets' language to life -- and the language is the best part of Awake and Sing! In contrast to Odets' plot, which, with the passage of time, seems unabashedly melodramatic and mostly predictable, the speech is funny, idiosyncratically authentic and steeped in Jewish culture. (I hope that Mia Katigbak will not take it as an insult to the fidelity of her performance as Jewish matriarch Bessie Berger if I was reminded that Jewish and Chinese mothers seem to be remarkably similar in many ways.)
Modern theatergoers are likely to be able to predict Odets' plot -- if a young woman feels unwell, she may be pregnant, if an insurance policy gets changed, you know that someone should avoid, say, dangerous situations. In a play that stakes its claim on the authenticity of its portrayal of its marginalized, dispossessed characters, the plot's cliches are especially distracting.
Fortunately, the play's melodrama is rescued by the verisimilitude of its performances. Mia Katigbak perfectly incarnates the following traits of Jewish mothers: the sharp edge of their language, their impatient physicality, their penchant for comically dismissive interruptions, their instant rage and their instant forgiveness, their disregard for everyone else's personal space and emotional boundaries, and their almost genuine shock when one of their badgered victims lashes out back at them. (Full disclosure: I live with a version of this woman.) Henry Yuk (the Berger father, Myron) and James Saito (Myron's brother-in-law Morty) play dramatic and comic registers equally well; they both also have mastered the Jewish custom of proclaiming statements to the universe for posterity, not for anyone who might actually be in the room, listening.
The set is meant to evoke a Depression era tenement, but I actually thought it looked pretty nice. It's got good square footage for a hovel. It is clean, crisp and, spacious; this is a problem. The apartment has to be crowded -- six people live in it, including the grandfather, a boarder, and Ralph, the younger son, who must sleep on the couch. The Berger children want to swing their arms around and be free, but they are constantly bumping into the irritations of family life -- and their mother lives inside their heads. They could escape if they had money, but they have no money. That's why their poverty is tragic for them as individuals, and why it's important that the set actually feel like an archetypical Depression-era tenement, that is, stifling and claustrophobic. Everyone living there really should have their own place.
Katigbak, who is also the Artistic Producing Director of NAATCO, writes that the play's "common struggles, [and] our hopes to overcome them, unite us, and our diversity enhances the fabric of American culture and society." Amen. It helps if we are good actors.