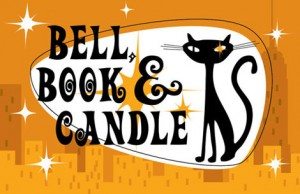 Pye, Pye, Pyewacket!
That's what the kids used to say -- at least in the 1960s and '70s. Probably in part because it's kinda fun to say (try it out loud for yourself), but also because it's a phrase attached to one of the few movies at the time that referenced witchcraft in a fun way: "Bell, Book & Candle".  The 1958 film, starring James Stewart, Kim Novak, and Jack Lemmon, was most certainly a predecessor that opened the doors for the TV shows "Bewitched" and "I Dream of Jeannie".
What I didn't realize until this past weekend, though, was that a 1950 Broadway version starring Rex Harrison preceded the film!  Both written by John Van Druten, the two versions are very similar, though the play has better structure and gives more logical reasons for events to happen: the limitation of only one set actually helps confine action in the stage production. Now, there just so happens to be a play version going on right now in New York, and if you're in the mood for an off-beat romantic comedy with a little bit of thoughtful drama thrown in, this might just be the play for you!
Produced by "Ground Up Productions" and directed with a keen eye by Phillip Ruvelas, "Bell, Book & Candle", playing at the Gene Frankel Theatre in lower Manhattan, is sure-fire entertainment with a solid cast.  Brett Bolton plays a stalwart Shep Henderson -- the man literally seduced by witchcraft by Gillian Holroyd, played by Kate Middleton. Middleton completely transforms herself into the role, quite convincingly playing the depressed and distraught witch who sets out to snare a man out of boredom and spite.  (Of course, she is later snared herself. This is a romantic comedy, remember?)
It's the lesser characters, though, that really steal the show. Bairbre Dowling sweeps onto stage with a rush of audience laughter, taking the role of the nutty aunt to new heights with an over-the-top personality that still feels grounded. Guy Olivieri is really fun as the brother, and worthy of filling Jack Lemmon's shoes in the role. The part of Sidney Redlitch is played by the excellent Rob Maitner: whereas the role is nearly comatose in the movie version, Maitner completely takes over the stage from the moment he enters a scene. Not only is every line read funny, but his in-between reactions and expressions are all on-point. There is even a scene change where Maitner cleans up the stage in the dark, but maintains his character and does it as Sidney Redlitch -- brilliant!
Kudos also goes to Travis McHale for creative scenic design that makes great use of the space -- and to Dr. Watson, the real life kitty that plays Pyewackett. (At the showing I went to, Dr. Watson looked up on cue -- good kitty!)
So is it all perfect? No. My big beef doesn't come from this production, but from the play itself. It does tend to drag on a bit too long in scenes where it could be shortened. Perhaps it's just our 2013 sensibility; over 60 years does, after all, make a difference. The cast fills the time with dramatic moments that get more intense, which on the one hand is good, but on the other a bit strange for a 'comedy'.  But as long as you go in knowing you'll get a fair balance of both, you'll be happy you went.
"Bell, Book & Candle" is playing at the Gene Frankel Theatre through October 26th.  Check out our full event listing here:
[LinkButton]https://www.stagebuddy.com/listingdetail.php?lid=14993[/LinkButton]