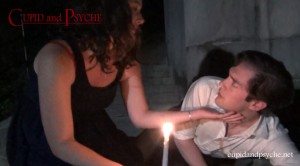 Turn To Flesh Productions certainly chose a relevant story to present for Valentine's weekend of 2014: the myth of Cupid and Psyche. "Cupid and Psyche", written and directed by Emily C. A. Snyder, is their very first play -- a comedy with the audacity to deconstruct that classical story.
Presented at the TBG Theatre, this staging accepts the challenge to recreate a classic in a very assertive way. What we see are actors really committed to telling the story but at the same time free to play with it. They fully incarnate their version of the myth throughout the show and as a result the public has the chance to follow "alive" actions through the performance.
We also have the chance to see a dynamic narrative with a change of rhythms that fits the nuances of the script – which combines comedy, drama and romance. Although the direction respects the richness of the text, in order to keep the attention of the audience intact (since is a long show, with five acts and an intermission after the third act) it would be positive if the direction took the actors to an even more daring place with theatrical and creative answers. At a certain point the "performing solutions" become stable.
The production had another difficult task: to come up with a set that would portray the complex scenario where the action unfolds. The setting was successful in meeting this demand and the project conceives several possibilities of environments -- allowing actors to pass both through hell as well as paradise, for example. Although the idea was well planned, the execution should be more attentive to the workmanship. The costumes respect the variety of characters but it lacks unity. The goddesses Aphrodite and Persephone present flattering (and even fun, in Aphrodite's case) garments. The lighting is effective, supporting the suggested atmospheres.
The cast is balanced and they all give a good performances. The protagonists Cupid (James Paranti) and Psyche (Erin Nelson) are well-suited to their roles. Paranti has a good physique for Cupid and can express malice as well as vulnerability. His commitment to the role is notable. Nelson brings Psyche the humanity she needs and, like her partner, knows how to handle nuances, exposing personality, sensitivity and even humor. The two goddesses, Aphrodite (Laura Hooper) and Persephone (Gwenevere Sisco), display strong presences: Hooper lends charisma, exuberance and esprit to Venus; and Sisco has a beautiful stage figure and knows, at the same time, how to hold a dramatic weight. The group of mortals -- Adonis (Parker Madison), Thanos (Stan Buturla), Dareia (Laura Iris Hill), Livia (Kelly Laurel Zekas) and Brontes (Jon Adam Ross) -- are represented by a talented group of actors that reveal comedic timing, body expression and wit.  And director Emily C. A. Snyder clearly knew how to combine all elements harmoniously and to extract a positive contribution from every part of the production.