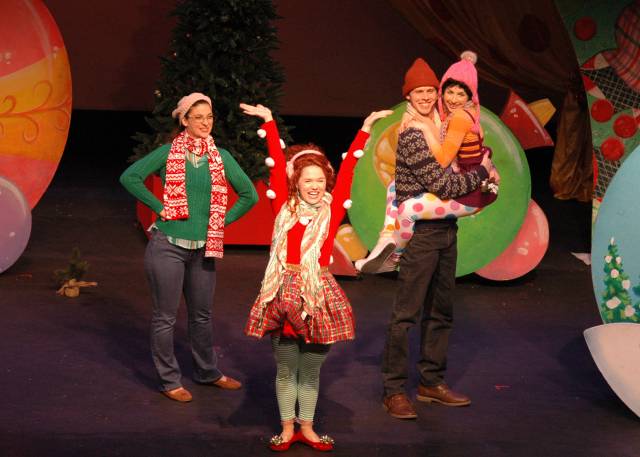 Fancy Nancy is celebrating Christmas!  Vital Theatre Company's Fancy Nancy: Splendiferous Christmas, playing through December 27 at The Theater at St. Jean, is a good choice for holiday family entertainment.
Nancy is extremely excited for Christmas this year and works hard to save her own money to buy her very own super fancy Christmas topper. The best Christmas topper. But, after a few mishaps, and a good lesson from Grandpa Clancy, Nancy learns that the true meaning of Christmas is the love inside your heart, not the perfect decoration. Based on the popular children's series by Jane O'Connor, with a book by Cara Lustik and Matthew Hardy, music by Randy Klein and lyrics by Matthew Hardy, Fancy Nancy finds new life on the stage. The hour long show is great for kids, but also entertaining for adults. The story has a nice arc, with nothing particularly cheesy or stereotypical happening, a catchy and clever score, and also, of course, a heartwarming message.
In the cast we have Liz Romey (Fancy Nancy Clancy) who is all smiles and joy. She smoothly keeps the show going from scene to scene, and easily spreads the Christmas cheer from the stage to the audience. Robyn Michele Frank (Jo Jo) is simply a ball of energy, flitting from one side of the stage to the other. She has no problem commanding the space, and as she plays the younger sister, many of the children in the audience were on her side from the very beginning. Laura LaCara (Mrs. Clancey) plays the mother, a character that could easily be forgotten in the background if not brought to life by her well-rounded performance. Garrett Lawson (Mr. Clancey) has a wonderful fatherly air about him with his charming smile and goofy disposition. Rounding out the cast is Sean R. Jones (Grandpa/Mrs. DeVine). His comedic ability while playing Mrs. DeVine is indeed divine. The audience was laughing from his very first entrance, rightly so. The actors were very in sync with each other and with a small cast of young people, that can sometimes be difficult to achieve.
Every moment, thanks to director Sam Viverito, is tight and precise, but doesn't come off as robotic. The show has this wonderful look and feel of something that may have been thrown together, but it's obvious that much thought and love has been put into the process. The costume designer, Amanda Jenks, did a wonderful job of capturing each individual character's uniqueness and then found a way to project that into their costumes.Nancy's costume was particularly cute, complete with sparkles, ribbon, and bows.
Fancy Nancy: Splendiferous Christmas will put you in the mood for Christmas. With a positive message and plenty of heart, this show is a splendiferous choice for any family wanting to learn the true meaning of Christmas.