In "Iyom", a new play by Lou-Lou Igbokwe presented by WorkShop Theatre Company,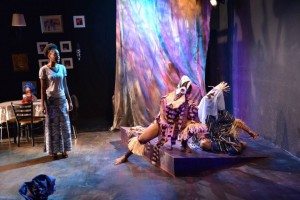 a curious girl escapes reality through magic, folktales, and hide-and-seek -- only to find that these forms of escapism have brought her closer to the harsh truths of the world.
This powerful story, about the daughter of Nigerian immigrants who desperately try to keep old customs, identity, and faith alive while raising a daughter in America, keenly observes the difficulties in balancing the art of keeping up appearances with doing what is right.  The play's tone starts out light, with Zaki (Monique A. Robinson) skipping around the stage and asking all innocent yet complex questions an 11-year-old girl might have. Her parents (Ruth and Essien, played by Jacqueline Joyce and Uzuma Emukah, respectively), occupied with "grown up stuff," pay no mind to the troublesome girl who is too busy playing in her fantastical worlds. Their attitude, of course, is the very reason Zaki remains in dreamland: she doesn't want the mundane life her parents have mapped out for her.   When her grandmother comes to visit, she and Zaki bond over magic and the dancing masquerade storytellers who gracefully move through space as they the re-enact stories told by Zaki and Gram.
All this is carefully orchestrated by the very talented Igbokwe, who with her words successfully creates a world of magic and opens a door into the mind of a child. The actors are engaging, if at times amateurish, and physically committed to the choices imposed by the director, Jessica Creane, whose charming vision is executed with the help of great lighting, set design, and professional dancers -- all creating their own sort of magic.
Like all well-structured plays, seeds planted at the beginning of the play grow as it continues: as "Iyom" progresses, it moves into darker themes -- secrets and the death of magic. We see a family now battling with their own demons and each other; stories of magic  that turn into nightmares; secrets layered upon secrets. The play, with its comparison of magic and faith, asks its viewers important questions: What happens when "hope" is gone? Do we turn on each other? on our family? Who do we blame, when the magic and curiosity ends? The playwright, wisely, does not offer answers to these questions, and those in the audience will continue to contemplate them well after the play ends.
"Iyom" is playing at the WorkShop Theater through October 12th.  Check out our full event listing here: https://stagebuddy.com/listingdetail.php?lid=14741