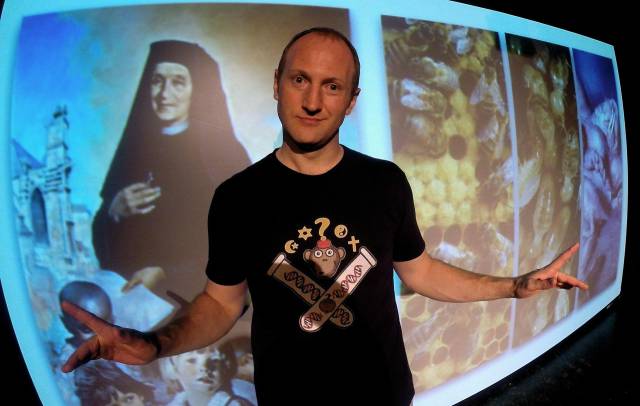 The Rap Guide To Religion, now playing at the SoHo Playhouse, is a ninety minute journey into one of the topics you should never discuss at the dinner table: I'll let you guess which one. Baba Brinkman with the help of his sweet hip-hop rhymes takes the audience on a journey of self-discovery as to the origins of our culture's extreme love affair with religious identity.
According to Rap Guide, the world is discouraged from being atheists mostly because of evolution. Since the beginning of time, groups have gathered together in the hopes of worshipping different gods to give them a sense of identity. This sense of group gives them a moral code. Our professor for the evening, Brinkman argues that with the dawn of technology and science we no longer must live in fear and can embrace a lifestyle of atheism. It is in his opinion that if we were to employ this, the world would be a better place. His most compelling argument: Scandinavia is happy and they like atheists.
If you are looking for an evening that I would best describe as a hip-hop college lecture look no further. Brinkman breaks down religion as succinctly as Kanye on a coffee date. Although the show starts slowly, I am most interested when he brings the material back to himself and the origin of his atheism. He raps about his ancestors and waxes poetic about his hope that one day his young daughter will be able to make her own choices when it comes to faith. It was in these sections I felt most connected to the play and wished that he would have opened with his personal affiliation with the source material so out of the gate I would have been fully compelled to take the journey with him.
The technically simple show utilizes multimedia effectively. Combining visual slides, YouTube clips, and larger than life pie charts and bar graphs, not a stone is left unturned as he attempts to convert us all to a life not governed by a god. He splices his self-made "rhymes" throughout his lecture much to the pleasure of his audience; one in particular member kept yelling "Damn Homie" at the end of every song. Overall, I think Rap Guide To Religion opens the pathways to different methods of learning for children and adults alike. Baba Brinkman's science infused raps could be the 21st century's answer to the pneumonic device -- as long as it doesn't encourage the next generation to drop a mic after every lesson.