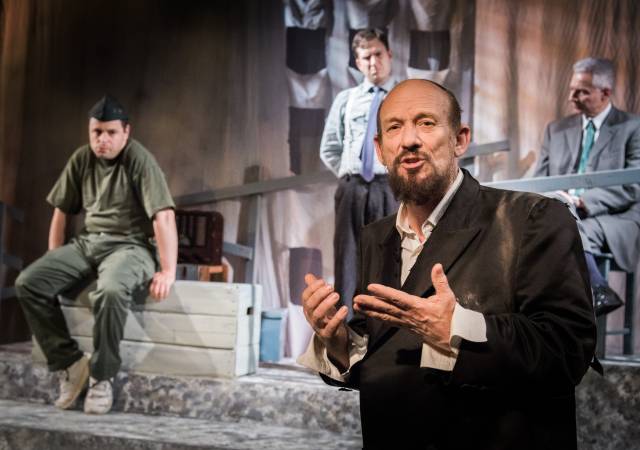 Based on the never ending number of Shakespearean revivals every year, one might think that staging a production of a Shakespeare play was a rather easy thing to do. Of course we all know that nothing could be further from the truth. With the complexity of plots, poetic dialogue and early modern English, few would disagree that these are truly the hardest productions to bring successfully to the stage.
As with other revivals, The Secret Theater's production of The Merchant of Venice, directed by the talented Alberto Bonilla, attempts to add its own flourishes to the story. In this case it is set in post WWII Italy, which offers an update to a range of elements in the story, plus the inclusion of old radio sound effects. This update to the story is handled well, and indeed adds a new dimension, without detracting from the emphasis of the story.
This production has put together a generally talented cast. Some of the wonderful performances included Richard Mazda (Shylock), Zachary Clarke (Bassanio), and Michael Vincent Carrera (Antonio). Joy Donze (Portia) and Grace Merriman (Nerissa) provide both great charm and humor in their paired scene. The cast is made up of largely younger performers, the most seasoned and elder statesman of the troupe being the terribly talented Richard Mazda playing Shylock. However, for some reason he seemed to play this role down, rather than up. In fact, I have seen him perform far more powerfully in other productions in the past (even turning in a masterful Pirate Pete in a past children's show). Why he decided to low-key this version of Shylock is a puzzle, as he has the gravitas and talent to blow it out of the theater.
One other quibble would be the delivery of the early modern English lines. This is a perennial complaint of most Shakespeare productions, so I am not holding this team to a higher bar. Many younger performers lack the experience to deliver the nuances properly. One can see the difference by watching Kenneth Branagh or Laurence Olivier to see how easy they make it to understand what is being said. But I agree that is a high bar of comparison.
That said, a tip of the hat to swing performers AB Lugo (Prince of Morocco/Solanio) and J.B. Alexander (Old Gobbo/Tubal/Duke) who both turned in wonderful multi-character performances, Lugo with his deep and strong voice, and Alexander with his sensitive and well nuanced characterizations.