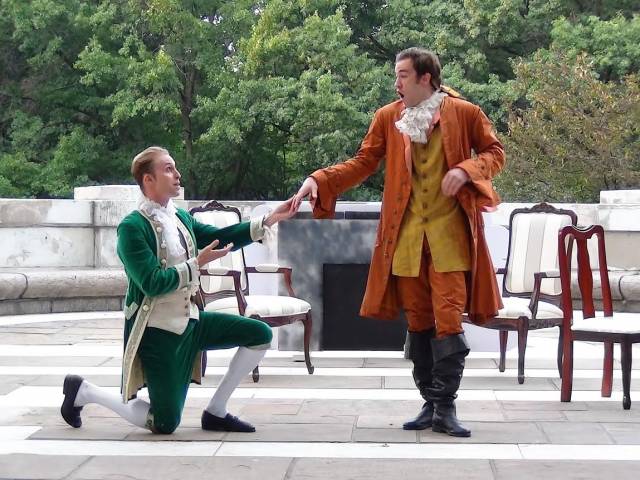 Productions of Oliver Goldsmith's 18th-century classic She Stoops to Conquer are usually lushly produced with great swaths of Georgian drapery swooping behind the furniture and over the actresses, visual elements that are part and parcel of the play's satirical treatment of social class. That's not what Hudson Warehouse's production, playing through July 26 in Riverside Park at 89th Street, cares about, though. While delightful and funny, this free production is a little home-made, and more broadly comic than satirical. But Goldsmith valued, above all, the comedic elements of his play, and Hudson Warehouse has successfully captured its spirit. Intelligent and precise acting is necessary to produce a ridiculous production, and the actors of She Stoops to Conquer, all of whom are talented, give careful and physically expert comic performances. Every member of the cast is funny; I cannot overstate the rarity of this accomplishment in comedies.
The play's premise: Old, rich Mr. Hardcastle has invited young high-born bachelor Charles Marlow, the son of his old friend, to his country manor as a potential suitor for his daughter Kate. Marlow is tongue-tied and terminally embarrassed around upper class women but is bold around girls from the lower classes; Kate pretends to be a servant girl to woo her hapless suitor, and Marlow is humiliated in a series of miscommunications and deceptions. Meanwhile, the mischievous and perennially drunk son of Mrs. Hardcastle's first marriage, Tony Lumpkin, tries to escape marriage to his mother's ward Constance by helping her marry Marlow's friend George Hastings, whom she loves. Inevitably, people have to hide behind couches.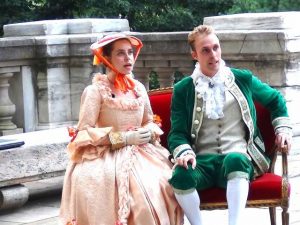 Rafe Terrizzi (Marlow) and John Racioppo (Hastings) are a matched pair of convincing fops; when they react together, turning their tall frames sharply to the audience, they are deliciously cartoonish, like two exclamation points come to life. Both are at their best when flustered, and Terrizzi, who really is a wonderful and charming comic actor, sells Marlow's various mortifications sympathetically. He becomes progressively more unhinged, culminating in his best touch - a high-pitched comic scream without reservation, which is the funniest thing in the play. Marlow's co-star Tony Lumpkin has been traditionally portrayed as a kind of Falstaffian rogue whose insight and humor reveals and upends society's conventions; Ted Moller plays Lumpkin without that self-aware and transgressive irony, but with great physical assurance and energy. If you met him in real life, you would tell him to stop and he wouldn't. He's cleverly cast alongside Cori Hundt as Constance Neville, whose anxiety is well-paired with his loutishness. She is birdlike, pained, anxious; he is compact, dynamic, and stout; together, they look like a stork and a duck having an argument.
There are several times when the cast sings period ditties to the audience between scene breaks, and it's like music in Shakespeare -- it's not really music and it certainly isn't comedy, and you just have to wait for it to be over. (In fairness, Goldsmith was the one who put the music there in the first place.)
I don't think that She Stoops to Conquer will satisfy the craving of someone who wants to see the stylized setting, tone, and costumes of this classic period piece, but it is funny enough to be appreciated by anyone who, like Goldsmith, puts the highest value on comedy. The Hudson Warehouse, with presumably limited funds, has assembled excellent comic actors in a production that is earnestly meant to delight its audience -- in that, they are successful.