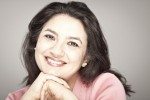 Part of the "Planet Connections Theatre Festivity", How to Succeed as an Ethically Ambiguous Actor is a one-woman show, performed by Zenobia Shroff. We follow her journey from India to the USA and her struggles with cultural differences. In the beginning, many Americans can't quite understand where India is and instead think she is Arab or Spanish. As an actress she doesn't look or sound Indian enough, so she must fake an accent and wear a dot, because 'white' roles are not offered to her.
The story broadens to issues of work versus family life. She decides to turn down a marriage proposal, and like many women of all cultures, wonders if she made the right decision not to settle down and have children, all while her career languishes in the depths of cultural misunderstanding.
The play, written by Ms. Shroff and the shows' director, Arpita Mukherjee, is smart, peppered with humor and filled with depth. It's filled with meaningful exploration and loaded with charm. See it while it's still running in the festival.