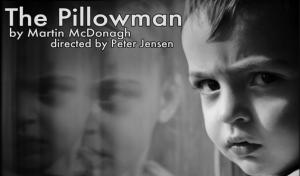 Martin McDonagh's "The Pillowman" is an intense play. It's gross, vile, funny, and makes you think. It's received numerous accolades, including Olivier and Drama Critics' Circle Awards and a Tony nomination for Best Play (as well as two Tony Awards for production).  The extended-run production at T. Schreiber Theatre, directed by Peter Jensen, brings this dark play to life with a wonderful cast, great direction, and excellent production value for such a small stage.
Josh Marcantel's performance is terrific in the lead role of Katurian, a writer of gruesome children's tales who is jailed when his stories are acted out. Marcantel is likable in his portrayal and brings us into Katurian's thoughts and world with a light touch.
Don Carter plays the "Good Cop" in charge of interrogating Katurian. Carter, with his bald head and chiseled features, has a natural and commanding presence. There are long sequences of monologues in the script and Carter plays them so deftly, you don't even realize he's the only one speaking on stage. The "Bad Cop" is performed passionately by Tommy Buck, who is as layered as the character he plays, a fact you learn as the drama unfolds.
But the person who really steals the show is Alexei Bondar as Katurian's "slow" brother, Michal.  Bondar is believable throughout, playing a man who despite being intellectually disabled is intelligent in his own way.  Everything, including his body language, facial expressions, and delivery, is enthralling and makes you want to keep watching this performance. I always value an actor who can give a tasty performance, full of life and verve, while not being too over-the-top. Bondar walks this line with the grace that is needed in such a demanding role.
Other kudos go to set designer, D. Schuyler Burks, and lighting designer, Yuki Nakase, for a stellar job – the lights and sets really help take the audience on the journey and set a great mood.
Overall, the direction and staging of this production of "The Pillowman" are solid. The first act has some pretty gruesome dialogue, but you'll find it is related to the plot-line and not just there to freak people out. I tend to like shows that are "commercial" in nature, and even though this has elements of the experimental, I highly recommend seeing it. It's the kind of play you'll talk about after the show and remember for a long time to come.
Performances of "The Pillowman" continue through November 24th.  See the full StageBuddy listing with location, showtimes, and more:
[LinkButton]https://www.stagebuddy.com/listingdetail.php?lid=14948[/LinkButton]