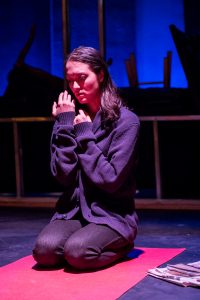 A hostage, a wife, a reporter and a state department representative are at odds: how to best handle this tense situation? In Lee Blessing's "Two Rooms", now at the Seeing Place Theater, you'll be kept wondering about whose motives are suspect and whose are not -- as well as whether the teacher taken hostage in Beirut will returned to safety by the final curtain.
Set against the internal struggles of the Middle East and portraying both individual and government responses, "Two Rooms" weaves some tender moments between the hostage and his wife between the realistic and often harsh diplomatic steps necessary in such situations.
The play opens three years after Michael Wells (played by Logan Keeler) has been taken hostage. He and his wife, Lainie (Alexandra Hellquist), had continued teaching in Beirut even after serious conflicts had broken out. A play about difficult choices, some now and some made in the past (perhaps poorly), "Two Rooms" sometimes feels like two plays in one. We see Michael being held hostage and hear through his monologues about how he spends his days and how he thinks of his previous life and wife; and we hear Lainie, alone in their apartment in Washington, trying to connect to him on some spiritual level. Both Keeler and Hellquist do a nice job of separating the drama of a hostage situation from everyday thoughts and feelings.
Alongside this personal drama lie negotiations for Michael's release and discussions about this incidents rippling effects on international relations. Justin Hoch plays Walker Harris, a reporter who wants to do stories on Lainie; State Department representative Ellen Van Oss (Lila Smith), on the other hand, wants no publicity at all, so that diplomatic measures can work behind the scene. Is Walker Harris only after a story regardless of its consequences for the hostage? Is Ellen Van Oss indifferent to the hostage and only playing the situation to the best benefit of the American government? Both Hoch and Smith do a great job of swaying the audience back and forth between the two sides of the debate. Though you may fall on one side or the other, you respect the positions of both.  Ultimately, it is Lainie who must make a very difficult decision. Contrasting with her tender moments with her husband, her harsh interaction with Walker and Ellen allows us to believe that she has the strength to make a choice.
If you're up for an evening of thought and debate interspersed with tenderness all portrayed by four excellent actors, see "Two Rooms". Then decide if you would have done what Lainie finally did.