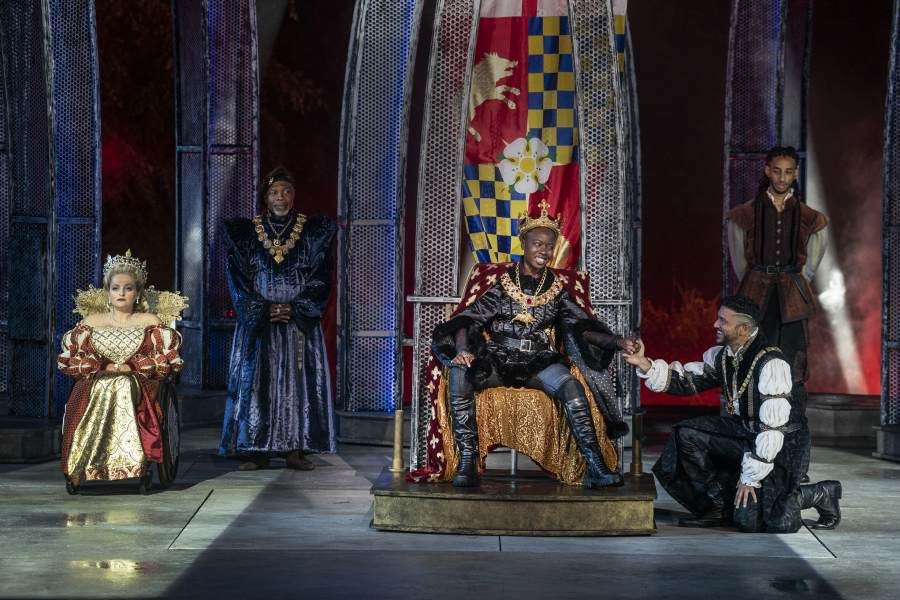 Photo by Joan Marcus
Free Shakespeare in the Park is quintessential New York. If you are lucky enough to score the free tickets and it's a gorgeous evening, theater doesn't get any better. This summer the Public Theater is offering two productions, one tragedy and one comedy.The first play is Richard III. While the language remains Shakespeare's original, most directors feel the need to put their own imprint on the show. Robert O'Hara (Slave Play) is no exception. Richard III is the story of power, evil and violence. Often portrayed as a hunchback,Richard is disdained because of his physical deformity. In fact, Richard explains that since he isn't seen as a lover, he will be a villain instead. O'Hara chooses to make it an 'emotional deformity." Richard becomes evil because he is not permitted to be anything else -and what a villain he is. Addressing the audience, he tells us what he plans to do leading to the question - Are villains born or made?
For the difficult role, O'Hara cast a Black woman actor, Danai Gurira ("Walking Dead," " Black Panther") yet she plays the role as a man, not as a woman, and without any visible disability at all. Gurira is intense, emotional and riveting. Incredible in the role, she is charming and beguiling (sweet-talking the wives of men he has killed ) and yet vicious and diabolical. Richard is responsible for the deaths of his own two brothers and young nephews. An audience can handle murder onstage and screen, especially in battle. But when the victims are kin, it's especially odious. So the audience roots for his downfall.
Yet as a viewer, I needed to understand why Richard was disliked from the onset. In Othello, Iago is angry at being passed over while Othello gets promoted and lauded. In King Lear, Gloucester's younger, illegitimate son. Edmund resents his status as a bastard and schemes to gain Gloucester's title for himself. There are motivations which we understand. In this version of Richard III, the character merely tells us that he isn't loved, but we don't "see" why.
The inclusive and diverse cast includes Ali Stroker (Oklahoma,) Daniel Watts (Tina,) Sharon Washington, Gregg Mozgala, Ariel Shafir, and Matthew August Jeffers among others. Washington as Queen Margaret is one of the more effective characters, and it's hard to keep your eyes off her as she commands the stage.
The play is long and somewhat confusing for many in the audience. At intermission many left the theater, missing the battle scene, probably the best scene in the play. Richard lived by violence and died a violent death. He lived out his own prediction-unloved but undoubtedly an unforgettable villain.
Shakespeare's plays were all originally performed during the daytime and this version of Richard III began when it was still light out. The light slowly fades as the evil escalates. The audience's aversion towards Richard mounts as he places his nephews, heirs to the throne, in the Tower and has them killed. The fading light mirrors the growing darkness around us.