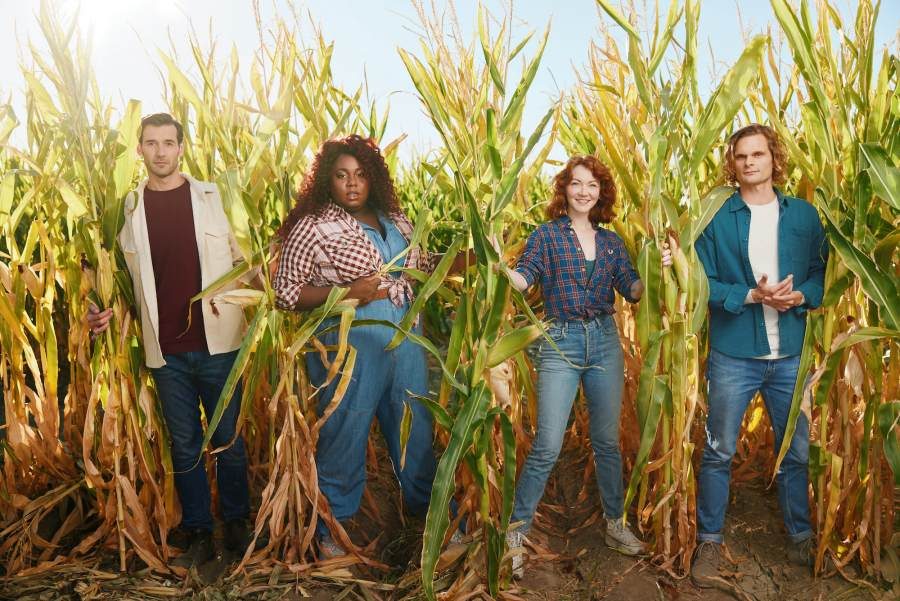 Despite its seemingly unsophisticated vibe, Shucked is an extremely polished, well-crafted musical. After all, the show is directed by Jack O'Brien (Hairspray, Full Monty, Porgy and Bess, Invention of Love.) Most importantly, it is loads of fun.
Audience members will be surprised at how many puns and jokes, Robert Horn (book) and Brandy Clark and Shane McAnally (music and lyrics) make about corn- both clean and off-color. Lines come at you rapid-fire, so you need to pay close attention. Sometimes the laughter even gets in the way of hearing the next line. I was taking notes during the show and stopped listening at times to jot something down, often missing the next joke.
The story is set in Cobb Corner, a town totally dependent on its corn crop. It is isolated by a wall and likes it that way. It's also a county where diversity is accepted as normal.
Suddenly and inexplicably, the corn begins to die. This interrupts the wedding of Maizy (named after -wait for it- her grandmother) and Beau, her beau (played by Andrew Durand.)
No one volunteers to leave town to get help. In an allusion to the current political environment, people are content with the wall around their town. However, Maizy (the talented Caroline Innerbichler) realizes that something must be done, so she bravely sets out to get help, arriving in the heart of culture and civilization - Tampa (creating an opportunity for old people jokes.)
The show begins with two talented Storytellers, Tony Award nominee Grey Henson and Ashley D. Kelley, who serve as the Greek chorus to guide us through the story and occasionally play minor characters. They often crack jokes, as they break the fourth wall. In the second Act when Beau and the other men perform an entertaining song and dance number, the Storyteller tells us that he wants to join them.
Maizy thinks she discovered the person to save the town when she comes across a "corn doctor." However, Gordy (John Behlmann) can't treat feet, let alone vegetables. He's a con artist (a 'corn' artist?) who becomes interested in Maizy and the town only when he learns that the bracelet she's wearing comes from stones from the town. Two jewelers, (our Storytellers) erroneously identify the stones as rare and valuable, and Gordy desperately needs money to pay off loan sharks (our Storytellers again)
In town, Gordy becomes romantically involved with Maizy, causing Beau to become jealous, when, in fact, he's attracted to Maizy's cousin Lulu ( the irrepressible Alex Newel who stops the show singing "Independently Owned.")
Shucked has already received several theater nominations, including Best Book, Best Score and Best Musical. The mood is always light and funny. The dialogue and song lyrics are clever and really fast. So pay attention.
One of my favorite characters is Peanut (Kevin Cahoon with a deliciously dry delivery) who often precedes his dialogues with 'words of wisdom', very much reminiscent of Steven Wright's one-liner observational humor. His comments have little to nothing to do with the unfolding situation but are hysterical. "I think if you can pick up your dog with one hand you own a cat. I think people in China must wonder what to call their good plates."
The ensemble numbers are creative and unusual. The opening scene features a song about corn as the performers use ears of corn as if they are a chorus line. In the second act, Durand and the other men perform some impressive moves with planks and kegs. (Choreography by
Sarah O' Gleby.)
Grammy-winning and CMA artists Clark and McAnally make an impressive Broadway debut in sophisticated New York theater. The songs are varied and often fast-moving with some wonderful wordplay. A couple of songs, like "Friends' ' between Maizy and Lulu, are touching ballads (and not even corny)
The cast members are excellent with fine singing voices. The Storytellers are engaging, and the audience feels connected to them. Innerbichler is feisty and belts her heart out. Durand demonstrates his comedic flair when he preens and shows off for Maizy, removing his shirt and flexing -rolling up his shirt halfway up. Behlmann, as the heartthrob, displays goofy vulnerability.
Despite the setbacks, all live happily ever after. Shucked has some sophisticated themes with good music, homespun humor and tons of puns! - It's Corn-tastic!