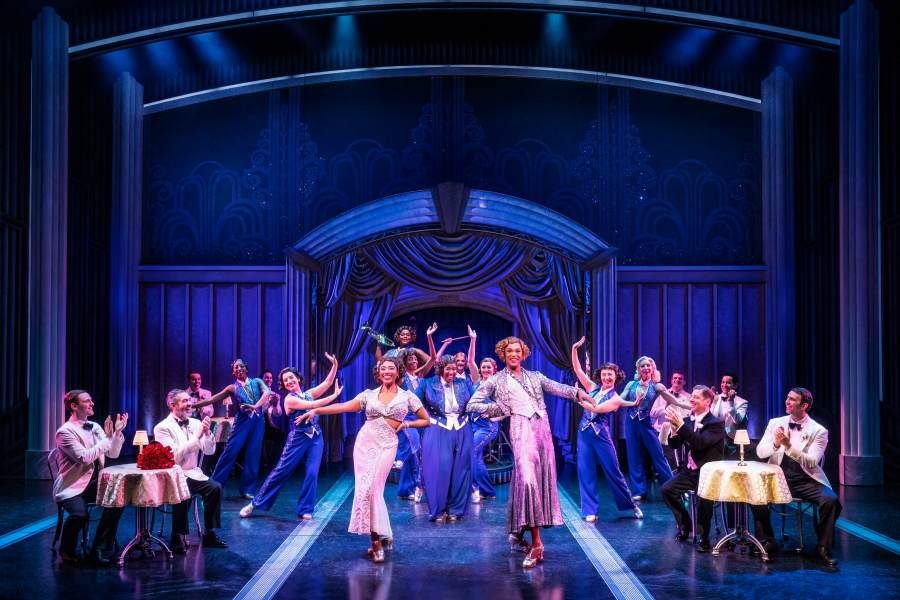 photo by Matthew Murphy
How would you define an old-fashioned musical? Maybe a show with non-stop singing and dancing, storylines that we accept even when implausible, a love story or two and a happy ending.
Those of you who love shows like "Music Man" and "Sound of Music" will find happiness at the Sam S. Shubert Theatre. "Some Like It Hot " has it all and more and perhaps that was the problem for me. It was over the top-too much singing, overly long-dances, and storylines that were convoluted. Did every major character have to have at least 3 songs? Despite being choreographed by brilliant Casey Nicholaw, did every dance have to go on forever? But, then again, ticket prices for musicals are astronomical and a theatergoer will get their money's worth at SLIH.
The show is based on the 1959 Billy Wilder movie, which starred Tony Curtis, as Joe and Josephine, the philandering saxophone player, Jack Lemmon as Jerry and Daphne, his pal and the bass player and Marilyn Monroe as Sugar, the sexy lead singer. When the two musicians witness a gangland murder, they dress up as women and flee from mobsters anxious to eliminate them by joining Sweet Sue's All-Female Band. Complications ensue when Joe falls for Sugar while Jerry disguised as Daphne is pursued by millionaire Osgood Fielding (Joe E. Brown. )
For the Broadway musical, the basic storyline has remained basically the same with a few minor changes. However, the show has become modernized, touching on social issues. In the movie, Geraldine is in costume because she must be disguised to survive. She brushes off the unwanted attention of Osgood. In the show, she renames herself "Daphne" and she realizes that she's more comfortable as a woman than a man.
Set during Prohibition, the show touches on elements of racism as well as discrimination against women. When Sue decides to form her band, one of the girls suggests going down South to which Sue (NaTasha Yvette Williams, a large Black lady with a big rousing voice.) replies, "Have you looked at me?"
When a nightclub owner tries to underpay Sue because she is a woman, the women handle him with a song, singing "Zee Bap." I had hoped for something more from the women, but hey, this is an old-fashioned musical!
Joe is white and Jerry ( the talented J. Harrison Ghee) is Black and they announce that they are "brothers." Joe was raised by Gerry's parents when his parents left. This introduces a whole new ( unnecessary) plotline but a reason for yet one more song.
The list of creatives involved in SLIH reads like a who's who of Broadway musicals. The music is by Marc Shaiman and Scott Wittman, and it's easy to recognize the same feel-good music that they wrote for "Hairspray." Multi-talented Casey Nicholaw directs as well as choreographs. Scenic design is by Scott Pask Gregg Barnes created the costume design.
The gifted Christian Borle plays Joe. Borle can deliver a joke as well as a song. In one scene with Sugar (Adrianna Hicks, most recently in the hit Six,) he dons a tuxedo and suddenly I had visions of Fred Astaire. Hicks makes a charming partner with her lovely voice and stage presence.
In addition to the three leads, the show gives a lot of stage time to Osgood (Kevin Del Aguila) whose song "Fly, Mariposa, Fly" was easily my favorite.
The show is bright, colorful, glitzy and includes a farcical chase when the gangsters being pursued by the law catch up to our heroes in California. The scene is hysterical but goes on for five minutes too long like everything else.
"Some Like It Hot" does not disappoint. It's big, it's lavish, it's all anyone could want in a musical and more.
.