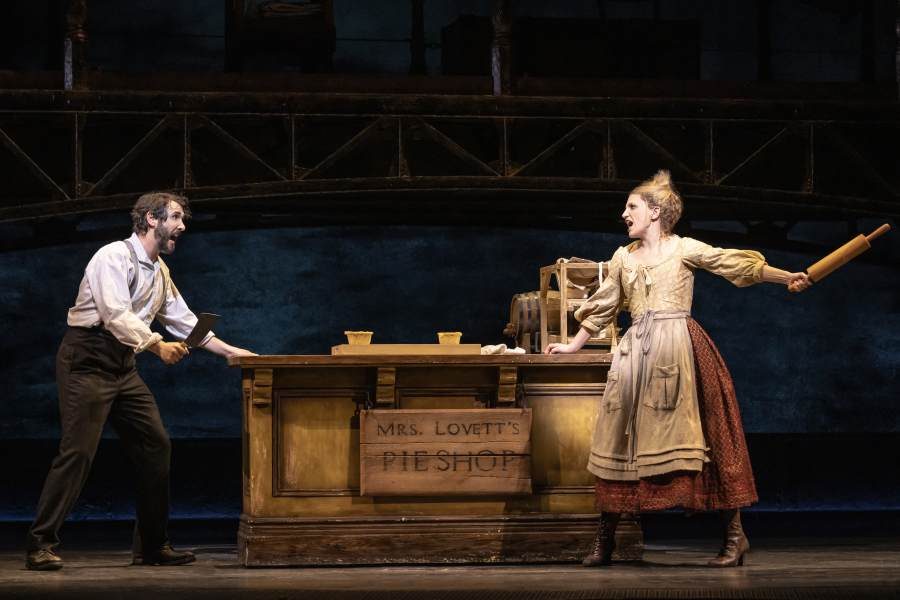 The last time I saw "Sweeney Todd," it was as a barebones production of 10 performers, including Patty Lupone and Michael Cerveris. Each performer even played an instrument, and the show was wonderful.
The most recent revival, featuring a 26 piece orchestra led by Jonathan Tunick features a lavish, lush glorious production and is even more wonderful. With the classic score by Stephen Sondheim, the latest revival stars Josh Groban, Annaleigh Ashford, and Jordan Fisher.
Director Thomas Kail has not altered the dark story. Groban plays Sweeney Todd, a barber who had a beautiful wife and young daughter. Evil Judge Turpin, a powerful man, covets the wife and so falsely accuses Todd of a crime, sending him to prison for life. After 15 years, Todd escapes, assumes a new name and returns to London to find his wife and child. When he's told his wife took poison and his daughter is now the ward of the evil judge, Todd is consumed by a thirst for revenge. Together with Mrs. Lovett (Ashford,) who sells the 'worst pies in London," they conceived of a plan. He will kill his enemies and she will get rid of the bodies, using them for meat in her pies.
The cast is excellent. Groban's deep baritone voice resonates, filling the theater. He does much with his facial expressions, especially when Mrs. Lovett tries to be loving towards him. He is obviously a man in pain yet wins over the audience, despite what he is doing.
As Lovett, the irrepressible Ashford provides the comic relief. She sparkles and without her, the actual horror of the story would be more difficult to handle. Instead, the audience often laughs at the very dark humor. One famous number is "A Little Priest '' when, with incredible Sondheimian word play, the two sing about cannibalism and how different professions will have unique flavors in the meat pies. Ashford is a wonderful physical comedian. At one point, she literally slides down the stairs on her rear when Judge Turpin shows up for a shave.
Jordan Fisher plays Anthony, a young sailor who sees Joanna, Sweeney's daughter (Maria Bilbao) , at her window and immediately falls in love with her. He's naive and guileless, perhaps the way Sweeney himself was before the Judge ruined his life. Ruthie Ann Miles portrays the mad beggar woman who sadly is in the wrong place at the wrong time. Her loud agonizing cries reflect the pain that Todd feels within.
Gaten Matarazzo (one of the four boys in "Stranger Things") wins our hearts as he clings to Mrs. Lovette as a mother-figure. He's haunting as he tells her how he cares for her in "Not While I'm Around," one of the most beautiful songs in Sondheim's opus.
How can an audience thrill to the story of a barber so bent on revenge that he slits the throats of people, some of whom are collateral damage? How could serving their bodies as the ingredient for meat pies become the fodder for popular musical theater?
Despite the bloodthirstiness of the show, there's something that enables us to identify with the main characters. We empathize with their humanity and their need for connections. Todd has been terribly wronged but we understand his pain and agony. He's not merely a psychopath.He is a lonely distraught husband and father. In fact (spoiler alert) by the time Todd exacts revenge on the judge, I half expected the audience to cheer for Todd. Even Mrs. Lovett who gleefully chops up the victims is a lonely woman, seeking a loving relationship.
The staging is dark and smoky, creating a somber mood. (Stage design by Mimi Lien and lighting design by Natasha Katz)
Once upon a time Sondheim was an acquired taste, and many musicals were not favorably reviewed. Now, years later he is considered a musical icon and "Sweeney Todd" is one of his greatest works.