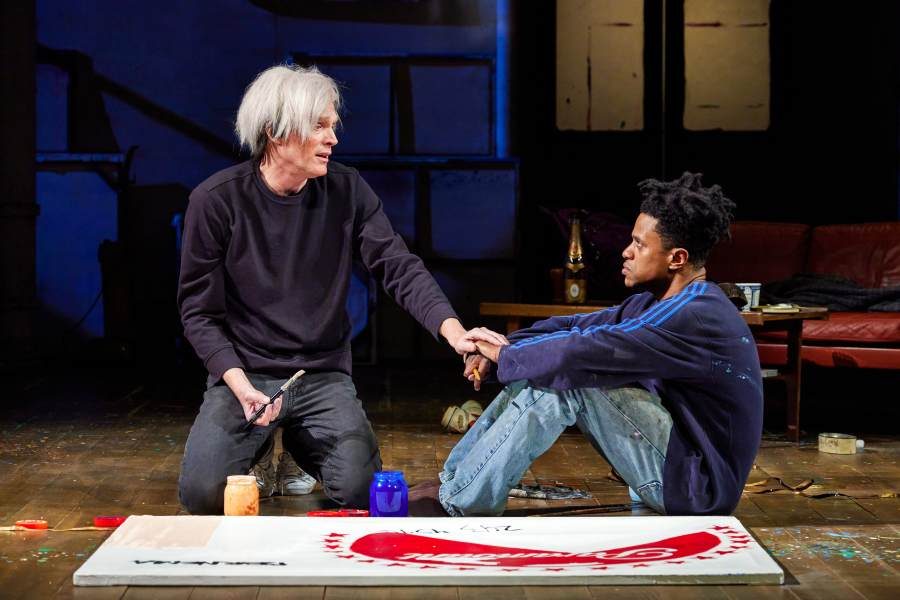 photo by Jeremy Daniel
Andy Warhol is as famous for his iconic look as for his silkscreen paintings such as Campbell's Soup Cans and Marilyn Diptych and his experimental films. Before seeing the Manhattan Theater Club's latest offering "The Collaboration," directed by Kwame Kwei-Armad (Artistic Director of London's Young Vic,) I didn't know much about his quirky personality, insecurities and idiosyncrasies. I knew even less about the other artist in the play, Jean Michel Basquiat.
Often after attending a play about notable personalities, I am anxious to learn more. Yet after the long, often tedious two hours about the relationship between Warhol and Basquiat, I found myself somewhat indifferent. Yet I made a perfunctory Wikipedia search, reinforcing what I had just seen. It felt as if the playwright Anthony McCarten used little more than the same site for his script. McCarten is the writer of Broadway's "A Beautiful Noise" as well as several movie biopics, including "Bohemian Rhapsody."
Unwillingly introduced by their agent, the two artists are coerced into working together. Warhol hasn't painted for years but instead follows other artistic pursuits. His popularity is declining whereas Basquiat, a former street graffiti artist, is an up and comer. The agent cleverly realizes that a collaboration of the two will create artwork sure to generate interest and bring in large sums for their art.
Basquiat is perpetual energy while Warhol is the voyeur, trying to avoid painting with his colleague, hoping to film Basquiat instead. As he films, the images he's capturing are flashed on all areas of the stage, often distracting the audience's attention away from the actors. (Projection design by Duncan McLean.) In a fit of anger Basquiat destroys Warhol's film.
Paul Bethany ( Vision in the Disney+ miniseries WandaVision ) does a fine job of portraying the often monosyllabic artist, with slow deliberate speech. He makes the artist appear either contemplative or taciturn.The slender actor, wearing Warhol's signature white wig and black clothes, definitely looks the part.
Also looking the part as Basquiat, Jeremy Pope, ("Ain't Too Proud," "Choir Boy" ) is blunt and passionate, quite a contrast from the almost stolid Warhol. He is usually moving and bouncing around, yet somewhat frenetic rather than graceful. He needs music and sounds to be able to work.
Suspicious of people, Basquiat keeps his money (lots of it) in the refrigerator along with his drugs. His former girlfriend, Maya (the talented Krysta Rodriquez-wasted in this role ) describes him as being someone people want to take care of.
Except for the fact that "The Collaboration" between these two artists is based on truth and their work together actually earned huge sums of money, I would have found their relationship difficult to accept. It was hard to see how they could have worked well enough together. Yet after a rocky, almost adversarial beginning, Act II shows a closeness between the two.
Pope and Bethany look the parts but the script isn't compelling enough. By the end, the viewer learns about the work and the relationship between the two, but I'm not sure how much I cared.